A surveillance video captured a man being attacked by two dogs during an early morning stroll through a Houston neighborhood. Also captured on camera was the heroic effort of neighbors, including a retired sheriff's deputy, who have been credited with saving the man from the "two loose and aggressive dogs" that were in the process of mauling him.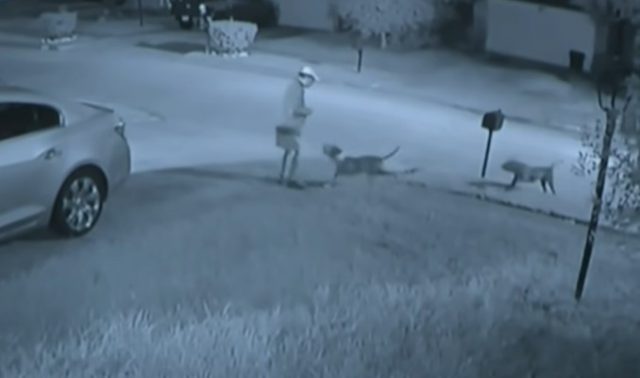 Ha Mui, a 68-year-old Texas man, was out for an early morning walk at approximately 6:30 am in the 4300 block of Queens Retreat Drive in Houston when a pair of dogs crossed the street and confronted him, ABC13 Houston reported. The encounter was captured on a "horrific" surveillance video, according to authorities, and in the frightening footage, Ha is seen trying to back away from the two pit bulls.
Sadly, his efforts were all in vain as the dogs pounced and attacked him, the Daily Mail reported. Miraculously, Ha's cries for help were heard by Darrel Berryman, who lives across the street from where the attack was occurring. The neighbor didn't hesitate to run to Ha's defense, using some sort of long object to try to get the dogs to back away.
"I heard somebody saying, 'Help, help, help.' That's when I said, 'Something ain't right,'" said Berryman, who's seen in the footage running across the lawn in an effort to scare the dogs off. "I ran over here and saw two pit bulls. The man couldn't move," he recalled. "They had him by his face," he continued. "Man, I've never seen a dog attack nobody like that."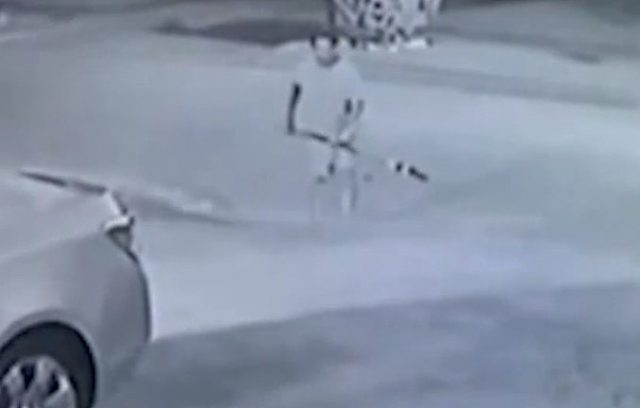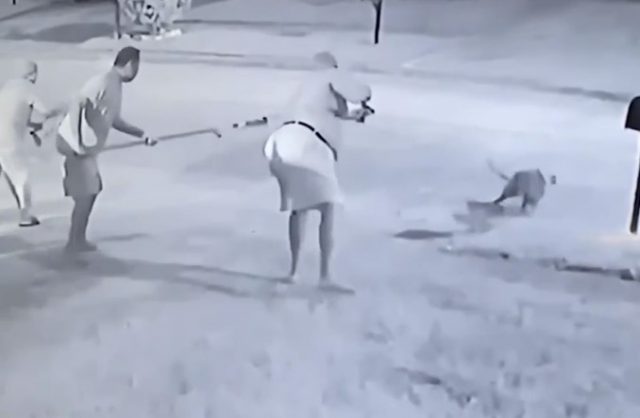 Berryman told his granddaughter to call 911, but thankfully, help was nearby. As luck would have it, the attack was taking place in the yard of Elmer Lavigne, a retired sheriff's deputy, who also came to Ha's rescue after Berryman reportedly rang the doorbell, asking for help. Thankfully, Lavigne was armed with a handgun and prepared to use it.
"When I came out, the dogs turned around and went to attack us. I shot him through the shoulder and it didn't even stop him," the retired sheriff's deputy recalled. Back up arrived and another deputy shot the other pit bull after it bit an animal control officer twice as she was trying to detain the animals, KPRC 2 reported.
The attack, which deputies described as horrific, left Ha Mui with extreme blood loss. Paramedics were forced to give him two units of blood at the scene before flying him via Life Flight to a nearby hospital.
"It was pretty gruesome," Officer Daniel Garza with Precinct 4 admitted. "He did lose quite a bit of blood. That was the main concern. I've been doing this a long time and this type of attack is not something you see on a normal basis."
Both dogs were reportedly still alive and in the possession of animal control while deputies took the owner into custody for questioning. Although deputies told the local news that they didn't have a record of calls about the aminals, Berryman says otherwise, claiming the dogs have been violent before. "I called police three times to call about those pit bulls. They broke in my yard and killed my dogs," Berryman said.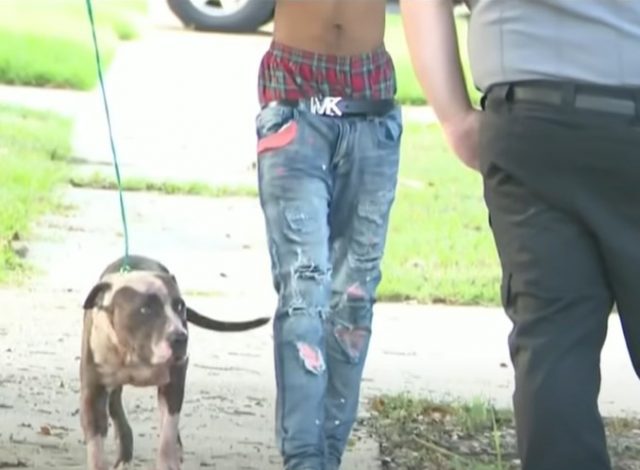 Ha Mui was reportedly left in critical condition with serious serious injuries to his upper body, lower body, face, and neck, and he was very lucky to be alive.
"I've had a lot of dog bites and maulings, but this is up there with some of the worst I've ever seen," Zach Dunlap, the Critical Care Manager for Cypress Creek EMS, admitted as he credited the quick-acting team of heroes who responded to the attack. "The amount of blood loss that he had, everything had to go perfect," Dunlap said, explaining that the victim was in grave danger.
Although Ha was injured so badly that authorities feared he might not survive, it appears the odds were definitely in his favor. As previously mentioned, the attack occurred in the yard of a retired sheriff's deputy who responded to the attack with a gun, diverting the dogs away from Ha. Secondly, the EMS team that responded just happened to be carrying units of blood product with them, something not typical, according to Dunlap. Lastly, Houston has a Level 1 trauma center nearby, where Ha was able to receive life-saving surgery.
"Had this happened in other parts of the country where he did not have blood or he did not have rapid access to a Level 1 trauma center, the outcome would have been probably worse," Dunlap explained.
Just four days after the attack, Ha's family was happy to report that he was in stable condition and credited the neighbors and the paramedics with saving their loved one's life.
"I'm very thankful to them because, without them, my brother right now would be dead for sure," said Ha's brother Bong Mui. "It's just terrible. He's a very kind, easy-going, gentleman, and I just can't believe what happened to him," he added, asking people to pray for Ha's continued recovery.
Although we usually wouldn't use the word "lucky" after such a gruesome attack, it's evident that this could have been so much worse. Thankfully, a couple of brave neighbors were willing to enter the fray, putting themselves in danger in hopes of saving a fellow man. Although the gunshots only seemed to distract the aggressive dogs, we shudder to think what outcome Ha Mui might have faced if one of his many heroes hadn't been armed. We are incredibly grateful that wasn't the case, and I'm sure Ha Mui is too.