Normally, when a Victoria's Secret model steps out in a skimpy bikini, she's bound to set pulses racing with her knockout curves. However, when Candice Swanepoel hit the beach, some onlookers were appalled by what they saw. Check it out for yourself.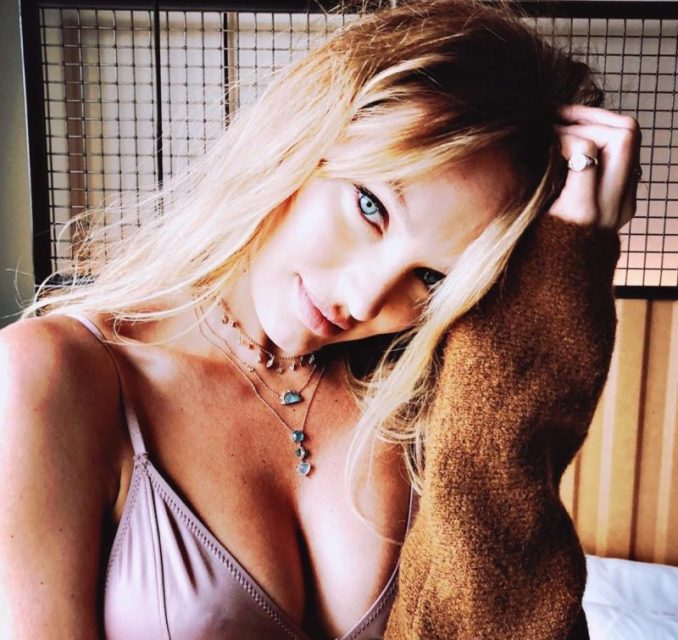 Victoria's Secret model Candice Swanepoel stepped out in a figure-revealing bikini just TWELVE DAYS after giving birth. Most people would agree that she looked absolutely amazing. Heck, most people would trade their regular body for her postpartum physique.
But not everyone. Despite Candice's enviable post-baby figure, the usual internet trolls came out of the woodwork to bash her for donning a two-piece before the swelling in her stomach had completely subsided. The model decided to hit back at her critics, and her response has earned applause from women. They spoke up to say that she looked amazing and that last thing mothers should be doing is cutting each other down, especially when it comes to their bodies.
According to Page Six, it all started when a few sour social media users saw Candice Swanepoel in photos taken on the beach twelve days after she gave birth to her son. While most people applauded the model's enviable figure so soon after giving birth, there were some who gave her flack for showing her post-baby body. But she let them have it.
"This is me 12 days after having my son. If you have something bad to say about it… check yourself," she wrote on Instagram. "Society can be so cruel to one another. Beauty standards are sometimes impossible for women these days. I'm not ashamed to show my post-partum tummy. I am proud actually… I carried my son for 9 months in there, I think I've earned the right to have a little tummy, is it because I'm a model? Well we are normal people too so let me enjoy the beach in peace please."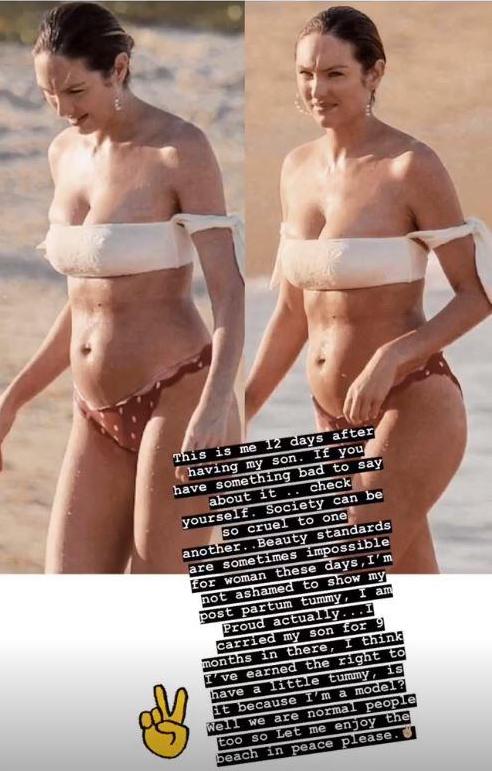 In a second shot, one where the model was still pregnant and applying sunscreen to her ample baby bump, Candice hit back at her haters again.
"I don't have to hide my stomach just because people have unrealistic standards of women. We create life.. what can you do? Ladies, we are all in this together be kind to each other," she wrote, according to Scary Mommy.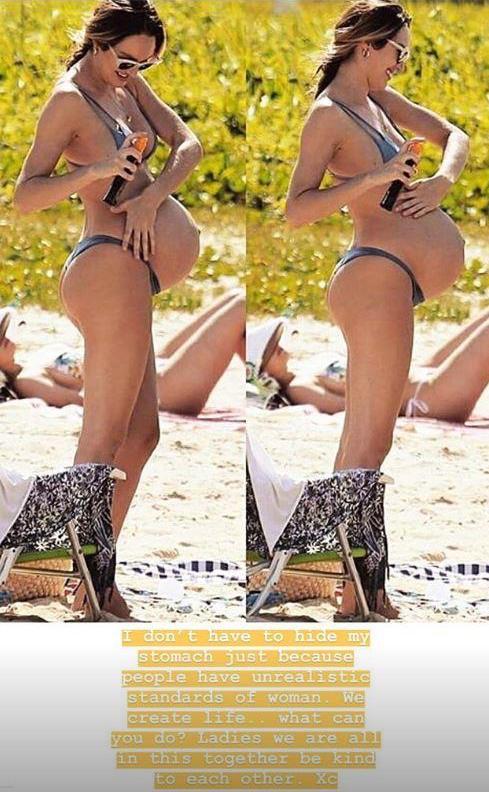 If this woman's body isn't good enough for you, what more do you people want? It really doesn't get much better. Most women are still hobbling around the house in mesh panties twelve days after giving birth whilst soaking every t-shirt they own with their leaking breasts.
Candice Swanepoel always looks amazing, whether she's just had a baby or gracing the Victoria's Secret catwalk. If you don't like the pictures you see of her on Instagram, keep scrolling or unfollow. The world could do without the negativity.