A video has gone viral after a violent Waffle House brawl was caught on camera. A female employee defended herself from a chair attack, which garnered the attention of the online community.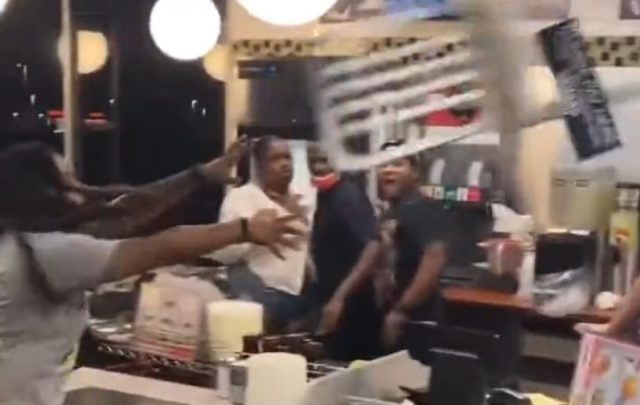 When 35-year-old Roderick Ramone Brown placed a to-go order at the Austin, Texas Waffle House on Eatonton Road, he apparently expected it to be perfect — or else. According to Brown, that wasn't the case when he went to pick up his order. Instead, he allegedly did not get what he wanted, so he engaged in a verbal dispute with an employee.
Sadly, things soon turned violent. In fact, all hell broke loose — and it was all caught on video, according to The Blaze. Although footage captured of the brawl was over 2 minutes long, it was a short 3 seconds that grabbed the attention of the online community, causing the clip to go viral with millions of views and tens of thousands of retweets. Let's see if you can spot it:
Posted by musician and actor Mekka Don, a shorter clip focuses on just 3 seconds of the brawl in which a Waffle House employee perfectly defends herself during the violent attack after a chair was thrown at her head by an angry patron. She seems to effortlessly manage to evade the chair attack, and the online community was quick to sing her praises for it.
"She needs to be the lead in the next action film. Waffle House job training is off the chain," Don wrote as he posted the clip to Twitter. "An underrated part of this video is the other employee quickly ducking when the chair was thrown," Don added in a follow-up tweet. "You have to be able to do stunts to work at Waffle House."
"She caught a chair flying toward her head with one hand, spinned that sh*t on her finger like a Harlem globetrotter, and deflected it away all in one motion," one impressed viewer wrote. "She seriously could get the bag as a stunt person or WWE career… something. That was entertaining as f*ck," he added — but not everyone was amused by the incident. Namely, the police didn't find any humor in it, and rightfully so.
After the dispute over the to-go order turned violent, police were called and both Madison Police Department officers and Morgan County Sheriff's Office deputies responded to the disturbance. Two people were arrested for disorderly conduct after they allegedly threatened a Waffle House employee. One of those people was Roderick Ramone Brown, who explained to officers how the brawl reportedly began.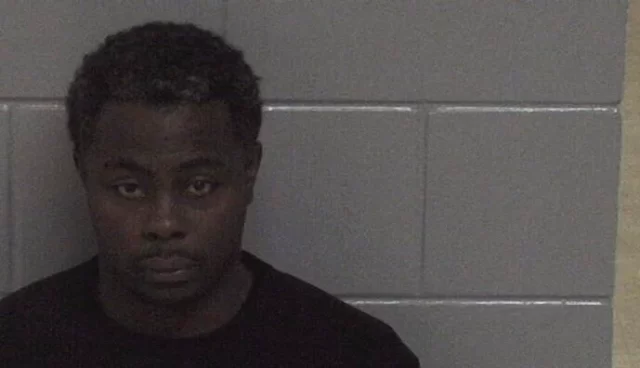 "When officers arrived, reports state, they observed several persons outside the restaurant 'yelling.' Brown told officers that he had placed a to-go order and when he was given his order, he stated that the food in the order did not correspond to what he had requested," The Morgan County Citizen reported. "Brown said he then, reports state, initiated a verbal argument with the Waffle House manager, a woman."
Along with Roderick Ramone Brown, police also arrested Alexis Shaianne Smith, 27, who allegedly took a swing at the Waffle House manager while she and Brown were walking outside the restaurant after she offered Brown a refund. According to police, Smith started "acting belligerent" when a deputy attempted to speak with her regarding the incident and was placed in a patrol car.
Reports state that Smith admitted to officers that she had tried to strike the manager. Additionally, both the police and the Waffle House manager claim that several children were inside the restaurant when the incident occurred and witnessed the despicable behavior displayed. Roderick Brown and Alexis Smith were transported to the Morgan County Detention Center and booked into the local jail.
It should be noted that, although The Blaze links the footage to the Morgan County Citizen article, at least one Twitter user alleges that the viral video footage and the police report are not from the same incident. Regardless, the clip shows the state of the world we live in. Unfortunately, this is how some people choose to act when things do not go their way. Rather than displaying grace and understanding while remaining calm, some people throw fits like violent toddlers, forgetting that such tantrums do nothing to solve the problem at hand.