When a video of a man publicly proposing to his girlfriend at a packed party went viral, her "humiliating" response sparked a debate. Some viewers asserted that certain marriage proposals are more like hostage situations. Are they right? Watch and decide.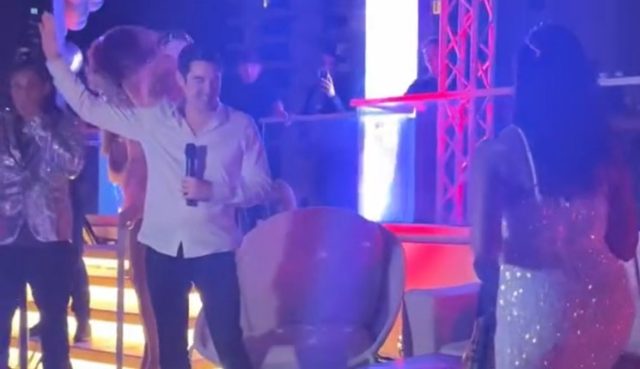 Cassidy "Cass" Joy, a TikTok influencer with hundreds of thousands of followers who goes by the username "caesthetically," posted what has been dubbed as possibly "the most awkward public proposal of all time" after a man decided to pop the question to his girlfriend at a packed party. The proposal allegedly occurred during a New Year's Eve event, and the girlfriend's response was "humiliating."
As seen in the TikTok video that was captured by an eyewitness and posted to the social media platform, the unidentified woman was partying at a rooftop venue in Hawaii before the music stops and her man takes to the microphone. It quickly became evident that the man was proposing, but all the while, his woman looked absolutely mortified as her partner proposed to her in front of a crowd of strangers.
The unnamed woman admittedly looks embarrassed as she's called up to the stage by her suitor, and witnesses were quick to call it out. "Omg they stopped the entire NYE party for this guy to propose and the girl was NOT HAVING IT," Cass wrote beneath the clip, which was quickly viewed millions of times. "WAIT UNTIL THE END," she added. "That was the most awkward thing I've ever witnessed."
However, the woman's beau was seemingly oblivious to his girlfriend's discomfort as he gave a gushing monologue as he got down on one knee. "I want to say, I'm crazy in love with you," he tells her as she seems to stare blankly in his direction. "You're the love of my life, and will you make me the happiest man in the world," the lovestruck man swoons. "Will you marry me?"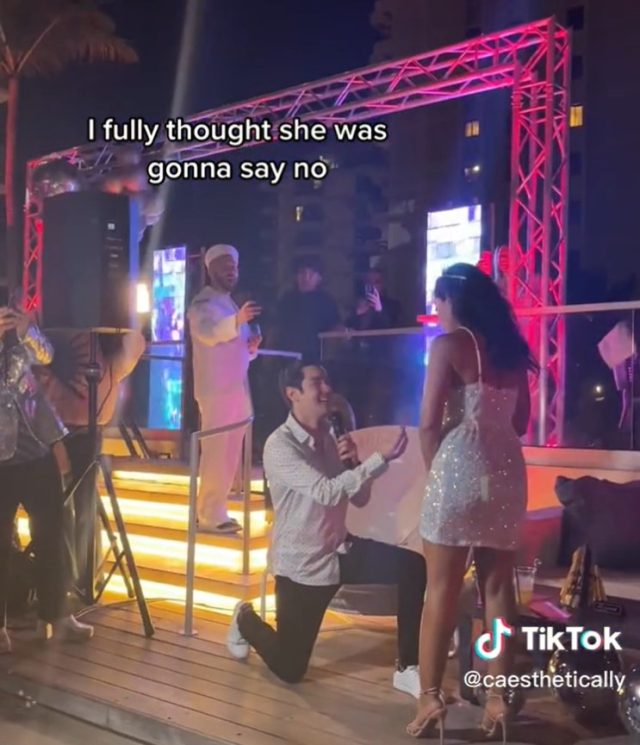 Sadly, rather than a resounding "Yes!" his question was followed by an awkward prolonged silence, leading many to believe she was about to say no. Seemingly unphased by his lady's humiliating reaction, the man prods her for a response, saying, "It's a simple yes or no," to which she finally says, "Oh my gosh" with an uncomfortable look on her face before finally giving what sounds like an apprehensive "Yes?"
Although the crowd erupted in cheers as the woman slipped the engagement ring on her finger, "the new bride-to-be was left less than impressed," according to NY Post. In fact, things allegedly got much worse as the two were reportedly caught squabbling afterward as the new fiancé scolded her man for proposing in public, Cass said. "Why would you do that?" she appeared to mouth to her future husband.
The entire ordeal sparked a debate among viewers, who were quick to chime in with their opinions in the comment section. Many shared their objection to public proposals, likening them to something like a hostage situation, in which the woman may feel held captive by the large audience and forced to accept the proposal in order to avoid further embarrassment for herself and her lover.
"Public proposals are so wrong. It's very manipulative and pressuring [because] the crowd all expects you to say yes," one TikTok user pointed out as others agreed that proposals should be private or done with close friends and family as the audience rather than in front of a massive group of strangers.
Of course, there are those who want the fanfare and spotlight for their magic moment, but all seemed to agree that the method of proposing should be discussed beforehand since not all brides-to-be like being the center of attention. That seems to be sound advice that can prevent unnecessary embarrassment. After all, if the humiliation of the awkward public proposal wasn't bad enough, now this couple has gone viral — and that could have been prevented with a more private proposal, which it appears his lovely lady would have preferred. What do you think? Should a proposal be a complete surprise or are certain elements worthy of a discussion prior to popping the question?