When a female high school student kicked a police officer in the head during a lunchtime brawl, students could be heard on video yelling "Oooh!" immediately after the blow. But, rest assured, the deed didn't go unpunished.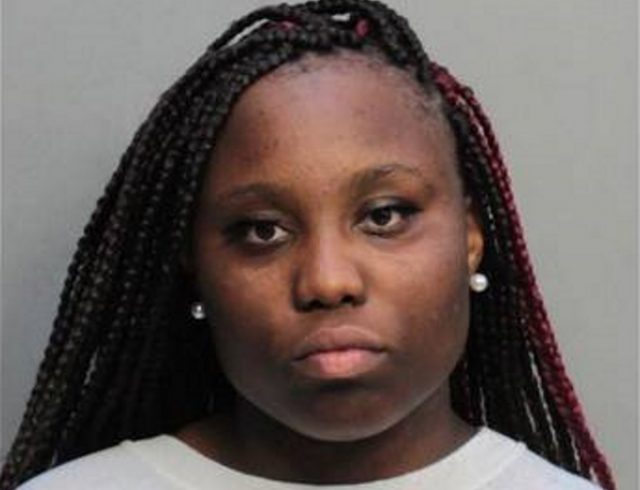 Shardae Yvonne Pittman, an 18-year-old student at Homestead Senior High School in Florida, made the bold decision to intervene when she saw a student resource officer pinning a 17-year-old girl to the ground, face-down, during a lunchtime brawl. The Miami-Dade County Public Schools Police Department officer was responding to a report of five females fighting when he restrained the 17-year-old female, later identified by her mother as Diamond Brady, WSVN reported.
A video posted to Only in Dade's Instagram page captured Pittman kicking the police officer in the head, apparently trying to defend the girl he was holding on the ground, according to WPLG. After Pittman first tried to push the officer off of Brady, a man — apparently a teacher — tried to pull Pittman away, but she managed to land one swift kick to the officer's face as she was being removed from the fight.
After the chaotic fight broke out among teenagers, fellow students gathered around to watch the brawl, some with their cellphone cameras rolling. An officer, whose last name was reportedly Zapico, pinned Diamond Brady to the ground. That's when Shardae Yvonne Pittman, who wasn't even part of the initial fight, according to police, inserted herself into the situation, kicking the officer as he was trying to do his job.
Students can be heard yelling "oooh!" in a clip immediately after Pittman struck Officer Zapico in the face with her kick. John Shuster, a spokesman for Miami-Dade County Public Schools, said the officer was not hospitalized, but Pittman's actions didn't go unpunished. In fact, it landed her in jail.
"Any behavior that endangers the well-being of students and staff at Miami-Dade County Public Schools will not be tolerated, will be handled swiftly, and result in severe consequences," Daisy Gonzalez-Diego, a spokeswoman for the district, said in a statement. "When that behavior involves battery on a police officer, as it did today, offenders will be arrested and prosecuted to the full extent of the law. Students will also be disciplined according to the Code of Student Conduct, up to, and including, expulsion."
Miami-Dade County Public Schools Police Chief Edwin Lopez also released a statement that night on Twitter. "It is a shame that while this officer was attempting to break up a fight and maintain a safe learning environment, this adult student acted in a cowardly way," he wrote. According to officials, Brady and Pittman were both hit with battery on a law enforcement officer charges, while Pittman was also charged with educational interference. That didn't sit well with Brady's mother.
Sharnell Lee, Diamond Brady's mother, picked her daughter up from a juvenile facility that Thursday night, and she was "pissed," according to WSVN. Saying that Pittman is her daughter's friend and alleging that her daughter had been jumped by other girls in a fight minutes before the video was recorded, Lee was adamant that her daughter was only defending herself and added that she wants the girls who she says attacked her daughter to also face charges.
"One of the girls spit on her face," Lee told WFOR-TV. "The other [hit her] on her head. When I got here my daughter was put in handcuffs, crying, she was in pain from the cuffs. I asked the officer what happened, he did not respond. I tried to talk to the principal and he did not have any answers for me," she continued.
"My daughter comes to school, she is supposed to be safe," Lee added. "Where was the security? Where was everybody when [the fight] took place? Why did she get in trouble? Why would a police officer have my daughter on the ground and allow the other young lady to spit in her face?" she asked. "I'm highly upset about it. I'm pissed," she said, calling her daughter, who was ordered to home detention, "the victim."
Shardae Yvonne Pittman was transferred to Turner Guilford Knight Correctional Center before being released on a $5,500 bond. Regardless of whether Diamond Brady was a "victim," what Pittman decided to do was uncalled for. Brady was not in danger when Pittman inserted herself in the situation, so kicking Officer Zapico in the face wasn't necessary. As Sharnell Lee asked where authorities were, she failed to see the answer in front of her face: They're busy dealing with the kind of disrespect displayed by those her daughter calls "friend."