A massive brawl erupted on an American Airlines flight, and it was all caught on camera. What's more shocking than the footage, however, is what sparked the altercation. Apparently, a simple argument led to complete chaos, giving at least one passenger an "anxiety attack." Wait until you hear what these women were fighting over.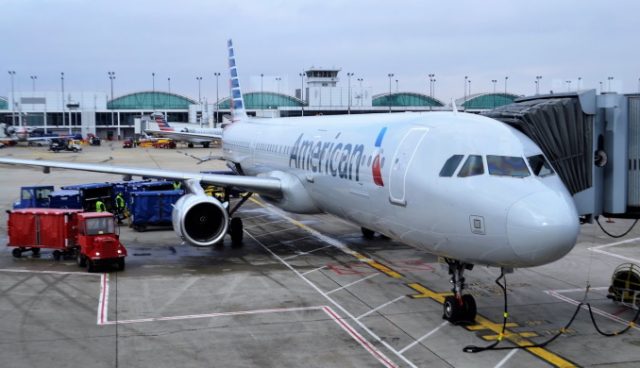 An American Airlines flight from Los Angeles, California to Phoenix, Arizona erupted in chaos when a fight broke out between two passengers. The two women ended up starting a massive brawl after a silly argument, resulting in multiple people quickly grabbing their phones to capture video footage of the altercation that resulted from the simple disagreement.
Before we get to the video footage, though, it's worth noting what these women were arguing over. The massive brawl erupted after the women got into a fight about who would get to deplane first. While it sounds like something children would fight over on the playground, it was two grown women who decided to throw fists over who got to go first. Keep that in mind as you watch the resulting melee.
As the two women waited to deplane their American Airlines flight from Los Angeles International Airport (LAX), a fight broke out as the pair began to squabble over who would be first to deplane the brief flight that had just landed at the Phoenix Sky Harbor International Airport.
The verbal altercation quickly turned physical with video clips from other passengers capturing the aftermath. In addition to sharing videos of the massive brawl, multiple people took to social media to lambast the behavior that allegedly almost caused them to miss their connecting flight as they waited for the unnecessary commotion to settle.
"[I] almost missed my connecting flight with @AmericanAir in Phoenix because two girls decided to fistfight over who was getting off the plane first. I can't," Twitter user @katebytheocean0 wrote alongside a clip of the pandemonium, perfectly summarizing most viewers' reaction to the ensuing chaos that's seen.
Kate wasn't alone in her frustrations. "Almost missed my connecting flight and had an anxiety attack after witnessing this," a woman named Annie also wrote, sharing another clip of the massive brawl that erupted in the aftermath of the argument between the two women.
In addition to the occasional shove and push captured on camera as people try to separate the group, profanity and other obscenities were also heard in the footage as one woman screams at another to get off the seat as people were falling over during the altercation, the Daily Mail reported. In one clip, frustrated airplane passengers are heard asking the one woman why she is fighting with the other female.
In another clip, which was captured from further back in the plane, people are seen standing in line, watching the fight, and exasperated passengers are heard screaming for the fighters to get off the plane. As the arguing continued up ahead, the airline crew is heard calling for law enforcement.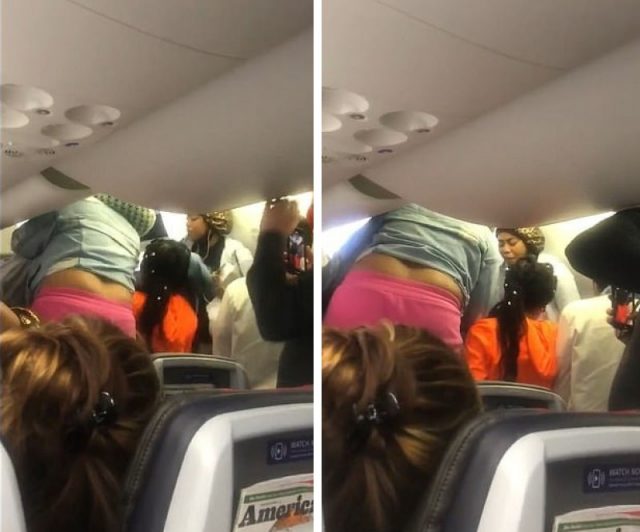 "We appreciate you bringing this to our attention and we're glad to see you made your connection," American Airlines wrote, responding to one of the people who shared a video of the altercation on Twitter. "Please share any additional info via DM."
Sadly, such behavior is far from a first. In fact, it has seemingly become a pandemic with the shocking altercation taking place after the Federal Aviation Administration (FAA) announced that it was extending its unruly-passenger zero-tolerance policy due to such problems being on the rise.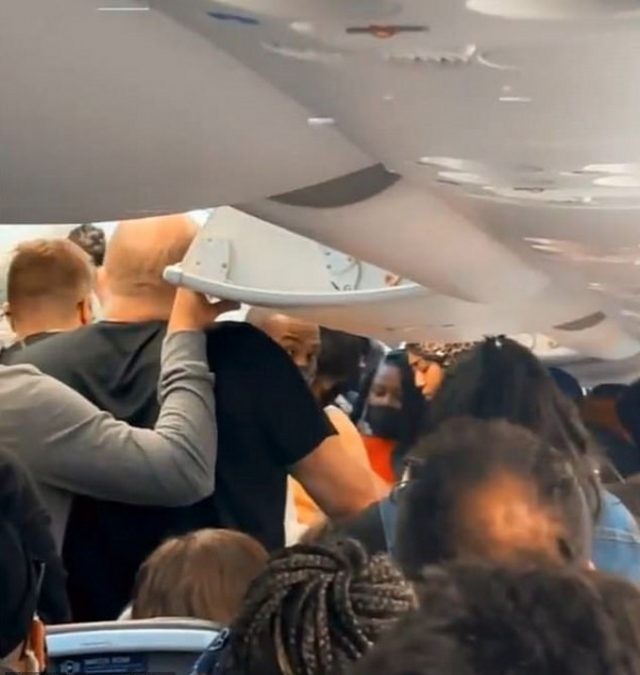 "The policy directs our safety inspectors and attorneys to take strong enforcement action against any passenger who disrupts or threatens the safety of a flight, with penalties ranging from fines to jail time," a press release from FAA Administrator Steve Dickson explained. "The number of cases we're seeing is still far too high, and it tells us urgent action continues to be required."
It's sad that such "policies" need to exist and aren't just common sense anymore. Disrupting or threatening the safety of a flight isn't acceptable. Disturbing and frightening other passengers because you want to be first makes this behavior even worse. After all, in the grand scheme of things, aren't there more important issues to get upset over? If you have such a need to be first that you will act like a petulant child, do the rest of us a favor and just stay home. Or, be a grown-up, like the rest of us, and just chill the heck out.