A message painted on a teacher's parking space at a public high school became the center of debate after it angered a fellow staff member, who alleged that it doesn't belong on school grounds. However, the district felt differently, saying it was not going anywhere. Were they right to defend it?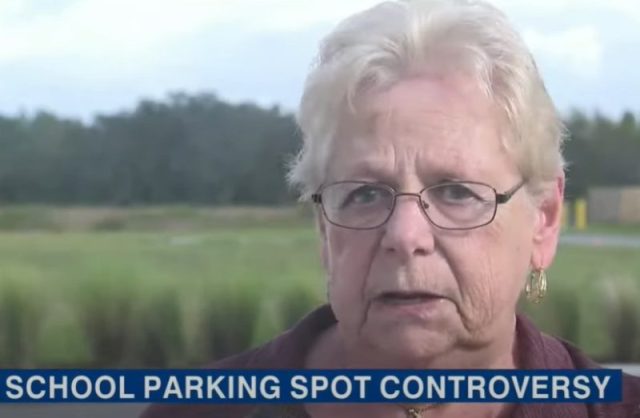 Marina Gentilesco, an instructional assistant who works at Wiregrass Ranch High School in Wesley Chapel, Florida, was none too pleased when she saw a message painted on a teacher's parking space at the public high school, located in Pasco County, about half an hour north of Tampa. In fact, Gentilesco was so angered by the message that she said she felt attacked by it. But, of course, not everyone is sympathetic.
The message at the center of the debate is a Bible verse from Philippians 4:13 in the New Testament, and the message painted on the parking space reads, "I can do all things through Christ which strengthens me." According to Gentilesco, who's Jewish, she grew up hearing stories about her parents in the Holocaust. So, passing by her coworker's parking space every school day angers her.
"I feel like it's attacking me as a Jew," Gentilesco told WFLA News Channel 8. "It brings me to the verge of tears because it brings me back to the 6 million that perished. Six million perished because of our faith — because we're Jews," she continued, adding that it brings back painful memories. "They survived," she said. "We didn't."
Gentilesco alleged that she wouldn't mind the verse if it were displayed in a place like a church, but she felt that allowing it to be displayed on school grounds is going too far. "You put it on a state-funded property, I'm not OK with it," she said. Unfortunately for her, the district disagreed.
After Gentilesco brought up her grievances about the Bible verse to the attention of the school's administration, the principal checked in with the school district to determine whether or not the verse should be removed. The verdict? Pasco County Schools decided the parking lot painting was "not a violation," according to The Blaze, and the district said it would not be removing the Bible verse.
"It's not a violation," the district's Public Information Officer Stephen Hegarty said. "This is personal expression," Hegarty added, explaining that "there is no proselytizing going on; it's not compelling students to do anything one way or the other." He also said that the painted Bible verse on the parking lot space doesn't reflect what students are being taught.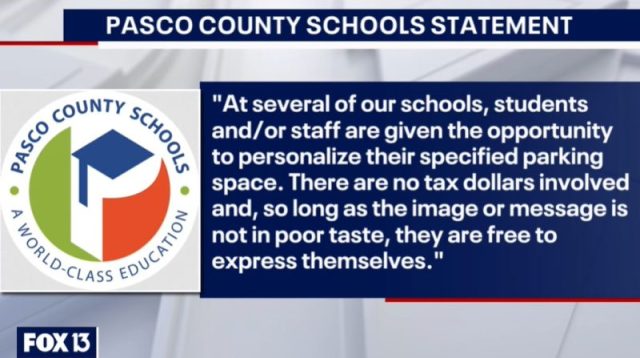 "It has nothing to do with instruction," Hegarty explained. "It's just a teacher expressing themselves just like they might wear a crucifix on their shirt." According to the Public Information Officer, "teachers and students are free to express themselves," so the Bible verse wasn't going anywhere.
There often seems to be confusion surrounding the separation of church and state, especially when it comes to what should or should not be tolerated at our public schools. The separation of religion and government is mandated under the establishment clause — the first clause in the Bill of Rights. It states that "Congress shall make no law respecting an establishment of religion." But, people often misunderstand what this means.
Obviously, no one at the school attempted to establish a state religion with the Bible verse, and it's actually Marina Gentilesco who might be in the wrong. The free exercise clause of the U.S. Constitution not only forbids the governmental establishment of or preference of religion, but it also preserves religious freedom from governmental intrusion. The government is not compelled to scrub all religious references from the public square. In fact, it's just the opposite. The government is not to forbid expressions of faith.
Simply put, "The concept of a 'separation of church and state' reinforces the legal right of a free people to freely live their faith, even in public; without fear of government coercion. Free exercise means you may have a faith and you may live it," according to Time, which added, "Separation of church and state is too important a concept to be misused — especially not as a tool for silencing opposing views." It seems some need this reminder: "The church should not rule over the state, and the state cannot rule over the church."