Game show contestants were in for quite a shock when a male competitor snapped and turned on a bikini-clad woman after she taunted him. What he did to the thong-wearing tease shocked viewers as it aired on live television.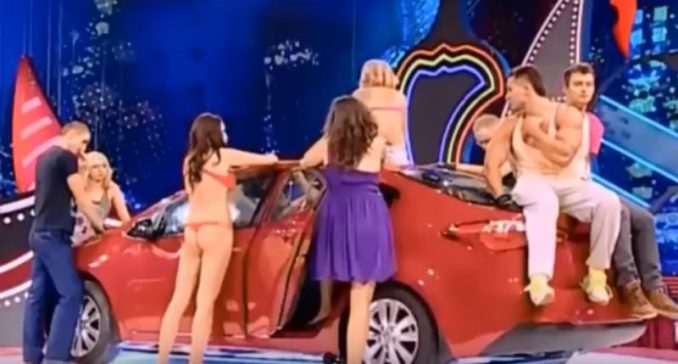 Game shows have long been a favorite America pastime, and they certainly aren't unique to the U.S. In fact, a clip of one such game show out of Russia went viral around the world after what happened when a couple of contestants went too fair, stunning viewers and creating quite the controversy.
The shocking incident took place on the Russian version of Britain's "Touch the Truck" game, where contestants engage in a competition to win a car. The premise is that the last person standing wins the vehicle. But, when a bikini-clad contestant started taunting one of the men, things took a turn that no one ever expected.
As the contestants stood around the car, trying to be the last one standing, the female in the red thonged bikini taunted and teased her fellow competitors. At one point, she took off her high-heeled shoe, pretended to lick it, and waved it in a male competitor's face.
Although her behavior was annoying to be sure, it was taken to the next level when she conked the man in the head with her stiletto. It's unknown whether the smack was intentional or if she just underestimated how close she was to the guy who she whacked as she waved the shoe in his face, but none of that mattered to him.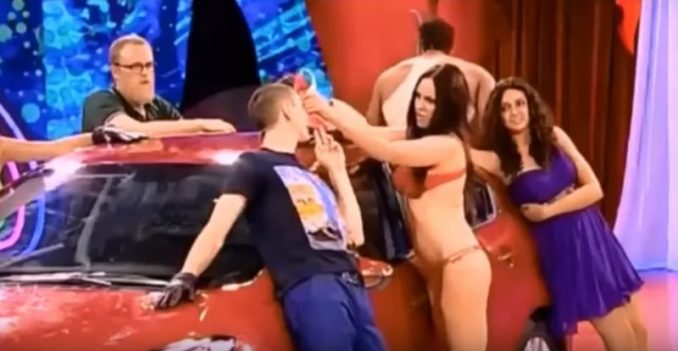 Regardless of whether it was intentional, the small thud against his head, with an item that had been on the woman's feet, was all it took to make the male contestant snap. And, that's when he shockingly took things into his own hands — literally — doing something no one ever expected.
As viewers look on in horror, the man grabbed the woman by the head with both hands, slammed her to the ground, and then smashed her in the face with his open, gloved hand while she was laid out on her back after he had thrown her to the floor.
After the woman suffered the devastating blow, her attacker put his hand right back on the vehicle as if the violent attack had never happened.
Meanwhile, the game show host then appeared, coming to the stunned female's side as she remained on the floor in tears, holding her face as blood pours from a wound on the bridge of her nose.
The video, which has been viewed hundreds of thousands of times on social media by people from all around the world, sparked a debate about domestic violence, with the great majority expressing disbelief that a man dished out such a horrific beating against a woman.
However, others, who claim to have seen the entire show and presumably understand Russian, say that the man asked the woman repeatedly to stop hitting, spitting, swearing at, and punching him and the other contestants, according to Mirror. Still, many say that doesn't excuse the man's reaction.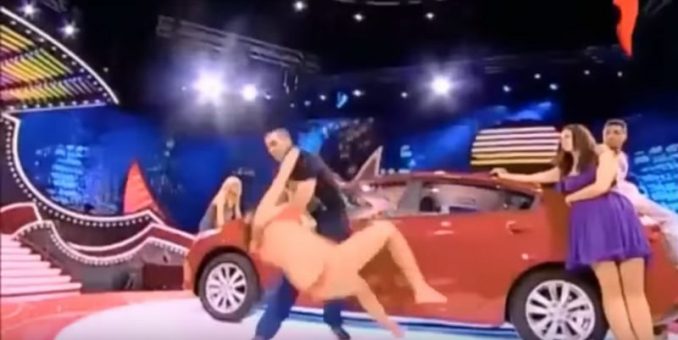 In fact, they claim that those who point out what the woman did to set off her attacker are condoning his outburst. However, while most seem split down the middle, with some on her side and other's on his, there is a third option, which is siding with neither since this appears to be yet another case of "two wrongs don't make a right."
He should not have hit her. He could have moved to the other side of the car without losing the game. He could have gotten away from her outrageous and aggressive behavior. He could have called for game officials to do something about her shoe assault against him. He didn't. He hit her instead. That doesn't make her completely innocent, though.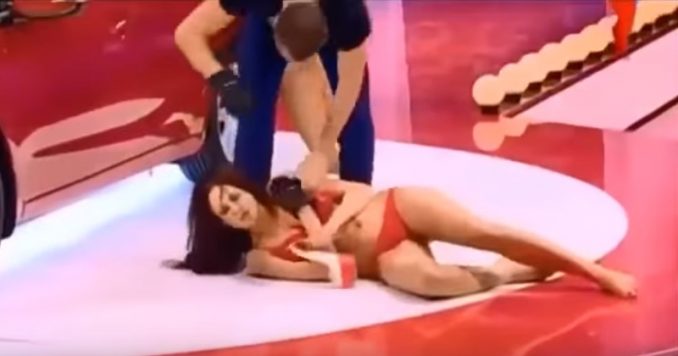 She wouldn't have gotten hit if she had not, in fact, hit him first. If the shoe — no pun intended — were on the other foot, she'd have been applauded for laying out the guy who smacked her upside the head.
If you can't take it, don't dish it out. Or better yet, just live by the Golden Rule. If you don't want to be hit, don't hit someone else — not with your shoe, not "lightly," not "jokingly," not at all.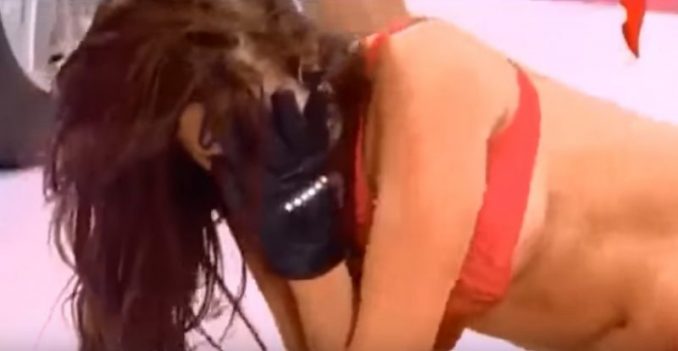 While the man should have expected to be taunted during this type of competition, being hit with her shoe was something else entirely. And, of course, there needs to be a small mention about those in charge of the show. This behavior was allowed to escalate for ratings, and this woman paid the price.
Lesson learned: Keep your hands to yourself or risk consequences that aren't always going to be fair or pleasant. That's not victim-blaming. That's common sense. When two adults behave badly, no one wins — not even on a game show. Her actions were appalling, but his reaction went too far. Although there's no word either way as to the final result, both are losers who should have been disqualified.