A police officer was thrust into the spotlight after a woman snapped a photo of him and posted it on social media. Although he didn't realize anyone was watching, one woman was. When she saw what he did with two dogs on the side of the road, she was compelled to take a picture and show everyone.
Debbie Davis was commuting in the early morning hours on the 71 highway in Kansas City, Missouri, when she and others saw an officer of the law involved in an act along the side of the road that quickly caught their attention and made them slow down for a closer look.
First, passersby likely noticed the police motorcycle sitting to the side of the roadway. The cop, who it belonged to, was off in the grass, but he wasn't alone. Seeing this, Debbie grabbed her camera as she realized what the cop was doing with what appeared to be two stray dogs.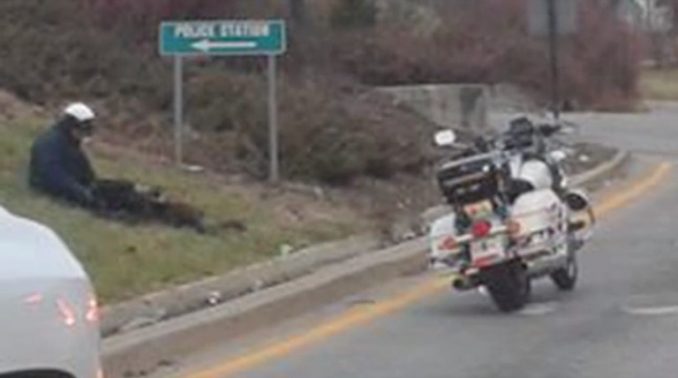 Debbie took a photo she had captured of the officer with the dogs and posted it on social media, where it immediately went viral as people hailed the cop a hero — and for good reason. Apparently, on that cold morning, the officer was engaged in a moment of sincere kindness that would impact quite a few people as well as two dogs that had escaped from the safety of their yard.
The humble police officer, who did not wish to be identified, was seen in Debbie's image below, sitting on the side of the road on a grassy knoll, off a ramp that leads to 75th Street, Fox4KC explains. Along with him were two lost dogs, one a Shephard mix and the other a Husky, as he waited with the friendly pups for the Humane Society to arrive.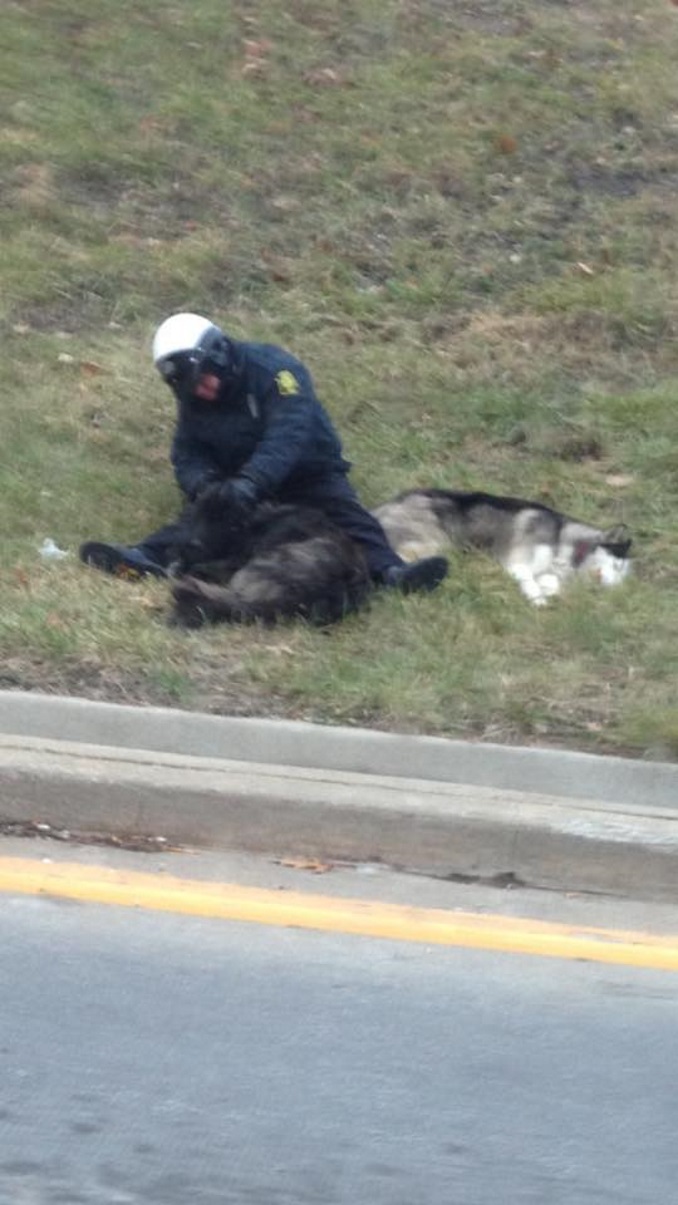 "Saw these two this morning on the off ramp to 75th street northbound 71highway. Both were laying with the Kc cop until someone could get out there to pick them up. Husky had red collar. Couldn't see collar on fuzzy black dog. Hopefully someone recognizes them!" Debbie wrote when she posted the image to the Kansas City, Missouri Lost & Found Paws Facebook page.
The police officer could have called in the dogs to the Humane Society and gone about his day, but instead, he stayed with the canines to ensure they made it to safety, waiting for them to be picked up. This gesture had many calling him a hero. The dogs, who happen to be named Leonidas and Bear, would likely agree.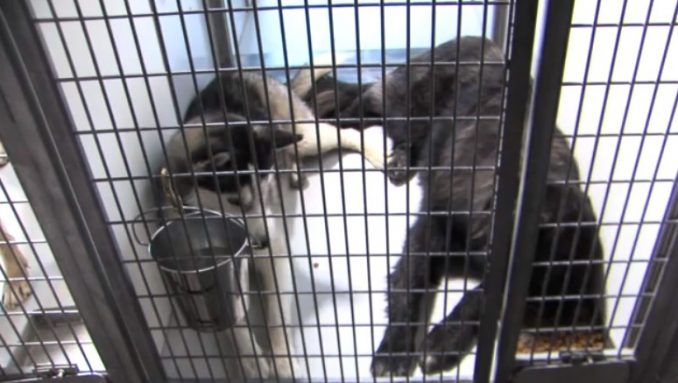 "As I pull up, it's a motorcycle cop sitting in the cold grass with two stray — or what appears to be stray dogs, just sitting there petting them," Davis recalled, adding that she feels the officer went above and beyond his call of duty. "It's over and above for anyone. It's cold. Most people wouldn't look twice at some dogs running around," she said.
Thanks to this police officer, Bear and Leonidas were eventually safely returned to their owners, Austin and Ashley Mozingo, who couldn't be happier to be reunited with their lost pooches.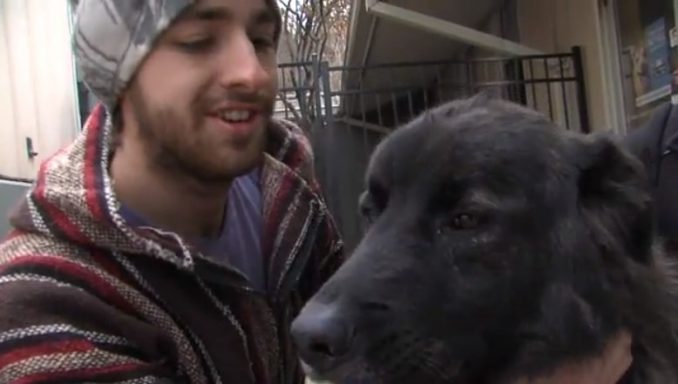 "It was heartbreaking when you see him in a cage, but then, it's relief, when you know you can take him home with you," Ashley said, adding that she likes the photo of her pups with the police officer. "It's adorable," she said. "He's just chillin' with them."
"I think that's an awesome story," Austin added. "It's good to know there are still police officers out there who still enjoy helping out the community, especially in helping out such sweet dogs." We couldn't agree more. We tip our hats to this officer for a job well done.