A black-owned automobile shop decided to take action after becoming the target of vandals, who repeatedly damaged vehicles at the business with racist graffiti. After weeks of vandalism, the owner finally installed cameras, and what he captured on video surprised him.
Dwayne Haynesworth, the owner of Dwayne Haynesworth's Auto Body and Repair Shop in Spring Lake, North Carolina, was perturbed when vandals began leaving racist graffiti on cars at his new business location. The vandalism — which included damage to the cars as well as spray-painted swastikas, KKK figures, and even a message that read, "please leave" — confused the black business owner.
"I mean I'm not bothering anybody. I'm just out here, trying to do business. I don't really know anybody out here," Haynesworth told WRAL after vandals repeatedly left racist images on multiple cars over several weeks. He also explained that he had only been renting the lot for his business for a couple of months and that the vandalism began after a vehicle was stolen from the lot shortly after he began renting it.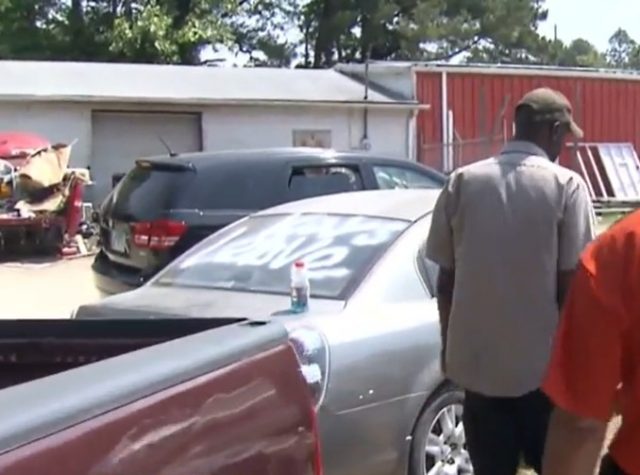 For three weeks, the vandalism continued with someone breaking windows out of cars and painting disturbing messages on the vehicles at the shop. Frustrated with the damage being inflicted on his business, Haynesworth decided to set up surveillance cameras, hoping to capture evidence and images of the vandals. However, he ended up getting much more than he had bargained for.
In fact, what Dwayne Haynesworth captured on video just 24 hours after installing the cameras left him even more puzzled than he already was. Although the vandals had left behind images that indicated "white supremacy" and racism towards the black business owner, Haynesworth had captured two suspects on video — and they both appeared to be black.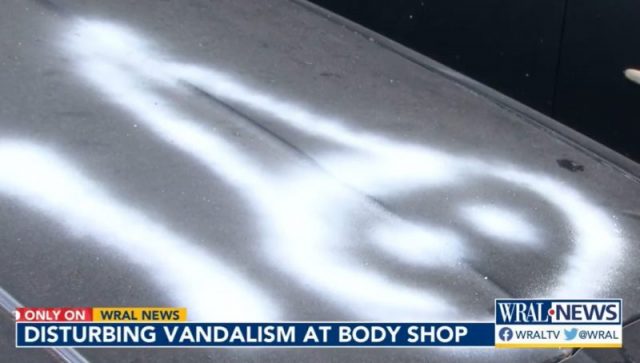 "The video showed two young males who appear to be black trying to steal one of Haynesworth's cars," The Blaze reported. "The shop owner says there was more damage done to his vehicles, including paint scratches and windows broken." A reporter with WRAL also pointed out that the suspects appeared to be smoking a "blunt" on the video captured of them.
Obviously, some people could argue that the two suspects captured on camera might not have been the same suspects who spray-painted swastikas, KKK figures, and other racist graffiti on the vehicles. However, there's another clue that indicates this was not a legitimate instance of white supremacy. Namely, the swastika was not painted correctly. Instead, one of the arms was backward.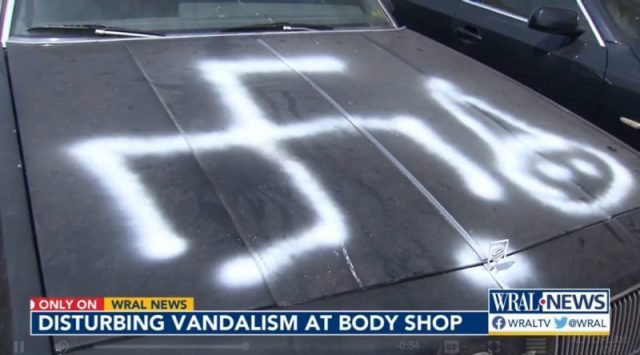 The Spring Lake Police Department posted screenshots from the surveillance video on their Facebook page and asked for the public's help in identifying the suspects. "Two male persons of interest were involved in breaking and entering motor vehicles, vandalism, and racist graffiti," the department wrote alongside the images, asking anyone with information regarding the identity of the suspects to contact the authorities.
After seeing that the so-called "racist" vandals appeared to be persons of color, one social media user suggested that the news media "should wait till the evidence is out before fomenting racial divide among Carolinians." Calling the suspects a "pair of hoodlums," another commenter speculated that they painted swastikas and KKK graffiti because they either "have a cultural identity issue or they're trying to make it look as if someone else vandalized the business."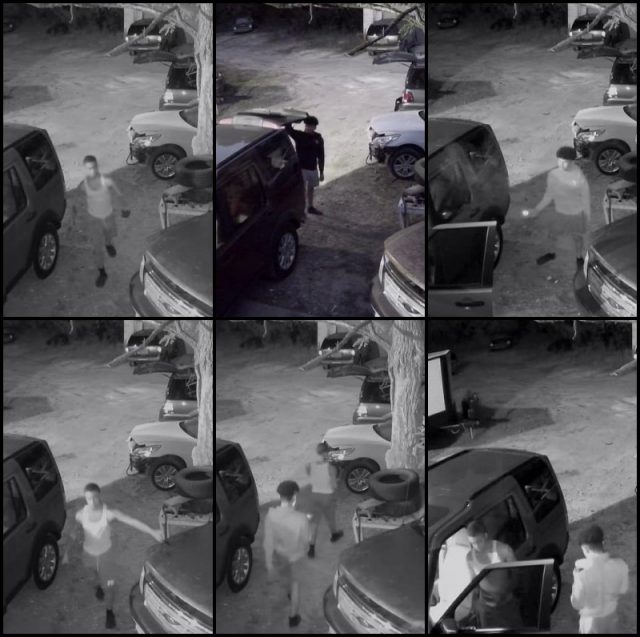 If there is one thing that's worse than a hate crime, it's a fake hate crime. What these suspects did is wrong. The fact that they tried to make it appear that a racist white person was targeting the black-owned business makes it even worse because these "hoaxes" increase a divide in our nation and perpetuate a false narrative that racism is running rampant.
In reality, most Americans are not racist, and we are appalled by racist graffiti. We're equally appalled by alleged hate crime hoaxes that attempt to pit us against one another based on skin color when the vast majority of us are living peacefully with no ill will towards anyone, regardless of race. Enough is enough. It's time to hold accountable those who perpetrate such dangerous falsehoods that tear our country apart. Hate crime hoaxes are just as ugly, hateful, and racist as actual hate crimes, and it's time to call them out as such.