A disturbing video has circulated on social media showing a group of black girls mercilessly punching and kicking a white girl who suffered severe injuries. Despite the footage clearly identifying the culprits, police have announced they won't be making any arrests.
A horrific assault in Melbourne's Southern Cross Station has been all but scrubbed from social media for what many speculate has to do with the race of the victim and alleged attackers. Video of the incident indicates a disturbing trend in the media's whitewashing of violence against non-minority victims by people of color.
An unnamed 15-year-old girl was suddenly attacked by a group of eight females, the Daily Mail reports. The teen was waiting alone on a bench for a train when the group confronted her before unexpectedly punching her in the face. The recording shows another girl kicking her three times in the head as she repeatedly reels back in shock.
The girl's mother told 7News that her daughter was then dragged to the ground and stomped off-camera. The victim believes the attack may have been because she spoke to a boy that one of her attackers "liked." In a Facebook comment, the mother explained that her daughter was bleeding from her nose and mouth, sustained multiple broken ribs, suffered bruising, and suspected that her cheekbone is broken.
Most disturbingly, the police claim that they cannot arrests the attackers because the victim hasn't made a complaint. However, the victim's mother says it's not going to happen because her daughter is too fearful of a retaliatory attack if she names her assaulters.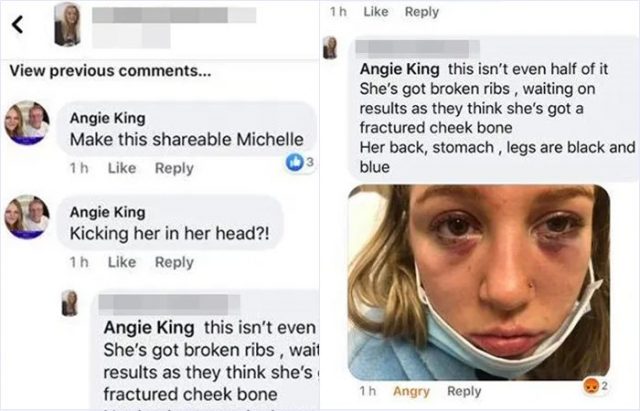 Attorney Nick Papas denounced the police's insistence that they must have a statement from the victim in order to bring charges against the attackers. He reiterated that many cases that are tried in court don't have a victim who can offer a statement, yet the authorities still charge the suspects in those instances.
"A video of that sort would be very easy to lead as evidence in court," attorney Nick Papas said. "We would need evidence of who took it, when it was taken, and that it's accurate. I'd have no difficulty with that video being used. There are plenty of cases that proceed without victims and, sadly, the best example is murder — you don't have a victim."
Still, the police have doubled down on their demand for a statement from the victim before proceeding with any arrests or charges.
"Police are aware of footage of an assault at a train station circulating on social media," a Victoria Police spokesperson told Daily Mail Australia. "Based on the information provided at this stage we have not been able to confirm if a complaint has been made in relation to the incident."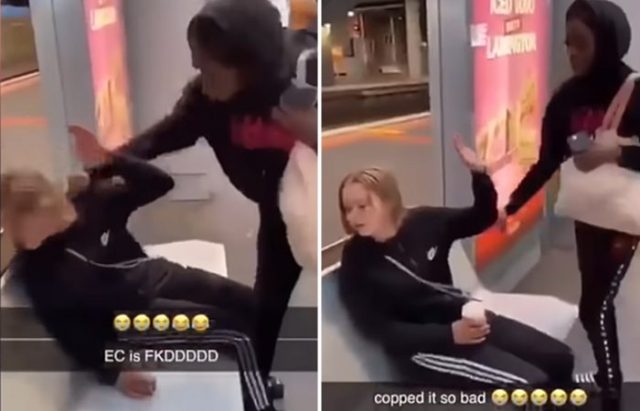 Within days, videos of the attack were removed from YouTube and the Go Fund Me account that had reportedly raised over $23,000 was taken down. Since then, Avi Yemini has started a petition to call on the police to investigate and charge the attackers.
Several outlets and social media posts have accused the attackers of being affiliated with Black Lives Matter. However, this has not been confirmed.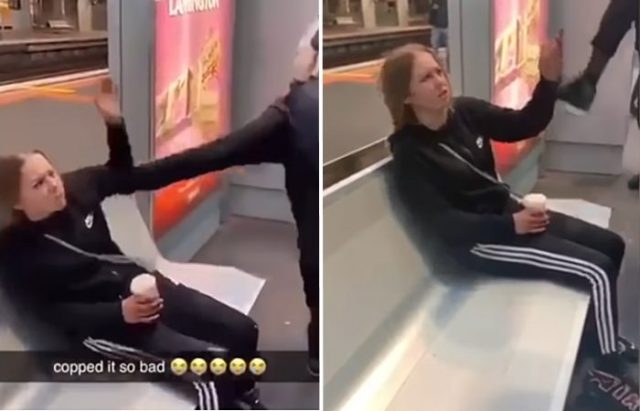 Many have expressed their suspicion that the story would be front-page news across the globe if the races were reversed. The incident has sparked heated debate over just how far the media will go to turn a blind eye toward black-on-white violence.
"Imagine 8 white girls would beat a black girl….racism goes both ways and isn't reserved to certain groups!" one user commented.

"If it had been the other way around and she had been black and they white this video would have gone viral but it clearly shows the double standard we have in the world," another wrote.

"No one will riot over this. People don't believe that other races can be racist. If this was other way around – protests again," another said.
The victim has remained silent about the incident and still refuses to seek prosecution. As such, it seems as though the police will not charge any of her attackers. Perhaps, if the incident gains enough attention, the authorities will be pressured into bringing charges against the assailants. For that to have any chance of happening, the story must be shared far and wide before it is once again removed from social media.