An intense video captured the moment a homeless man, who didn't speak any English, attempted to kidnap a 3-year-old girl from her grandmother in the Bronx. Thankfully, things didn't go as the child snatcher had hoped.
Santiago Salcedo, a 27-year-old homeless man living on the streets in the Bronx, was allegedly captured on startling surveillance camera video as he tried to kidnap a 3-year-old child from her 65-year-old grandmother in broad daylight as her other grandchildren looked on in horror, according to The Blaze. Thankfully, he wouldn't get far, but it wasn't for lack of trying.
As seen in the troubling footage, a man — later identified as 27-year-old Santiago Salcedo — is seen approaching a grandmother who's attempting to cross the street in Throggs Neck in the Bronx on a Monday. The grandmother was walking her three grandchildren home from the park and only about a mile from their home when the incident occurred.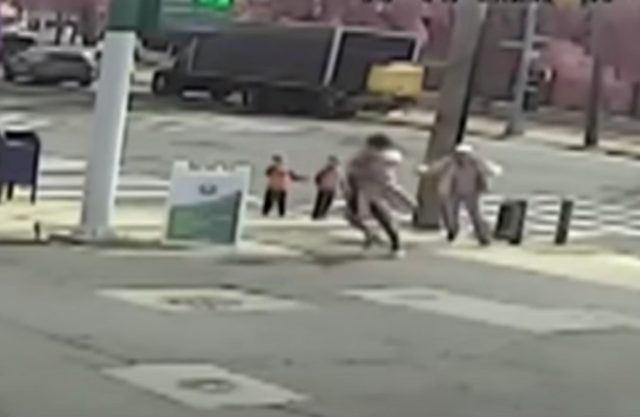 After walking up to the grandmother and the young children, Salcedo, who's seen wrapped in a blanket, suddenly grabs the 3-year-old girl and starts to run off with her, much to the horror of her grandmother. Terrified, panicked, and alarmed, the unnamed grandmother begins to yell for help. Thankfully, bystanders are more than willing to comply with her request.
"She saw him coming closer and she thought that he would want to ask for money, so that's why she wasn't fully aware of what can happen," the child's mom explained, describing how the grandmother was caught off guard by the homeless man who had approached her with her grandchildren.
After hearing the woman's cries, bystanders can be seen walking after the man as he tries to get away with the child, and their efforts prove effective as Salcedo dropped the girl, who was thankfully not injured during the frightening ordeal. After releasing the child from his clutches, Salcedo then fled the scene, according to police.
"It was like a movie, but this is real life. It was crazy," Fermin Bracero, an employee of a gas station nearby who witnessed the attempted kidnapping, recalled. "He must have gotten scared or something, dropped the girl, put the little girl down, and walked away like nothing," Bracero added. "He didn't say nothing. He just stood there looking at us. He stood there for a while. I was still thinking, 'Is this real?'"
Not wanting the attempted kidnapper to get away, many of the bystanders formed an impromptu search party and tried to track down the child snatcher. Although they were unable to locate him, the police had better luck. According to authorities, Santiago Salcedo escaped on an electric scooter after the attempted abduction, but it later "quit on him," forcing the suspect to abandon it. Salcedo was eventually caught.
After finding Salcedo — who has no prior criminal record in New York City — sleeping in a doorway of a nearby business called the Tosca Rooftop Garden Bar, police arrested the homeless man and charged him with kidnapping and unlawful imprisonment, along with other charges, including endangering the welfare of a child. According to authorities, Salcedo, who was "silent but smiling," does not speak English. He was ordered held on $15,000 bail, the Daily Mail reported.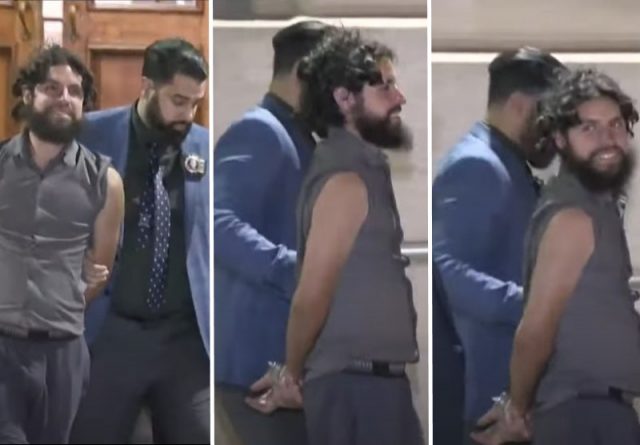 Although the mother of the children did not want to be identified, she admitted that her family was traumatized by the incident. She went on to express her gratitude for the brave good Samaritans who willingly stepped up to help a stranger in distress. "There was literally a couple of people who chased the guy and helped us with police, so I'd like to thank them," the mother said, acknowledging those who interveined.
There is plenty we could say about a monster such as Santiago Salcedo, who would attempt to snatch a toddler off of the street in broad daylight, but he's not the one worthy of our recognition. Instead, it's the courageous citizens who should garner our attention. Thankfully, there are good people out there, ready to stand up and protect the innocent from those who prey on them. We shudder to think what the outcome of this incident may have been if it weren't for the concerned bystanders turned heroes, who stepped into harm's way for this child.