During a school board meeting, a 9-year-old girl stepped up to the podium and utterly destroyed the members for putting political propaganda in her elementary school, leaving them speechless.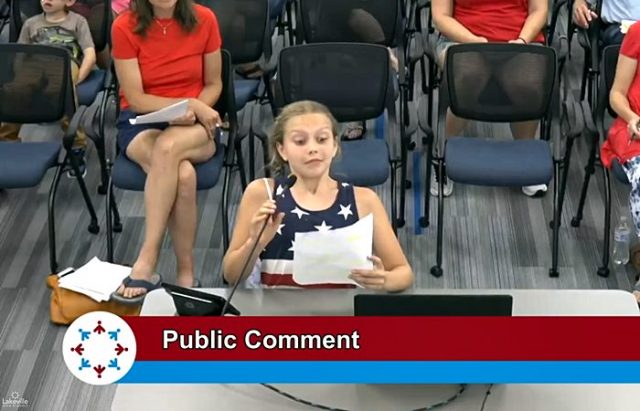 During a school board meeting in Minneapolis, a 9-year-old girl identified only as Novalee took the opportunity to address education officials she believes are grooming students for political purposes. In an articulate yet fiery speech, the child doesn't mince her words, passionately exposing the board for not only violating its own rules but politicizing her primary school.
"The other day I was walking down the hallway at Lakeview Elementary School to give a teacher a retiring gift. I looked up on the wall to see a BLM poster and an Amanda Gorman poster. In case you don't know who that chick is, she's some girl who did a poem at Biden's so-called inauguration. I was so mad. I was told 2 weeks ago at this very meeting spot, 'No politics in school.' I believed what you said at this meeting. So, at lunch I went up to my principal to tell him about the BLM poster and that I wanted it down."
Novalee says she then confronted her principal and told him she wanted the poster removed, to which he replied that it wasn't going to be taken down. The child fired back, "Yeah, it is," reminding him that the school board vowed at the last meeting that there would be "no politics in school." It was then that her principal expressed his confusion, telling her that he found that "weird" because the board members "were the ones who made them."
"I was stunned. When I was here 2 weeks ago, you told us to report any BLM in our schools. Apparently, you know they're in our schools because you made the signs," she accused.
Novalee pointed the finger at the board for trying to compel young students to support the BLM initiative, which is inextricably tied to politics.
"We all understand the meaning. It is a political message about getting rid of police officers, rioting, burning buildings down while King Gov. Walz just sits on his throne and watches. We all know. Changing the font or the color of posters does not change the meaning. I am 9 years old and I know that," she said. "You expect me to believe you did not know what you were doing by making these posters? Come on, people.
Novalee then pulled from her personal experience to show how the constant barrage of racial advertising forces her to take a shallow look at her peers instead of simply seeing them as human beings like herself.
"I do not judge people by the color of their skin I don't really care what color their hair, skin, or eyes is," she said. "I judge by the way they treat me. MLK said, 'I have a dream that one day my 4 little children will not be judged by the color of their skin but by the content of their character.' That dream has come true. I do not care to look at the color of skin but you make me think of it."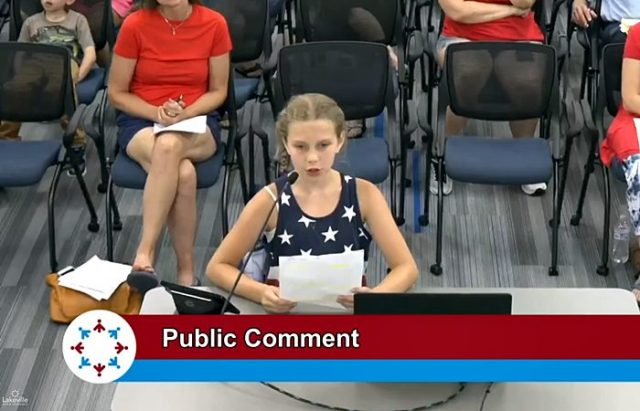 Novalee wraps up her impassioned lecture by vowing not to follow any of the board's rules that she believes are unnecessary since they fail to follow their own.
"You have lied to me, and I'm very disappointed in all of you," she chides. "You cannot even follow your own rules. If you're going to do that, why do we follow any rules we deemed unfit or ridiculous?"
She ends by admonishing the board members and once again ordering them to "get the posters out of our schools." She then tells her audience that "courage is contagious so be courageous" and walks back to her seat to thunderous applause.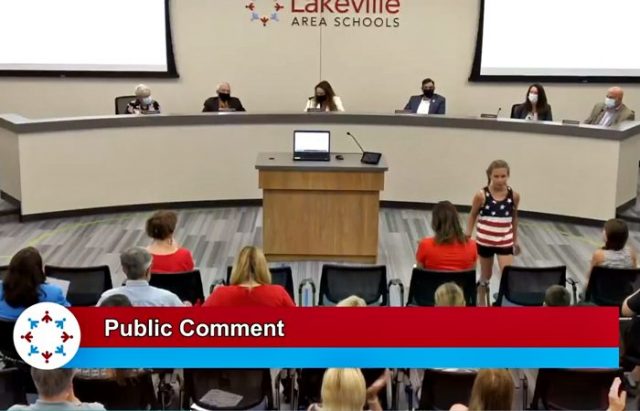 Children should never be the mouthpiece for their own well-being. However, when the adults charged with defending them are silent, little girls like Novalee are sadly forced to speak up for themselves.
This young lady has righteous indignation and is fighting a worthy cause, but she never should've been put in this position in the first place. As adults, we must stand in the gap for our nation's children by getting involved in our communities and holding our leaders accountable on every level.