Although it was captioned "Just another day in NY," an intense video captured so much more than a mundane visit to McDonald's. It showed a man violently terrorizing customers with an ax, and his rage-filled rampage quickly went viral.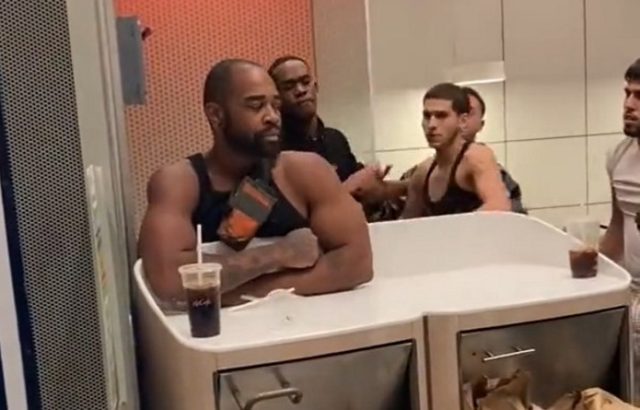 A menacing man wearing blue shorts and a black tank top, later identified as Michael Palacios, was captured on camera, terrorizing a New York City McDonald's on Delancey Street in the Lower East Side neighborhood of Manhattan at around 2:25 am on a Friday. Palacios first appears to get into an altercation with another man before two other men physically prevent him from getting near the other customer. However, things were far from over.
Palacios shoves the two men out of the way and punches a man dressed in white, causing the other two men to retaliate. It appears the tables may have turned as three men then punch Palacios in the head. Shockingly, Palacios appeared to remain completely unphased under the barrage of fists as if he welcomes the punches, which he doesn't even try to defend himself against. Instead, he casually leans on a garbage receptacle until the flurry of fists finally subsides. But, again, things are far from over. In fact, they are about to get so much worse.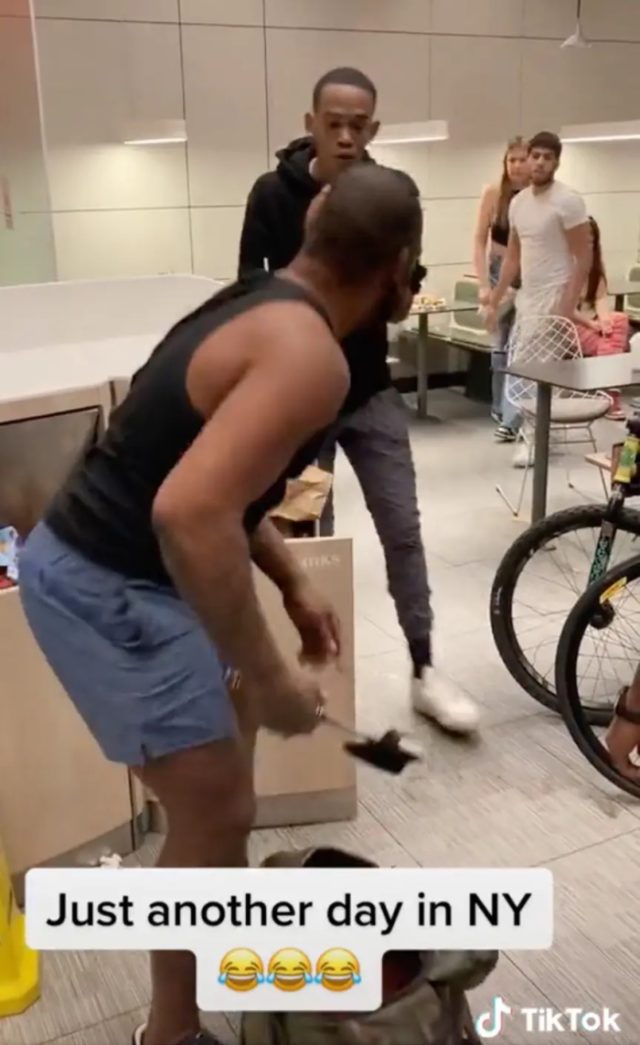 When the onslaught of punches finally comes to a stop, Michael Palacios steps to the front of the garbage receptacle while taking off his backpack. He then sets the bag on the floor before rummaging through it and retrieving an ax, causing the men who had been punching him to quickly back away with their hands up. Fearfully, a man begs Palacios, "Bro, please!" but it doesn't seem to phase him as he swings the ax and smashes a table before hammering the wall near onlookers and then obliterating a large glass partition, The Blaze reported.
As Palacios slaps and punches two men, knocking one to the floor, an onlooker is heard saying, "That's why I keep my knife on me all the time, man. S**t like this, you never know. God knows, man." It's hard to disagree with those sentiments as Palacios — a 31-year-old from the Bronx — gets in the face of a young woman who was sitting down at a booth and points his weapon at her before bashing it on her table.
As viewers' hearts race, Palacios walks toward one of the men who punched him just a moment earlier and threatens him with the ax. A young woman shields the guy from a possible ax attack just before the 2-minute video ends with Palacios leaving the McDonald's restaurant. However, he didn't get far. According to the New York Post, Michael Palacios, who reportedly had a prior arrest for resisting arrest, was charged with criminal mischief, three counts of menacing, and two counts of criminal possession of a weapon.
Although the McDonald's location suffered thousands of dollars in damages, no one was injured in the senseless, violent rampage. However, things could have turned out much differently. Not only was Palacios armed with an ax, but a knife was also discovered in his backpack as well.
"Upon arrival of officers, witnesses at the location reported that the suspect got into a physical dispute with three unknown males inside of the location. The suspect removed an ax from his backpack and menaced the unknown males. The suspect intentionally caused property damage to the establishment," a spokesperson for the Office of the Deputy Commissioner, Public Information told TODAY. "The individual was taken into custody by responding officers. A search incident to a lawful arrest, an additional knife was recovered from his backpack."
Perhaps most disturbing, though, was Palacios' behavior after his ax attack. According to The Post, Palacios declined to comment when contacted by the outlet, claiming "all of this was very sudden" before quickly offering his Instagram handle, where he'd reportedly been posting about the outburst and bragging it had gotten 12 million views. TapHaps has decided not to publish Palacios' Instagram handle because we don't want to encourage the sort of twisted fame he seemed to be enjoying following his criminal behavior.
We aren't amused by what we saw here and we don't think "the ax man" should experience any kind of enjoyment after displaying such threatening behavior in public. It's not "cool" to be a violent menace to society. It's actually a good way to get shot. Threatening people with a deadly weapon opens up the possibility of a patron responding in self-defense with a firearm. Maybe that's why these crimes tend to happen in places like NYC, which aren't known for being friendly to law-abiding gun owners and concealed carriers.