A brave California mother found herself in the middle of a nightmare when a man broke into her house while she was with her young daughters. In an effort to keep her kids safe, she quickly came up with a plan to lure the intruder away. Although it worked, she didn't get away unscathed.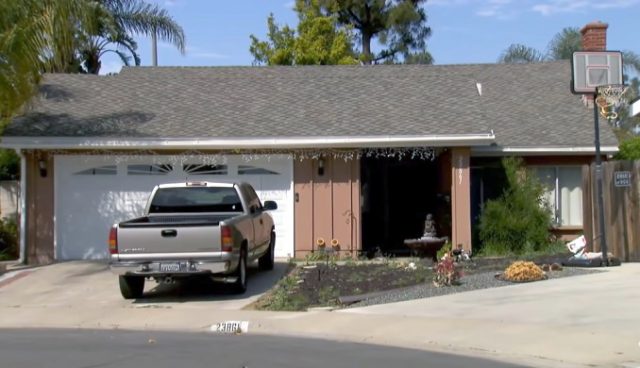 Marylou Palos, a 42-year-old California mom, was home alone with her daughters on a Tuesday night when a man on a crime spree ran up to her house in Lake Forest and smashed the back sliding-glass door. The intruder proceeded to grab a kitchen knife, and Marylou immediately feared for her life, but her thoughts quickly went to her daughters, who were down the hall. The brave mom decided to risk her own well-being for her children.
"He looked very angry," Marylou recalled, according to NBC Los Angeles. "He had the face of a devil," she added, and according to police, Marylou had every reason to be afraid. The suspect, later identified as 25-year-old James Carlos Melendrez, had already gone on "a wild 9-minute rampage Tuesday that involved carjacking a BMW, running into a pedestrian, and then crashing into another vehicle," The Sacramento Bee reported.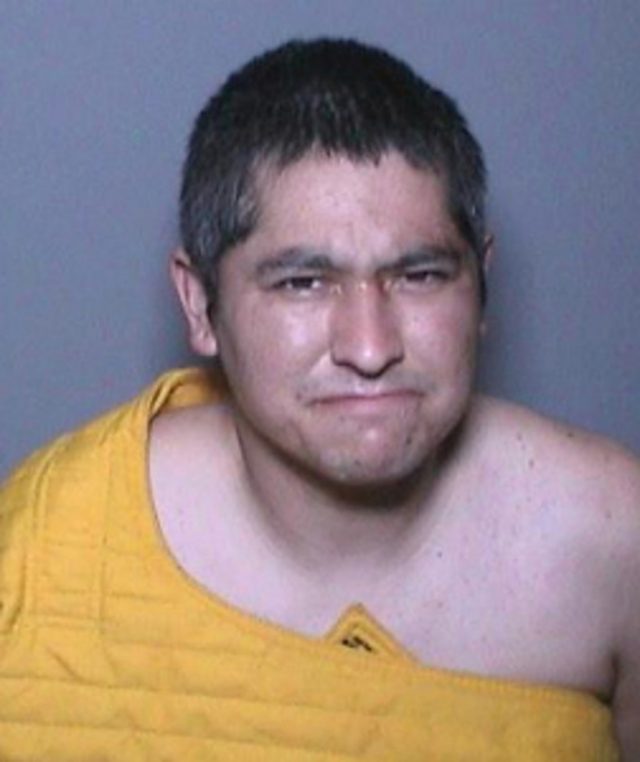 With both of her daughters, ages 13 and 15, inside the home and convinced their lives were in danger, Marylou Palos decided that her best course of action to keep her children safe was to lure the intruder away before he could harm her girls. That's when the heroic mom took off running out of the house, tearing down the street, and into the surrounding neighborhood, hoping the suspect would follow her as she desperately screamed for help — and it worked. But, it came at a hefty cost.
"I started running as fast as I could because I wanted to get him out of the house, because of my kids," Marylou explained. "I didn't want them to be hurt."
"I was in the bathroom, and my sister was in her room," 15-year-old Evelyn Palos said, recalling the frightening moments before her mom — fearing for her children — sprinted outside as the knife-wielding man ran after her. "That's just when I heard glass fall, and (Melendrez) went to the kitchen and grabbed a knife," she added. Surveillance camera video from a nearby house captured what happened next.
In the surveillance footage, Marylou Palos is seen running from the house and through the neighborhood, desperately screaming "help" as she makes her way down the street with the crazed attacker chasing after her, wielding the knife. As Melendez runs after the frightened mother, her pace begins to slow as she runs out of sight.
"I couldn't run anymore," Marylou recalled. "I said, 'I'm going to go to the sidewalk and fight this man. I have no choice.' So I did that," she added. Sadly, Melendez eventually caught up with her. Although the attack wasn't captured on camera, Marylou Palos has the scars to prove what followed.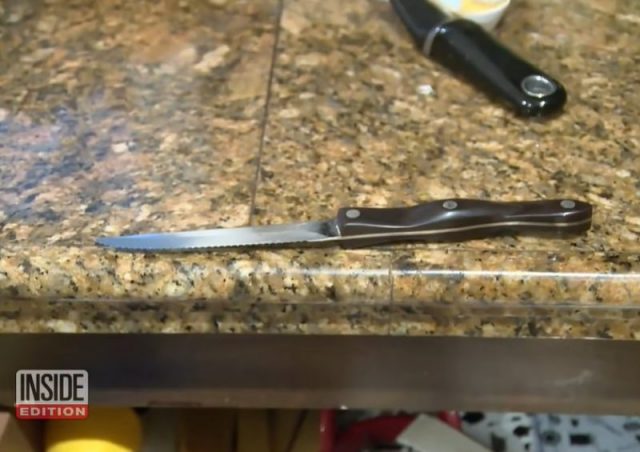 After catching up with the heroic mother in the street, Melendrez stabbed Marylou about 20 times "around the face, neck, and upper body," according to police. Thankfully, she lived to tell about it. "I was thinking of my girls and my first thought was, 'Get him out of the house,'" Marylou Palos explained, recalling what motivated her to take off on foot.
Fortunately, Marylou's neighbors heard her pleas and stepped in to confront the man, who then took off. Although she was covered in deep cuts, held together with staples after the attack, Marylou survived. But, even as she lay bleeding on the street with over 20 stab wounds, all she could think of was her children.
"I kept telling [them], 'Somebody please go and see how my kids are doing, somebody please go. Tell them I'm going to be OK,'" she recalled, according to Inside Edition.
"I felt that I was going to enter another place," Marylou Palos said, recalling her thoughts as she was being brutally and repeatedly stabbed. "But I said, 'No, please no, don't take me. I have my kids, my husband. Give me a second chance because they need me,'" the mom added. Her prayers were seemingly answered.
Marylou Palos has since been hailed a hero with her 13-year-old daughter Elizabeth crediting her brave mom for saving her and her sister's life. "That's an awesome thing; My mom is the best," Elizabeth said, praising her mom. "I love her so much. I'm grateful to have a mom like that," the teen added. Her dad Enrique Palos agreed, calling his wife "a hero" as she recovered in the hospital.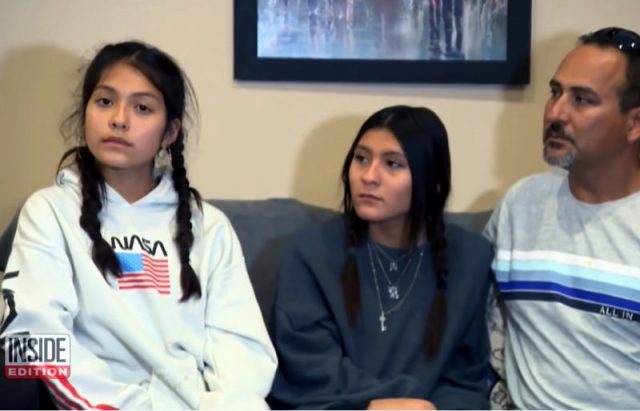 James Carlos Melendrez allegedly continued on his spree and attempted to break into a home and carjack others before he was stopped by a passerby who pepper-sprayed him. He was arrested and charged with attempted murder, assault with a deadly weapon, aggravated mayhem, and burglary, among other charges. He was ordered held on a $2 million bail.
Meanwhile, Marylou Palos was facing a long road to recovery, which she said she will rely on faith and prayer to get her through. "It's going to be hard, but I have faith that I can do it because if I was able to fight for my life and my kids' life? I can fight," she said. "This is nothing compared to what I went through."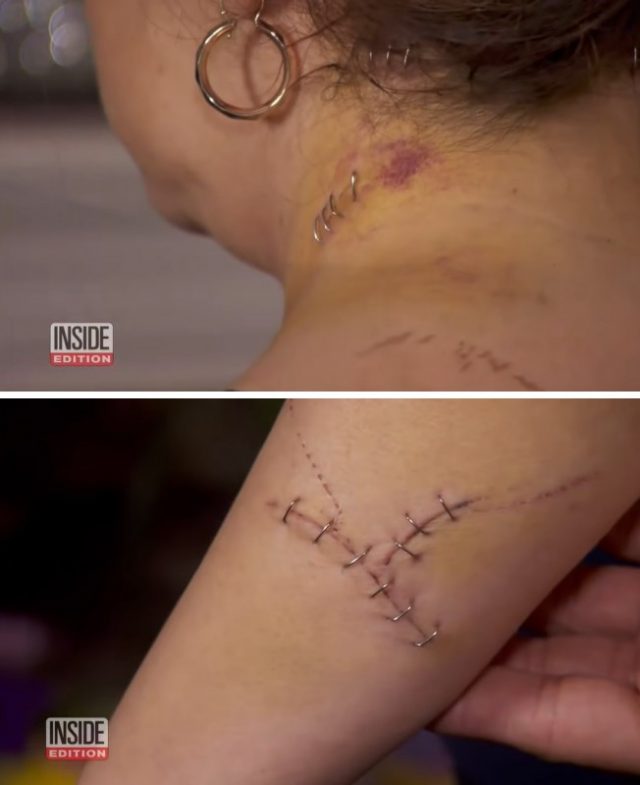 While we love a story with a mostly happy ending, we would be doing a disservice not to point out a valuable lesson that can be learned here. When danger comes knocking — or rather, smashing down your door — you have two choices: Fight or Flight. Because she was unarmed and no match for a man with a knife, Marylou Palos was forced to choose the latter until she ran out of steam. Then, she had to fight a knife-wielding attacker with her bare hands, leaving her with over 20 stab wounds and battling for her life.
In contrast, another heroic California mother was able to protect herself and her children without anyone sustaining injury for the simple reason that she was armed. When an intruder entered Brittany Morse's home, she didn't run. She pulled a gun, and the story ended much differently — with everyone unharmed. And, that's just one example. Again and again, the Second Amendment proves invaluable when it comes to protecting one's self, loved ones, and property.