An employee of a chicken fast-food restaurant dived out of the drive-thru window to launch an assault against an unsuspecting man, who allegedly suffered various injuries during the attack. It was all caught on video, thanks to a surveillance camera.
Leskel Nichols — a Dallas, Texas man — just wanted to grab some food when he visited the Chicken Express drive-thru at 126 East Ovilla Road in Red Oak, Texas. Instead of filling up on tasty grub, however, he was subject to an unappetizing incident after his order was allegedly messed up, according to The Blaze.
After receiving the wrong order, Nichols allegedly complained and was told he would receive a 50% discount on his next order by Chester Harris, an employee of the Chicken Express. When Nichols showed up at the drive-thru 10 days later and attempted to use the discount, things took a turn for the worst when a dispute erupted, the NY Post reported.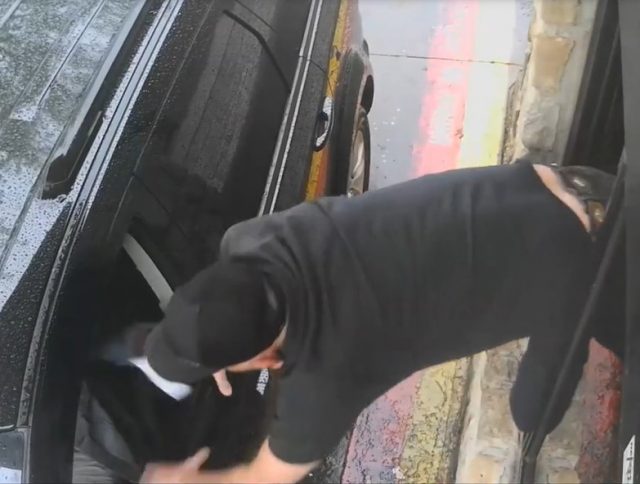 When Nichols tried to redeem the discount, employee Christina Johnson reportedly refused to honor it. Harris, the employee who promised the discount 10 days prior, then appeared at the drive-thru window, and Nichols requested that he provide him with the Chicken Express corporate phone number, Daily Post USA reported.
Instead of honoring the discount and sending the customer on his way, a third employee — identified as Terry Hall — came to the window, according to Yahoo News. After exchanging words with Nichols, Hall decided to serve up a knuckle sandwich and dived out the drive-thru window, launching an assault on Nichols, according to the Johnny Cochran Law Firm — and it was all caught on video.
The surveillance camera video footage captured Terry Hall climbing through the drive-thru window and grabbing ahold of Leskel Nichols through the window of his vehicle. Hall then began to physically assault Nichols. Due to Hall's position in Nichols' car, Nichols was unable to flee the scene, according to the Johnny Cochran Law Firm. Instead, he was at the mercy of the Chicken Express employees.
In an apparent attempt to break up the fight, the arm of another Chicken Express employee is seen reaching through the drive-thru window and attempting to grab Hall. Then, Christina Johnson — the employee who declined to honor the discount — appears outside, having run out of the building, hoping to end the melee.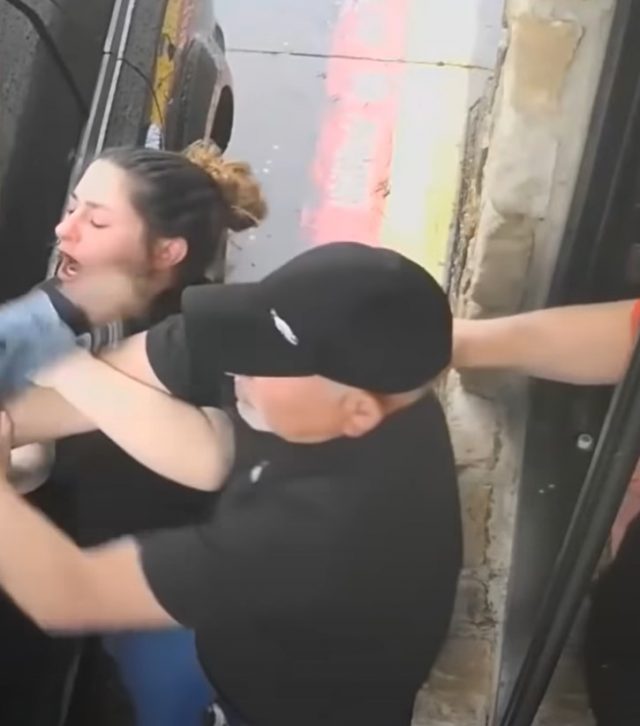 After coming up behind Hall from between the building and Nichols' car, Johnson tried to restrain Hall, who was pummeling Nichols. However, her efforts are all in vain. Rather than break up the brawl, Johnson got caught in the crosshairs, getting hit in the jaw by Nichols as he swung at Hall in self-defense from inside his vehicle. At that point, Johnson takes a step back, pulling out her phone.
Nichols and the Chicken Express staff appear to continue to exchange hostile words, but there is no audio of the altercation. Eventually, Nichols is able to drive off, but only after Hall momentarily released him, the law firm said. However, things were far from over. After allegedly suffering "serious" injuries and having his car damaged as a result of the fast-food fracas, Leskel Nichols filed a lawsuit. Nichols said that he had to have surgery on his right finger because of the confrontation, BizPacReview reported.
While many have said that there must be more to the story, I struggle to think of any circumstance where an employee diving out of a window to assault a customer would be the "right" thing to do. Instead, I can't help but feel that this is a glaring example of the current attitude and temperament of many because of the divisive rhetoric we are often fed by both social and mainstream media, as well as our politicians.
Sadly, it appears our social skills and ability to handle discord are going backward. If you can't manage a dispute with a customer without using your fists, you have no business working with the public. A customer should not be met with a physical confrontation for issuing a verbal complaint. Shut the window and call the cops if there's a problem that can't be peacefully resolved. Don't launch out of the drive-thru like a deranged madman. It's really as simple as that.