After flying on American Airlines, a black customer noticed a strange charge on her bank statement. After filing a complaint with the airline, an investigation was launched to determine if the charge is an example of "racial bias."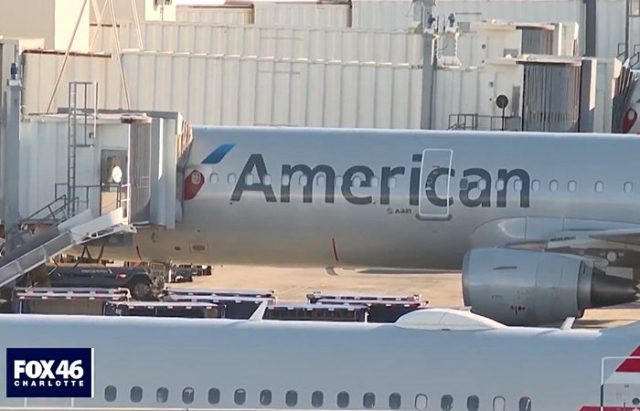 While traveling out of Charlotte Douglas Airport, everything was fine for Kyetra Bryant and her boyfriend, who had registered a flight with American Airlines. It wasn't until several days after landing when Bryant decided to check her bank statement. She then noticed an odd item charged to her debit card.
For most, flying is often a stressful and irksome experience, regardless of how seamless the airline attempts to make the boarding process. However, Bryant's grief has nothing to do with the service itself but the aftermath of what she believes is an example of corporate racism.
Bryant told WJZY that there was a charge labeled "African American African Service" on her bank statement, which she had pulled up on her cell phone. She was shocked by the item and couldn't figure out what the charge was or why the airline had identified the expenditure as such.
"I said hmmm, 'African American, African service charge.' It was just on my cell phone because I was looking at my banking app. I'm like 'what is this?'" she explained.
Bryant immediately contacted the airline looking for an explanation. Instead of an answer, she says she received a dismissal from a representative, who told her to contact her bank.
"She's like I don't know what you're talking about," Bryant said about the representative. "I'm like I have a screenshot here on two different phones and a computer, and it says it's from American Charlotte, and I want to know why it's listed this way?"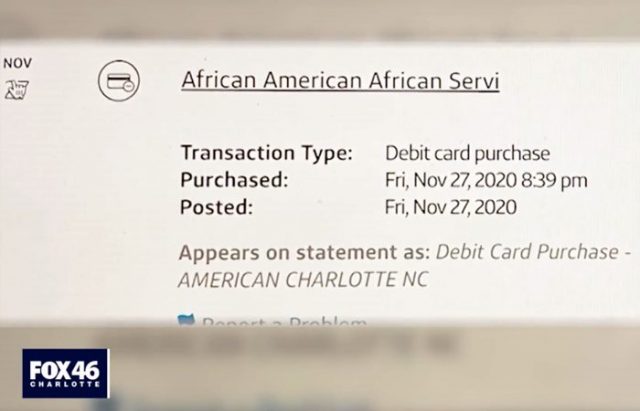 Frustrated, Bryant contacted her bank as the airline representative directed. However, she says that the bank pointed the finger back at American Airlines, insisting that they have no control over how charges are identified. For several months, Bryant's complaints were brushed off by both entities.
"The bank told American directly, we don't have anything to do with that. When you put something into your system, we charge it as the merchant charges it, and that's it," she said. "To this day it hasn't changed on each of our statements."
After speaking with reporters, WJZY reached out to American Airlines for an explanation. Incredibly, the company acknowledged that the item was related to a baggage fee and assured that an investigation into the charge has been launched. However, the airline insists that Bryant's bank is to blame.
"The customer alerted American to the offensively labeled baggage fee on her bank statement in mid-December. We were disturbed by what we saw and immediately launched an investigation to understand what occurred. The baggage fee was purchased at a self-service kiosk in Charlotte. Our team members are unable to change text when processing a charge and we've determined the issue originated with the credit card company and bank issuer. We reached out to Mastercard who confirmed that American submitted the baggage fee information correctly during the payment process and Mastercard is conducting its own investigation."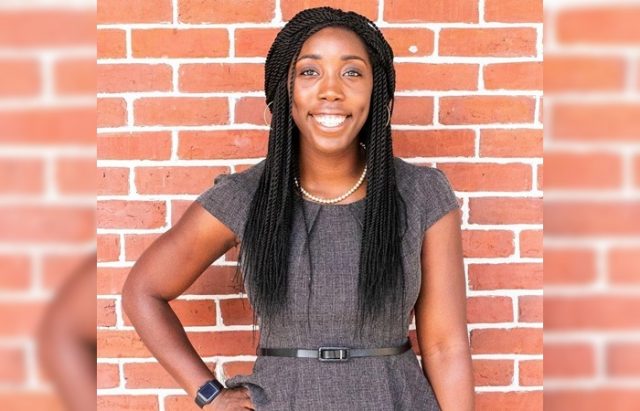 When Bryant heard the airline's response, she quickly rejected it. She refuses to believe that the item is anything but an attempt to dehumanize her based on her ethnicity.
"There's really no justification. We definitely felt targeted. That's an instance of racial bias."
Unsatisfied with the response she received, Bryant doesn't plan on letting the issue go. She's determined to get an apology for the offensive fee, and she says she'll continue to press the issue until either the airline or her bank acquiesces.
Bryant isn't looking for any compensation or even a refund. She says she only wants an apology and acknowledgment that the label is racially insensitive.
As odd as the name of the charge is, it's even more bizarre that neither the airline nor the bank is willing to accept responsibility for it and issue an apology. It would be a better business decision for the responsible party to simply apologize rather than have the issue blow up into a much bigger scandal.