After adopting three white children, a mother portrayed her family as happy, "complete," and "diverse." That facade came to an end, however, when her 3-year-old adopted daughter died and the woman was accused of beating the toddler to death — shortly after she tweeted about white people.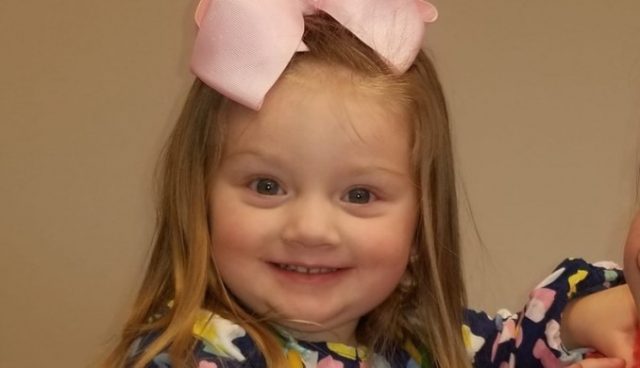 Ariel Robinson, a former middle school teacher and an aspiring comedian, first made the news when she became the Season 10 winner of the Food Network's "Worst Cooks in America." With a growing social media following, the 29-year-old South Carolina woman garnered even more attention with her adoption of three white children as she portrayed her family as being happy, "complete," and "diverse."
Sadly, her facade came to an end with the death of Victoria Rose Smith. After adopting 3-year-old Victoria and her two white brothers, Robinson painted a picture of a happy, blended family on social media, but things were not as they may have seemed. According to the children's biological family, it appeared "from the start" that the children were being "abused severely" after being placed in the home.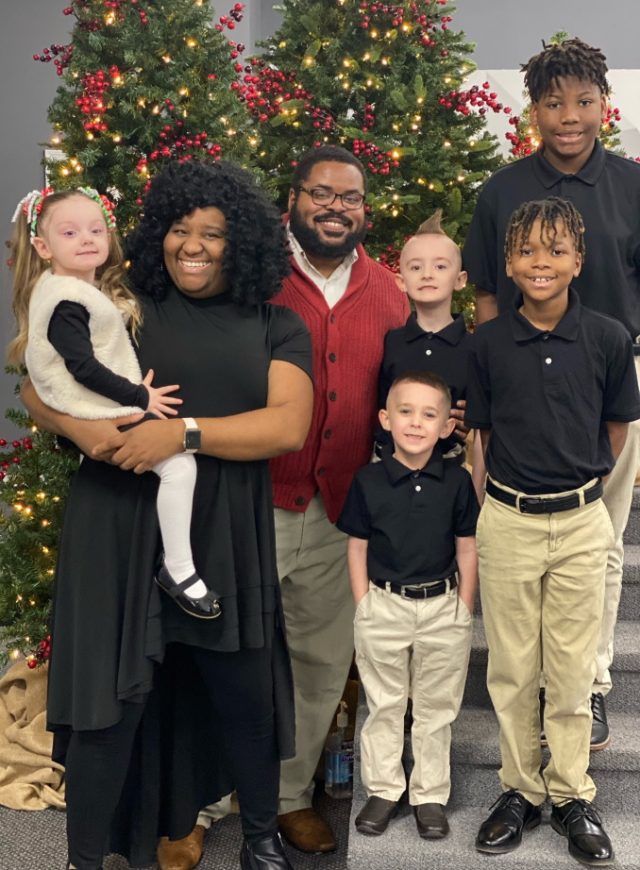 Then, came the terrible news that Victoria had died after being found unresponsive in the Robinsons' home. Victoria's death was determined to be the result of a "series of blunt force injuries," leading authorities to uncover severe abuse, allegedly inflicted against the children by Robinson and her husband, Jerry, for months prior to the couple beating Victoria to death.
Sadly, Victoria's biological family wasn't surprised. Instead, they claim authorities failed the children. After the Robinsons were arrested on charges of homicide by child abuse, Victoria's biological family spoke out about the treatment the toddler and her older brothers sustained at the hands of the Robinsons.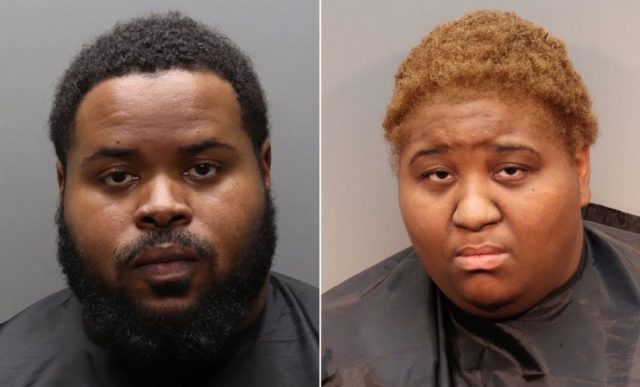 "[Victoria's family] have shared photos of the toddler before she went to live with the Robinsons and after which show how she lost weight dramatically," Daily Mail reported. "Her biological extended family now say that she and the two white boys were being abused by the Robinsons for months and that the system 'failed' them."
The late toddler's family began a petition on Change.org, demanding the state enact a law to reform child protective service and saying that it was "apparent that DSS [Department of Social Services] and CPS [Child Protective Services] did not do the due diligence needed" to ensure a "truly safe, healthy home."
"Photos posted on social media appear to show the children always recovering from bruises on their head, neck, and arms. Most of them on Victoria," the petition explained. "We are calling upon the State of South Carolina to pass the bill to be name [sic] Victoria's Law which will call for reform of the current screening process to become not only an adoptive parent but as a foster parent as well."
On social media, Ariel Robinson definitely painted a different picture than the one Victoria's biological family describes. "We go together like ketchup & MUSTARD!" she wrote on Instagram just three days before Victoria's death, alongside a picture of her and her "Mini-Me," as the adoptive mother called the toddler.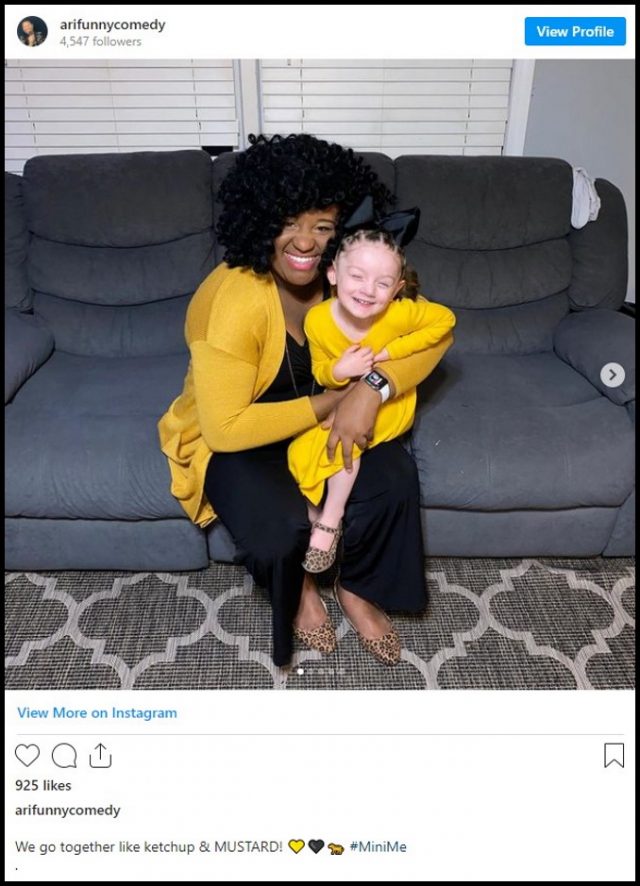 Robinson also described little Victoria and her brothers as "the perfect addition" to her family, which included two biological sons that she and Jerry already had. "They are the missing puzzle pieces and they will complete our family," Robinson wrote when she finally got to meet the three children she later adopted.
Things seemed to take a turn, however, in the days before Victoria's death when Robinson began to address her adopted children's "white privilege" in a series of social media posts. Expressing a desire to "protect" her children from "the evil of this world," Robinson tweeted, "It's a shame that as a proud mom to 4 beautiful boys, I can't protect them from the reality and evil of this world once they leave the house."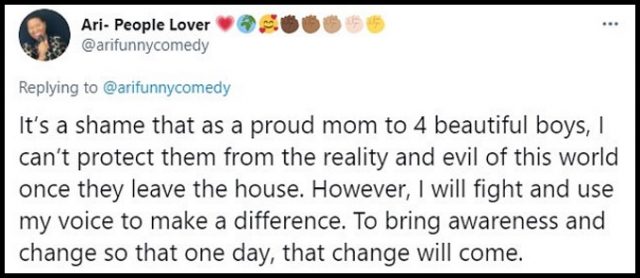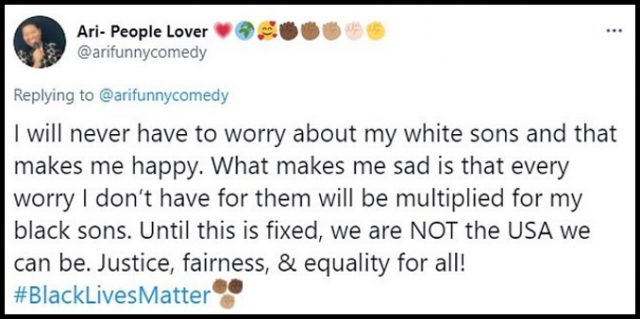 Robinson continued, "I will never have to worry about my white sons and that makes me happy," but quickly added that she was "sad" that "every worry I don't have for them will be multiplied for my black sons," saying, "Until this is fixed, we are NOT the USA we can be. Justice, fairness & equality for all! #BlackLivesMatter."
Using the hashtags #whiteprivilege and #BlackLivesMatter in another tweet, Robinson also wrote, "In my house, my black children get treated the same as my white children, and my white children get treated the same as my black children." She continued, "It's a shame that when they go out into the real world, that won't be the case," according to the NY Post.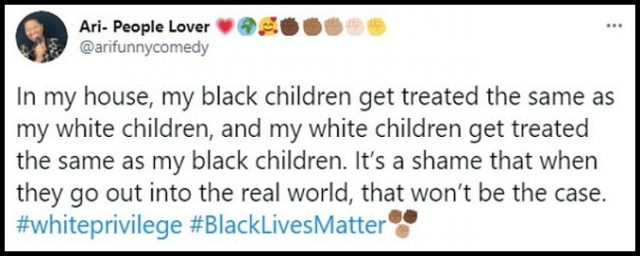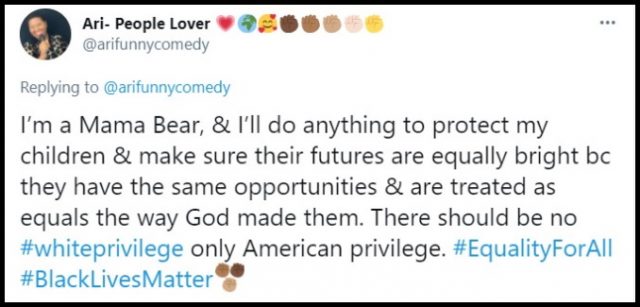 Calling herself a "Mama Bear," Robinson vowed, "I'll do anything to protect my children" and promised to "make sure their futures are equally bright [because] they have the same opportunities & are treated as equals the way God made them." Including a Black Lives Matter hashtag again, she wrote, "There should be no #whiteprivilege only American privilege."
Sadly, Victoria Rose Smith's skin color didn't gain her any "privilege" in Robinson's home. While decrying the evil of the world, Ariel Robinson was inflicting it on innocent children. Such malice should receive no mercy. If you want to see a change in the world, be the change. Nowhere would that include beating an innocent child to death.