With her police officer husband 30 to 40 feet away from her in their yard, a cop's wife never imagined it wasn't safe to clean up toys on their front porch. Before she knew what hit her, she was crying for his help with her neck sliced open, and she's lucky to be alive after narrowly surviving the ordeal.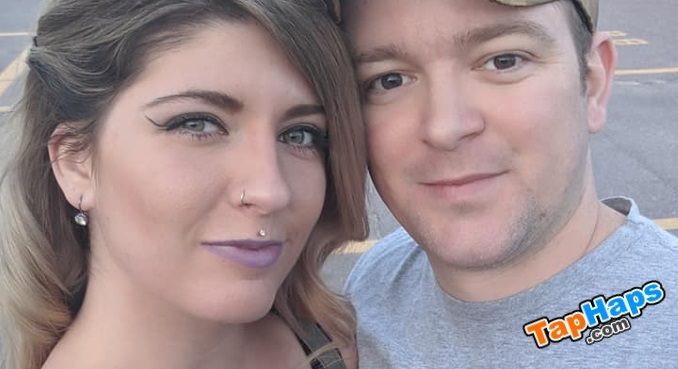 Kendra Jensen, a 28-year-old police officer's wife of Bridgewater, South Dakota, was left with a gaping neck wound after she endured a horrific incident on her own front porch. The mother-of-two was standing 30 to 40 feet from her husband Andy when she suffered the severe injury and narrowly escaped with her life. Now, she and her husband have a message for others, knowing Kendra is lucky to be alive.
It was around 6:30 pm when Andy, a cop and 4-year Marine veteran, heard Kendra cry out for his help and rushed to her side, NY Post reported. There, he found his wife bleeding from a gaping wound on her neck after her throat had been inexplicably slit open outside their home, which the couple shared with their two children, according to Daily Mail.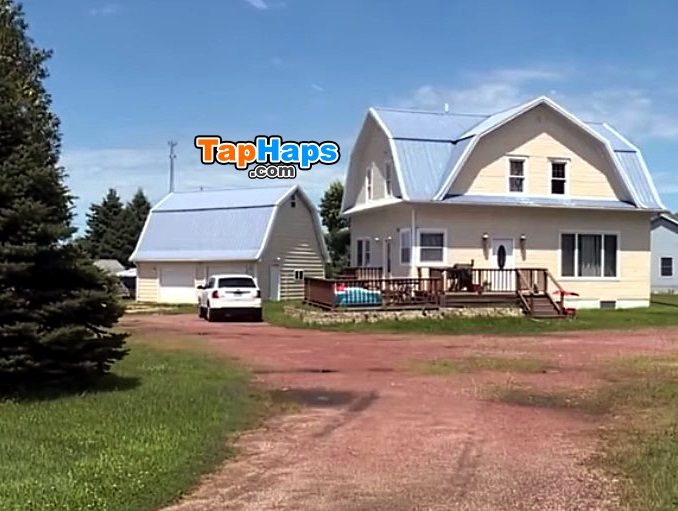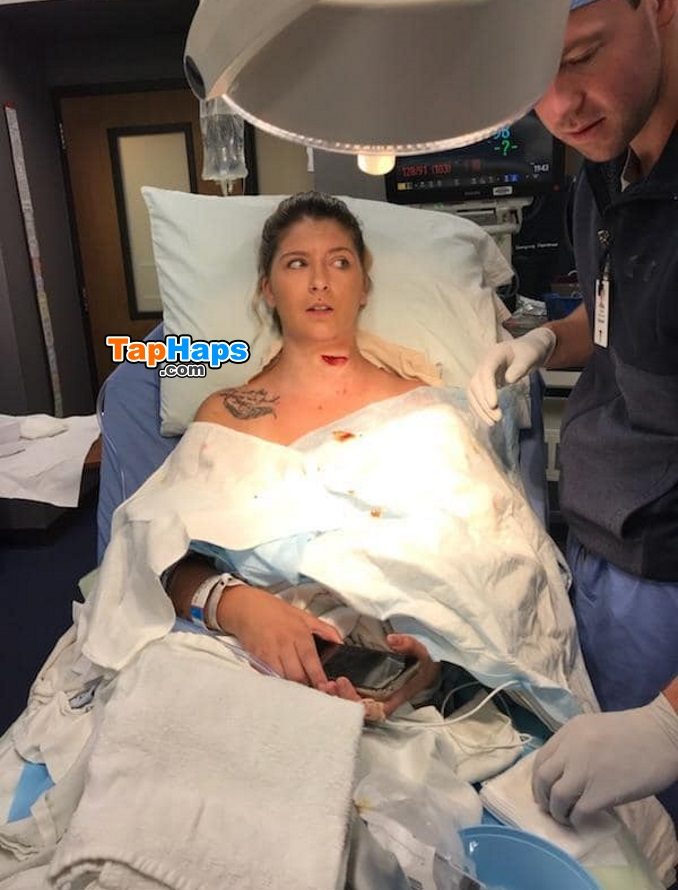 Kendra Jensen was picking up her children's toys on the family's front porch when she suddenly felt something hit her. "I immediately was just like 'that hurt,' and so I grabbed my neck. That's when I realized I was bleeding and it was wet. That's when I freaked out," she recalled. Andy rushed to her aid, quickly retrieving a trauma bag from the back seat of his car as someone called 911.
"She's going to bleed out in front of me. That was the very first thing that came to my mind," Andy admitted. "I just put my thumbs in it and started going with the gauze," he added, describing how he patched up the wound and kept Kendra alive as they waited for an ambulance to arrive. At the hospital, doctors told the family that the wound barely missed vital vessels in Kendra's neck, being only "millimeters" from her carotid artery, trachea, and vocal cords.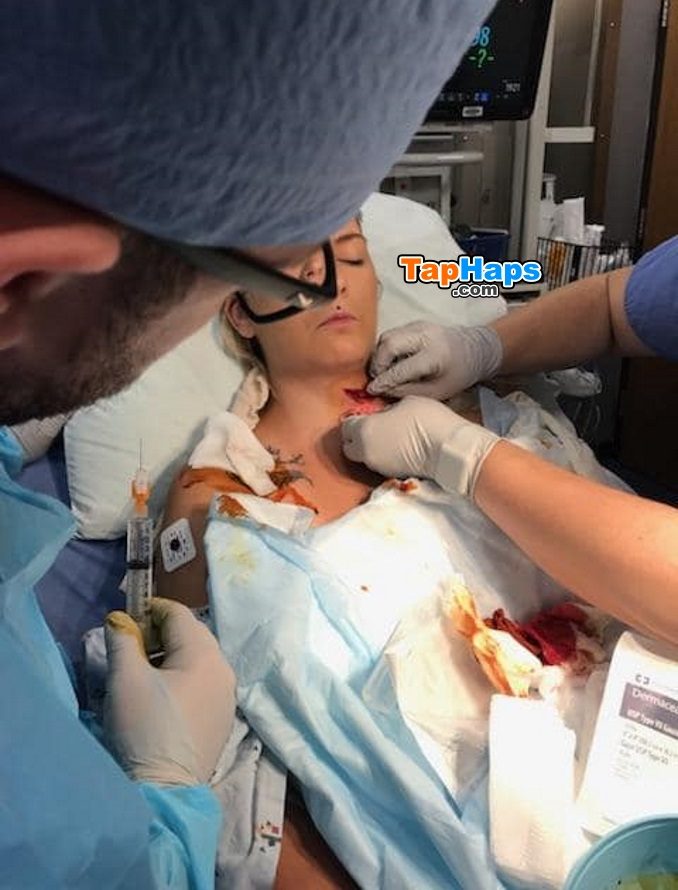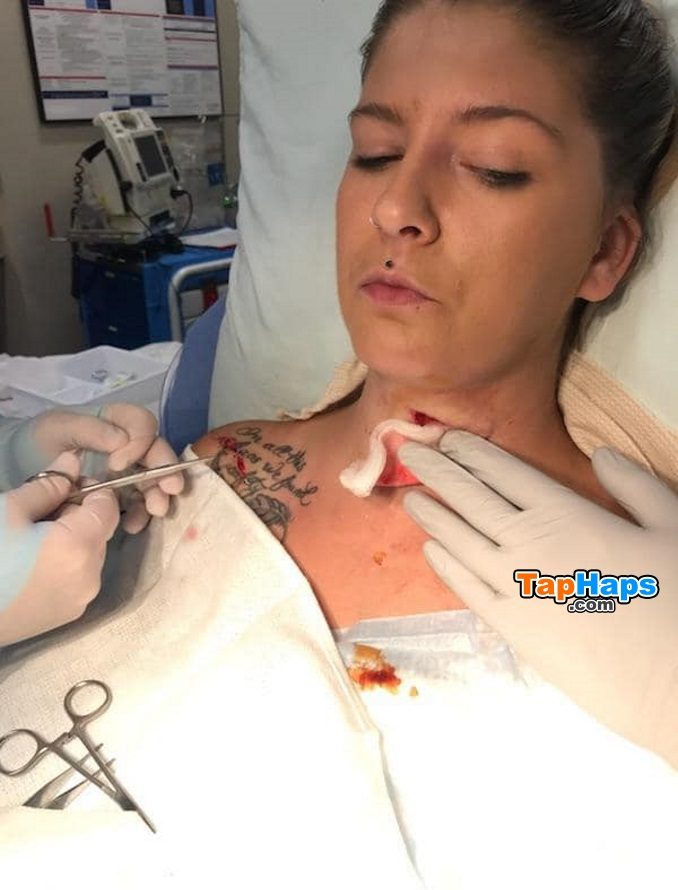 "I thought that I got hit by a rock. It felt like something, like, hit me and then fell off me. I didn't know that my neck had been sliced open," Kendra said. Although it's unknown exactly what cut her throat, it is known where it came from.
Kendra had been involved in an improbable lawnmower accident, where an unknown object shot out from the machine's blades and struck her while Andy was trimming the grass with a riding mower. It's also clear how differently this could have played out for Kendra if the wound had been any closer to her carotid artery.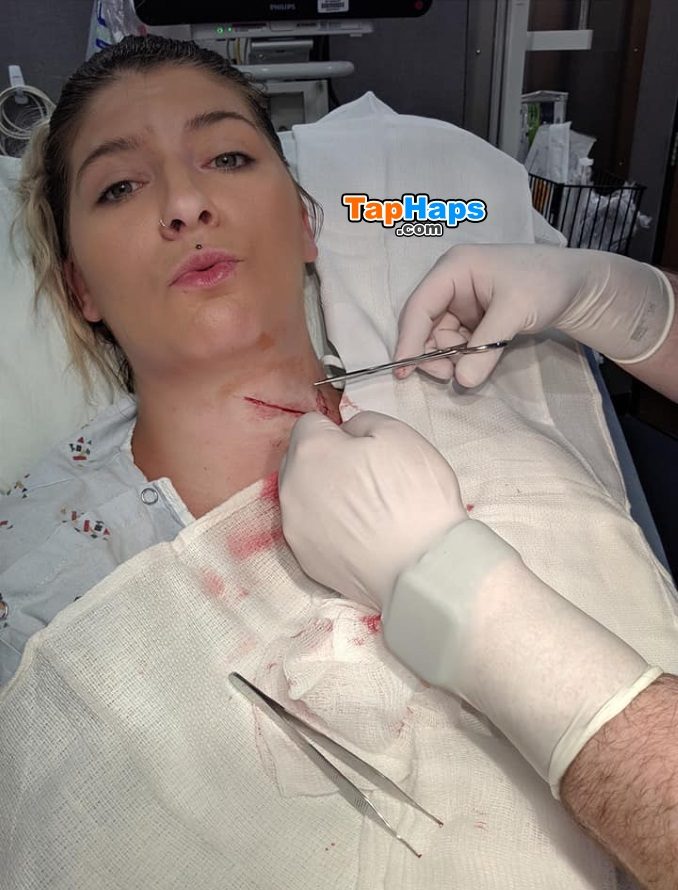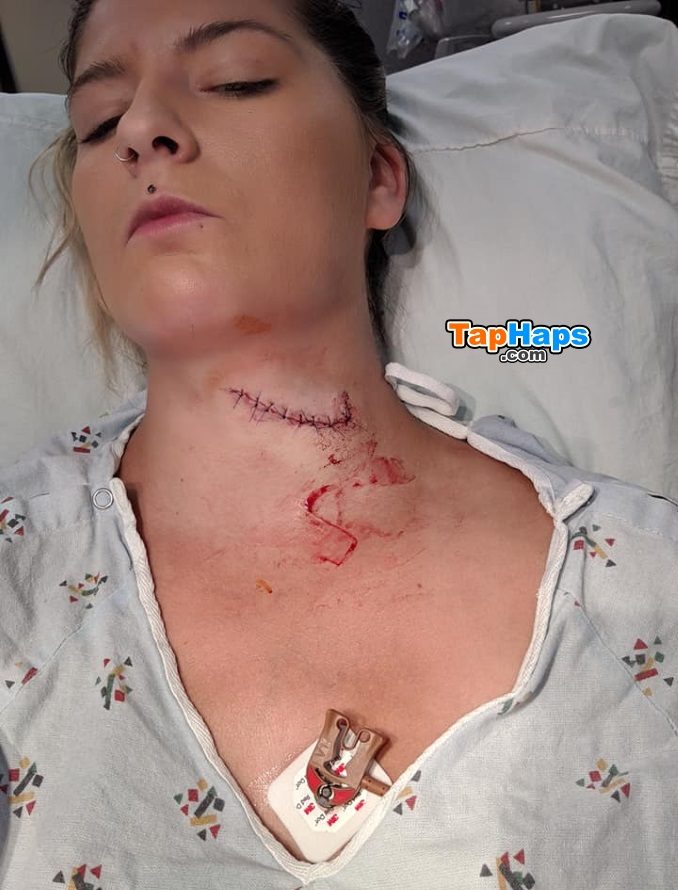 The carotid arteries, which lie on either side of a person's neck, carry blood to the brain. Severing either of these major blood vessels can kill a person in minutes, leaving them bleeding out and depriving the brain of blood and oxygen.
Since the unknown piece of debris that was kicked up by the mower sliced Kendra's neck wide open, narrowly missing her carotid artery, the woman knew she had narrowly escaped a horrific fate and was "extremely lucky" to be alive.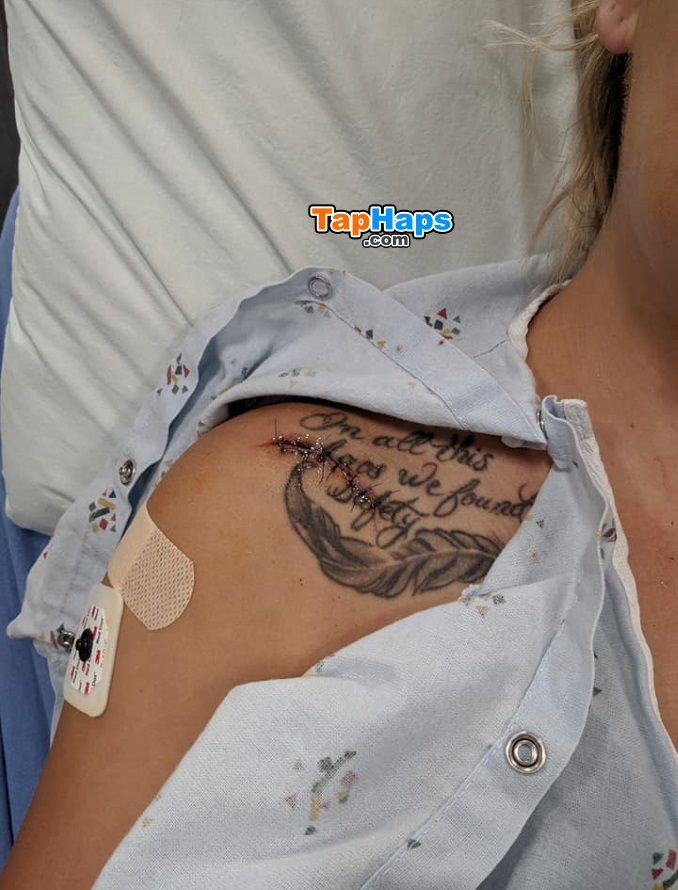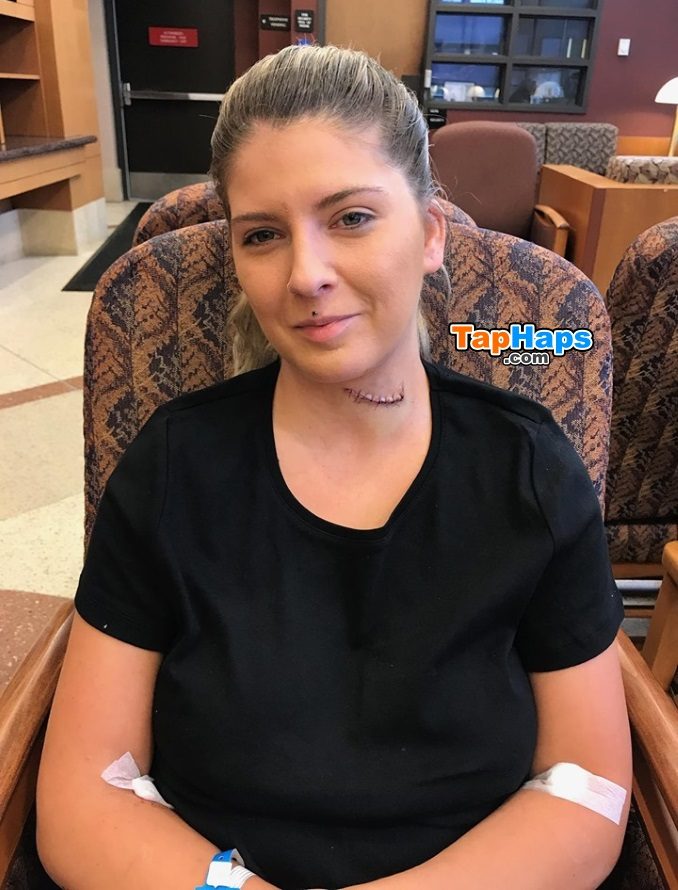 Wanting to warn others, Kendra decided to share photos of the gaping neck wound and the resulting stitches to social media with an important message. Although she was 30 to 40 feet away from Andy while he was mowing the lawn, the mower still managed to kick up the unknown object and launch it at her, opening the horrific wound in her neck, in addition to one on her shoulder.
"I'm extremely lucky," Kendra wrote in a Facebook post following the incident. "I'm thankful my husband has the training he does and could act quickly to get quick clot gauze stuffed into my wound and wrapped with a pressure dressing before the ambulance arrived."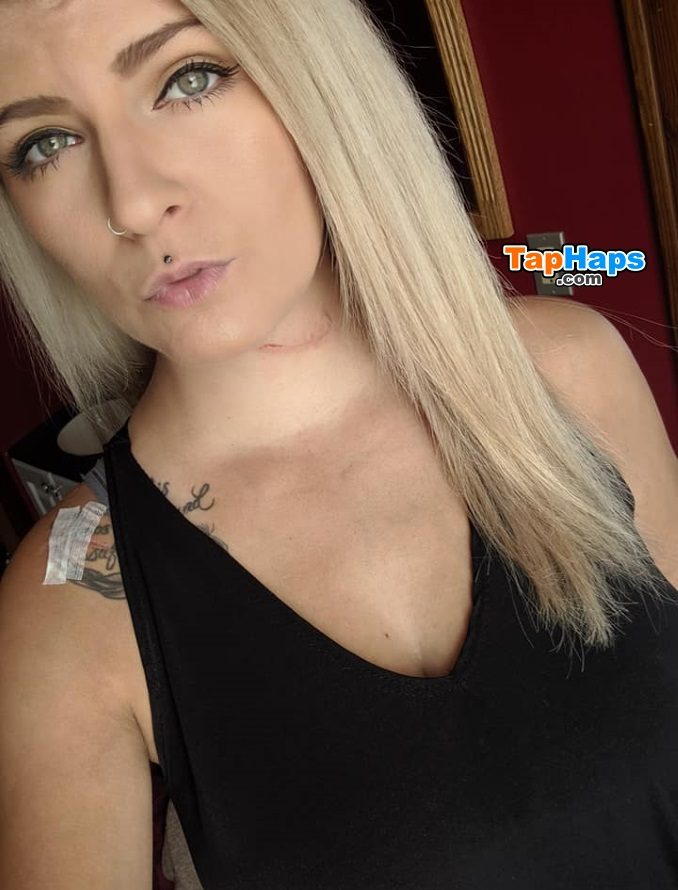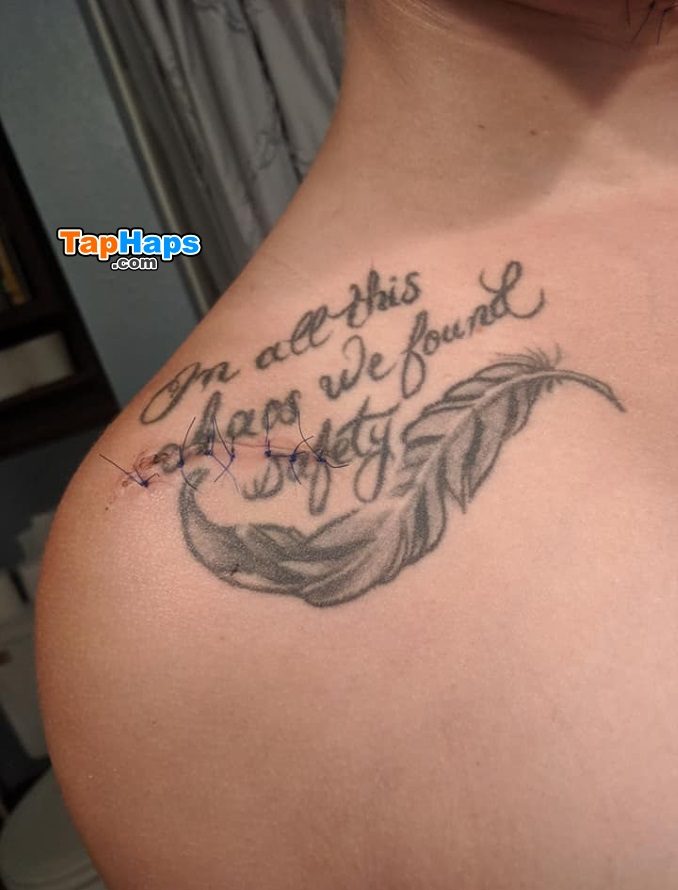 Kendra added that they thought they had followed all the necessary safety precautions, including checking the lawn before Andy began to mow and staying what she thought was a safe distance away from the mower. "We check our lawn before we mow. We took all the proper safety precautions and we thought we were safe. No matter how well you check your lawn, this could still happen, and I'm living proof of that," Kendra wrote.
She also wanted others to know this wasn't Andy's fault. "This was a complete freak accident. My husband mows with headphones in," she explained, adding that they have acreage. "He wasn't aware I was walking right through the trajectory path and I was thinking I'm within a reasonable distance that I wouldn't be harmed. I had just walked out our front door so he wasn't thinking to look for me."
Knowing others might not be so lucky, Andy and Kendra Jensen wanted to share the valuable lesson they learned from the traumatic experience. Andy said he won't allow members of his family to be outside while he's mowing the yard, KSFY reported, and he hopes others will implement the same rule. "No one is definitely going to be outside again when I'm mowing," he said.
Indeed, people all too often get comfortable with their routine chores, forgetting to take basic safety precautions that can prevent awful accidents like this one. Although a mower is a common tool owned by many people, it can be a deadly machine. Safety must come first, and that includes keeping loved ones out of the "line of fire" when it's being used. The best practice is to keep anyone who's not operating the mower inside when it's in use.