After their property was stolen out of their car, a couple entered a homeless camp to retrieve their things. Disturbingly, they were immediately attacked by a crowd wielding a machete, rocks, and a wooden pole, leaving one dead.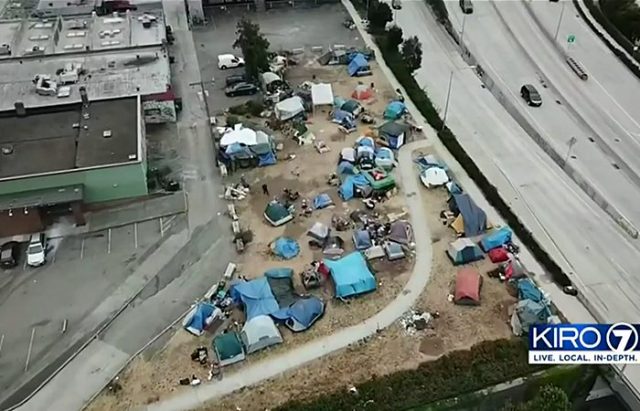 As progressive laws prevent law enforcement from policing homeless camps, Seattle is becoming an even more hazardous city to navigate. These enclaves are quickly expanding and turning into no-go zones where citizens are advised to keep away. However, some locals are finding it difficult to avoid these territories, leaving many in danger.
When a couple discovered that some of their things had been stolen from their car, they suspected the culprits lived in the nearby South Lake Union homeless camp. Determined to retrieve their items, which included shoes and a Bluetooth speaker, the pair drove with their 2-year-old son to the encampment to confront the thieves.
KIRO 7 News reports that the couple retrieved their property and brought their things back to their car, which they had parked beside the collection of tents and debris. Before they could leave, a mob of angry homeless residents descended upon the pair with various weapons.
Police say that multiple people in the camp attacked the couple's car with rocks while one suspect smashed the windows of the car with a machete, including the front and back windshields as well as the passenger's window where the baby was sitting. Surveillance video shows another suspect hitting the driver in the back with a 5-foot wooden pole as he was trying to fend off other residents.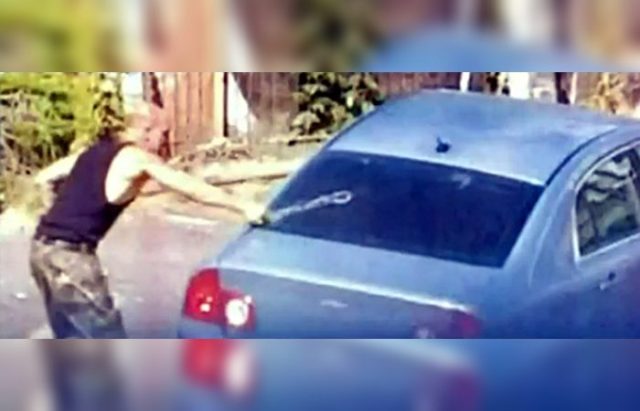 A homeless female suspect joined the fight, attacking the female passenger as she tried to enter the car. Fortunately, the couple managed to break away from the violent mob and drive away in their vehicle with their toddler. A nearby business owner, identified only as Steve, saw the attack as video footage was taken by other witnesses.
"It was a car being attacked," he said. "Being surrounded by people from this encampment. And they were bashing the car to pieces with bars, sticks, whatever they had. Then the car made a run for it to break through this crowd." He added, "One of the guys who was surrounding the car got thrown up into the air and then run over by this vehicle."
In a desperate attempt to get away from the pursuing mob, the driver struck a homeless man with his vehicle and continued on. A homeless male resident was rushed to the hospital but died from his injuries later that day. Police confirmed that neither the driver nor the passenger has been charged with the man's death, The Seattle Times reports.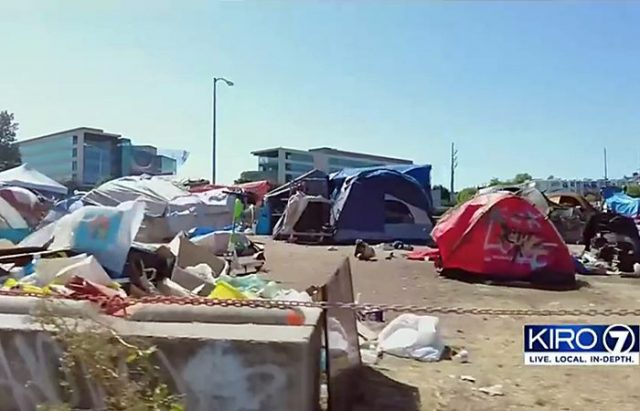 Police have arrested two homeless residents for attacking the couple with a machete and a wooden pole. John Henry Rosser IV, 39, and Mario J. Miller, 53, both of whom live in the homeless encampment, were later charged. According to records, Miller is a 12-time felon in California and Washington and Rosser is a 9-time felon. Prosecutors stated that they don't anticipate charges being brought against the couple.
"It's incredibly frustrating to feel like your things are right there and want to say, 'That's mine. Give it back,'" said Casey McNerthney, a spokesperson for the King County Prosecuting Attorney's Office. "But it rarely works out well."
Police were initially called to the encampment to investigate a hit-and-run incident. However, after reviewing video surveillance footage, it was clear that the couple had just cause to flee the scene.
With homeless camps popping up overnight and spreading throughout the city, citizens are growing increasingly frustrated with law enforcement. However, the police have their hands tied thanks to progressive laws that prevent them from properly monitoring these enclaves.
Citizens have been abandoned by city officials, who enjoy the safety and comfort away from these lawless camps. Unfortunately, the only way to remedy this problem is to vote out the corrupt officials and elect individuals who will support the police instead of trying to defund them.