Police have released chilling bodycam footage of a deputy collapsing, claiming that he almost died. If it had not been for his fast-thinking fellow officer, he believes that he would be dead. Some don't seem to believe the story, however, as the viral video has drawn skepticism from "experts," who doubt the chain of events. Others believe the footage rightfully raises an alarm that society needs to see.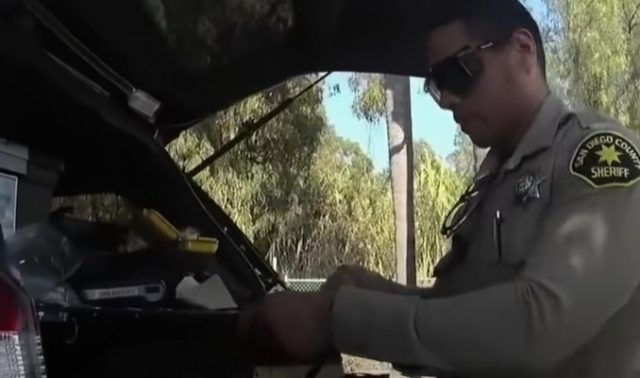 David Faiivae, a San Diego Sheriff's Office Deputy, was processing drugs at the scene of an arrest near the southern border when things took a terrifying turn for the rookie officer, prompting the San Diego County Sheriff's Department to share bodycam footage of the frightening ordeal the officer faced. The video captured the moment the California deputy allegedly collapsed and nearly died after making a minor mistake.
According to the police department, Deputy Faiivae got "too close" to fentanyl during a drug bust and nearly died from an overdose after being exposed to the powerful opioid while processing drugs at the scene of an arrest, The Blaze reported. The deputy's collapse and his fellow officer's quick actions that allegedly saved his life were all captured in the footage, which was released by police as a warning to others, but some aren't buying the story. First, have a look at the video footage in question:
The dramatic video, which was released as a public safety warning, shows the moment San Diego Sheriff's Office Deputy David Faiivae and Corporal Scott Crane, Faiivae's field training officer, found a white substance in a vehicle, which tested positive for fentanyl, during a drug bust. "That stuff's no joke, super dangerous," Crane is heard cautioning Faiivae. "Hey dude, too close, you can't get that close to it." Sadly, it was already too late.
"A couple [of] seconds later, he took some steps back and he collapsed," Crane says in the video. "I ran over to him, and I grabbed him. He was OD'ing." According to the officer's partner, if not for the quick actions of a fellow police officer, Deputy Faiivae "would've died in that parking lot." Thankfully, that wasn't the case as a fast-thinking Crane rushed to the police vehicle and retrieved and administered Naloxone, commonly known as Narcan.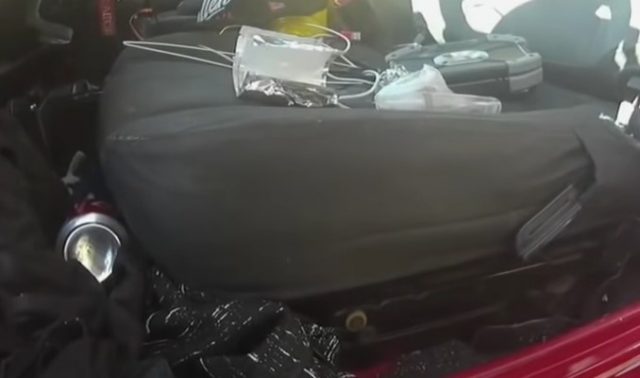 Seen administered as a nasal spray into Faiivae's nostrils by Crane in the video, Narcan is used to reverse the effects of an opioid overdose. "I got you, OK? I'm not gonna let you die," Crane tells Faiivae in the footage. "I need Narcan!" he is heard yelling as another San Diego Sheriff's Office Deputy arrives on the scene and more Narcan is given to Faiivae by the fellow police officer, but Faiivae wasn't out of the woods yet.
"Fire department got there, put him on the gurney, his eyes rolled back in his head, and he started to OD again," Crane recalled, describing the moment they rushed his partner to the hospital. "He was OD'ing the whole way to the hospital," he added. "It's an invisible killer," Crane warned, speaking of the powerful opioid fentanyl, adding, "He would've died in that parking lot."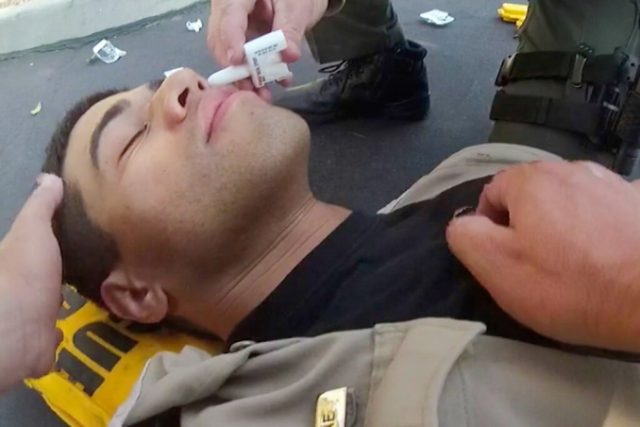 Although Faiivae lived and it's unclear whether his reaction was from touching the substance or inadvertently inhaling some of it, the incident is something he will never forget.
"I remember just not feeling right and then I fall back. I don't remember anything after that," Faiivae recalled. "It was an instant. It's as though my lungs locked up. I couldn't breathe," he added as he fought back tears, remembering his near-death experience. "I was trying to gasp for breath, but I couldn't breathe at all," he continued. "I don't think people realize the severity of how deadly it really is," Faiivae warned. "I almost died of a fentanyl overdose."
San Diego Sheriff Bill Gore urged people to share the video, saying, "It might save the life of your son, daughter, friend or loved one," and Undersheriff Kelly Martinez warned, "We are having secondary exposures. We've had toddlers exposed. It's just so very dangerous," according to the LA Times. "Exposure to the fumes can cause the reaction that he had," Martinez added. "But also with dermal exposure, it could have gotten in through the skin in his hands," she continued, pointing out that Faiivae was "removing his gloves and putting them back on" during the incident.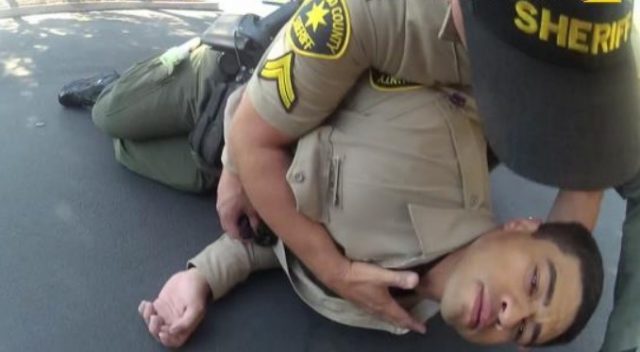 Martinez suggested that there's anecdotal evidence that using hand sanitizer and cleaning solutions "actually helps with the transmission to the skin," but, as with anything in society today, there are those who don't believe the evidence right in front of them. In fact, The New York Times ran a follow-up story, alleging, "Video of Officer's Collapse After Handling Powder Draws Skepticism."
In the piece, the outlet starts off by alleging, "Medical experts said the video promoted a false narrative and confusion about fentanyl and ways it can lead to an overdose." They go on to allege that these "experts have said that it is impossible to overdose on fentanyl simply through exposure, and suggested that misinformation about contact highs does little to help curb the opioid crisis."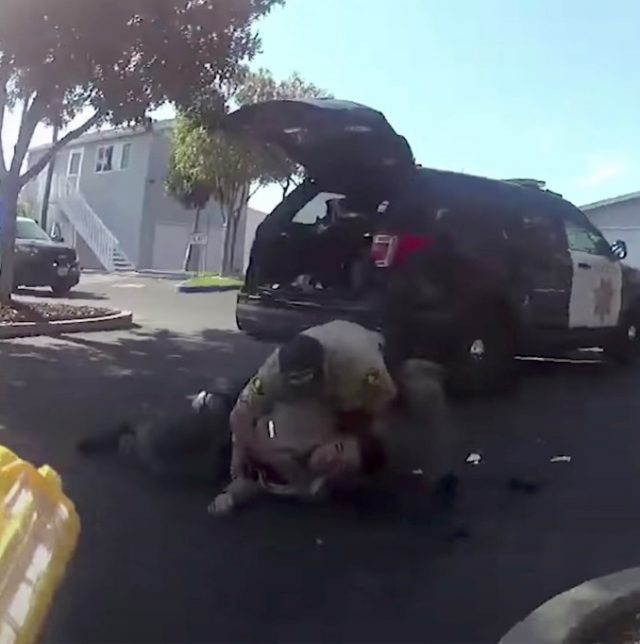 The Times then quoted an "expert," who seemingly disagreed with the San Diego sheriff using the video as part of an effort to raise awareness about the increasing rates of fentanyl overdoses not only in the county but across the country. "The only way to overdose is from injecting, snorting or some other way of ingesting it," alleged Dr. Ryan Marino, medical director of toxicology and addiction medicine at University Hospitals in Cleveland. "You cannot overdose from secondhand contact."
However, after five paragraphs of skepticism and quoting the doctor who raised questions, the Times article itself goes on to discuss the powerfulness of the synthetic drug, which it says is "widely trafficked in illicit markets" and whose "potency can vary, especially when mixed with other substances, making it easy to overdose with very small quantities." They also go on to quote another doctor, who seemingly disagreed with their "expert" skeptic:
Dr. Scott Krakower, a psychiatrist at Zucker Hillside Hospital in Queens, said it does not take a lot of fentanyl to do harm. Not knowing the fentanyl's potency could quickly lead to overdose symptoms if someone were to inadvertently sniff it. [Source: New York Times, emphasis added]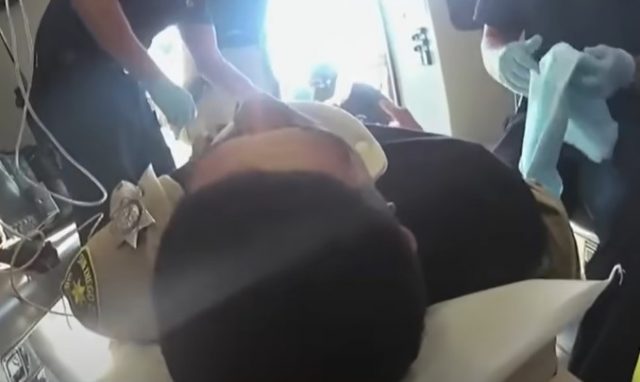 While most opioids take 30 to 90 minutes to become fatal, Leo Beletsky, a professor of law and health sciences at Northeastern University in Boston, said a fentanyl overdose can be fatal in 10 to 15 minutes, according to the Times article. He feels, however, that the reaction experienced by Deputy Faiivae and seen in the bodycam footage could be "the enormous stress and panic among law enforcement officers around this issue" of fentanyl exposure and "false information" regarding being exposed to the drug.
Although Professor Beletsky told the Times that "it is not biologically possible" to experience overdose symptoms or die from touching or being exposed to the drug, he admitted that fentanyl can be administered through the skin by medically prescribed fentanyl patches for pain, but alleged that those "have led to very few, if any, fatal overdoses."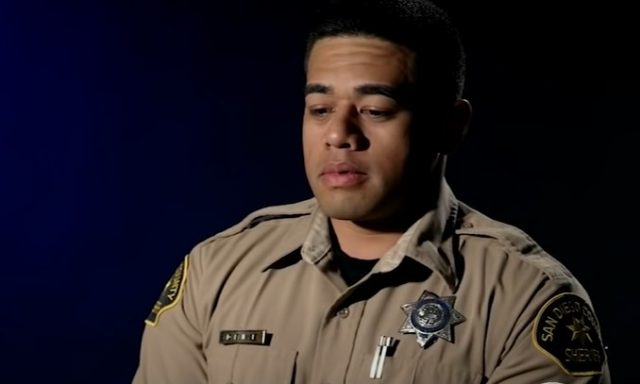 The US Drug Enforcement Agency (DEA), however, warns that fentanyl is a powerful synthetic opioid, similar to morphine, but 80 to 100 times more potent, requiring only a small amount to be deadly. "Two milligrams of fentanyl can be lethal depending on a person's body size, tolerance, and past usage," the DEA warns. In addition, "The U.S. Centers for Disease Control and Prevention says fentanyl can be absorbed into the body 'via inhalation, oral exposure or ingestion, or skin contact,'" Fox News reported.
As the Times article admitted, a small sniff — which could easily happen while handling the substance — can do harm, depending on the potency of the synthetic narcotic. To me, that's reason enough to be skeptical about the substance rather than questioning the deputy's reaction and potentially putting others at risk by downplaying the dangers. One can only wonder if the adamant denial, regarding the deputy's video, has to do with the drug and a true concern for the public's safety or whether the skepticism is a result of the incident taking place near our southern border. We'll let you decide.