Do you think that 14-year-olds getting jobs is creating a good work ethic or robbing them of their childhood?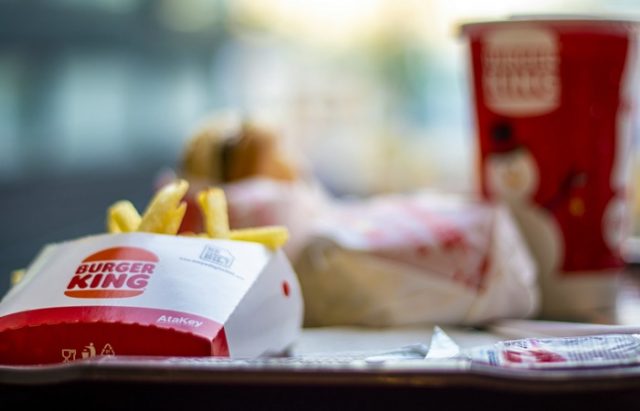 Social media seems like the perfect place to publicly showcase one's pride in their offspring. However, once you've invited strangers into your personal life, you can expect unsolicited parenting advice or, worse, condemnation of your tactics and accusations of child abuse. Sadly, Chris Crawford learned this the hard way.
When Crawford posted photos of his teenage son on Twitter, he hoped to convey his pride over his boy's hard work and dedication. Unfortunately, he was immediately flooded with irate and vitriolic replies from those who disagreed with his parenting.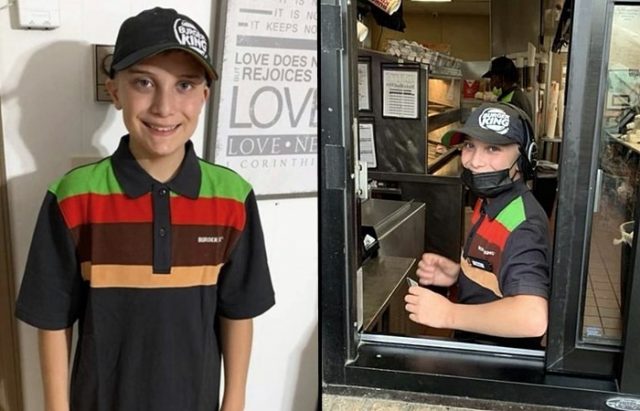 In the post, Crawford explained that his 14-year-old son had nabbed a part-time job at Burger King. The dad bragged that the teen was eager to work and enjoys making his own money, which he plans to save in order to purchase his first car someday.
"HUGE shout out to this kid of mine, 14 years old and has a PT job at Burger King," the father posted, adding that "not only does he work every day he can including weekends when most kids are out enjoying their summer," but he also "goes in early and stay late almost every time he works" because "he loves every minute of it."
Crawford wrote that his son is already learning how to save money and make responsible decisions with his paychecks. He ended by calling out the "lazy" adults who can't be bothered to manage their own funds so well.
"Making his own money, saving for a car, being responsible in his decisions, becoming a respectable young man," the dad wrote. "I couldn't be more proud of him! Some of y'all lazy, grown a** people out there should take notes."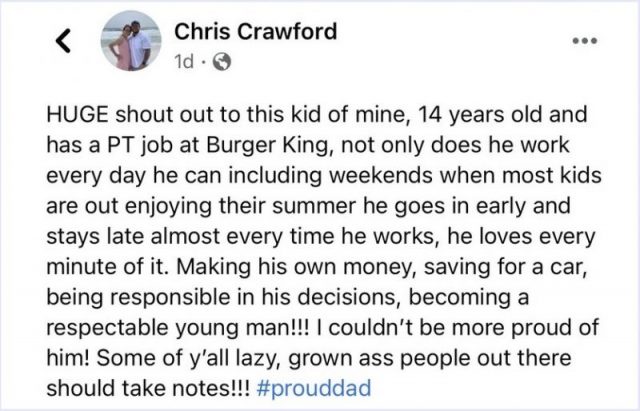 Almost immediately, Crawford's post kindled outrage, and before long, Twitter erupted into a firestorm as thousands of replies and retweets expressed fury that a teenager was legally and willingly employed.
"This poor cursed child."

"My kid has no friends, social life or hobbies, take notes grown adults!"

"I feel this kid is missing out on a lot of his childhood I mean if he asked to do it he can do what he wants but I miss being a kid and having no responsibility and just being a kid."
Some comments even alleged that the employer had illegally hired the teen or that the company was working him past his legal hourly limit.
"They straight up said like 'proud of my little wageslave!!'"

"If he works days & weekends and usually goes in early and stays late then just how 'part time' could he be."

"[Maybe] it's my state but…the only place in my town that would even *hire* at 14 was food city & even then you were only allowed one Saturday bagging shift a week…I'm wondering about the legalities if he's working full shifts multiple days a week."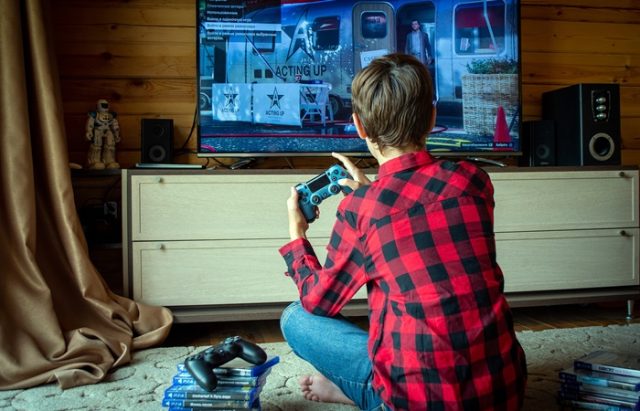 In the U.S., the minimum age of employment is 14 years old, so the boy is within his right to get a job. In fact, children as young as 12 are legally allowed to work in the fields of babysitting, entertainment, and the arts. Of course, these facts didn't quell the outrage on the internet.
While he did receive some support, Chris Crawford was overwhelmed by the hostility he received in the comments. The post was eventually deleted, but the indignation continued. Some have even accused the father of abusing his son and potentially creating psychological damage by robbing the boy of a so-called "proper childhood."
Many of the comments suggested that "going in early" and "staying late" meant that the boy was illegally working overtime. However, it could have just as easily meant that the teen arrived a few minutes before his shift and stayed a few minutes after.
The truth of the matter is that teens as young as 14 can legally obtain employment at a wide variety of businesses as long as they are working a limited set of hours and shifts. Many teens are not only willing to get a job at this age but are eager to earn a paycheck and take on the responsibility and privilege of managing their own money.