Two fast-food workers looked Bo Bice right in the eye and called him "white boy," not realizing who he was. Bice took to Facebook to share the incident with his fans, but the post was removed by the social media giant when they claim he took things too far.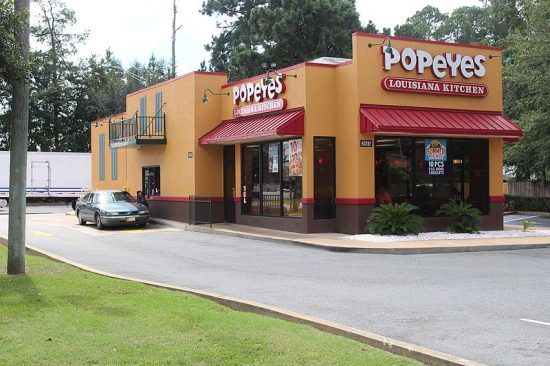 Bo Bice, the singer who became famous when he was the runner-up to Carrie Underwood on the fourth season of "American Idol" in 2005, took to social media after he claims that he was attacked on the basis of his race by employees at a Popeyes restaurant at Hartsfield-Jackson International Airport in Atlanta, Georgia.
The celebrity, who's now in his 40s and no longer has the long hair that made him so recognizable previously, claims one of the fast food restaurant's employees said of him, "He already got his, that white boy there," before mistakenly delivering his order to somebody else, according to Daily Mail. Unfortunately, things only got worse from there.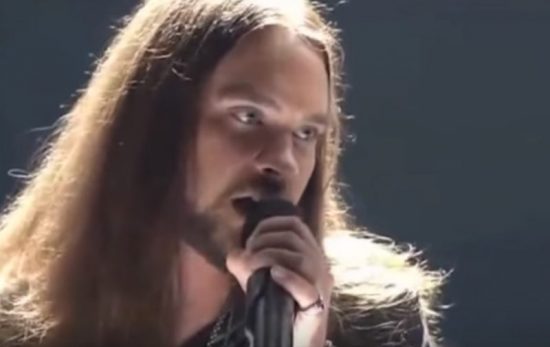 What's more, Bice says that the women reportedly laughed after referring to him as "that white boy," further upsetting Bice who also claims that the women previously mocked his name for five minutes straight, calling him "Bow-Bow, Boo- Boo, and Bo-Bo," an annoyance to be sure.
Following the frustrating experience, Bice uploaded photos and the names of one of the Popeyes employees responsible for the disrespectful incident to social media. His post, however, was promptly removed by Facebook, which referred to it as bullying while stating it violated their policy to not "identify and shame private individuals."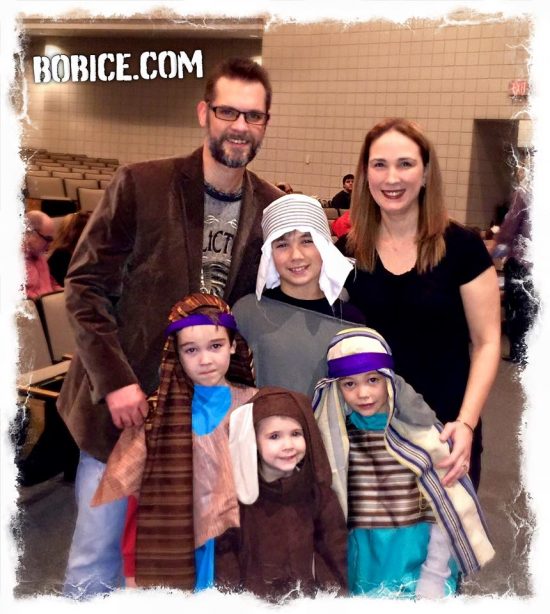 After the first post was deleted, Bice wrote in a second post, "Facebook deleted my post last night and in turn silenced the opinion of all of you and me who are tired of the racist double standards that have infested our society." He continued, "You took CORPORATE POPEYE'S side Facebook, but you should have checked the validity of their complaint," adding, "You cannot stifle my opinion and TRUTHS without it being seemingly one sided."
Bice refused to stop talking about the incident, stating that he believes now is the time to start a conversation about racism in our society and the double standard. "If tables had been turned and I used something as insensitive like that … I would be boycotted, people wouldn't buy my albums," Bice said, explaining his reasons for being upset.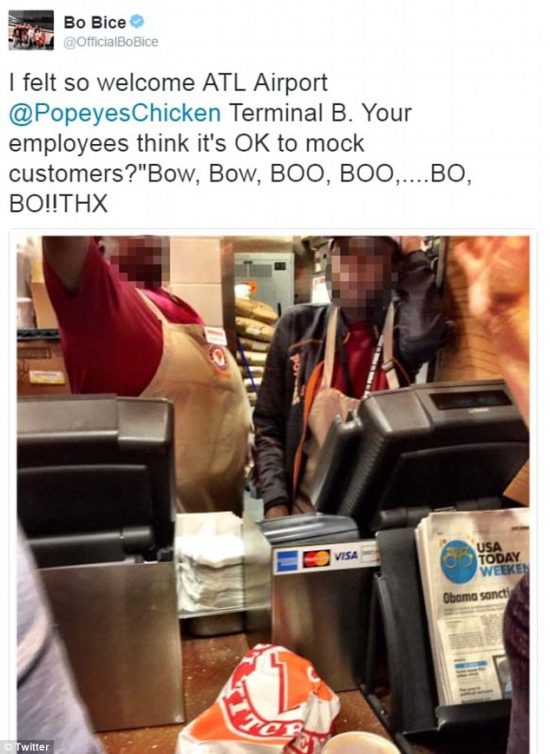 At some point, the star took his complaints to Twitter as well, posting the photo of the Popeyes employees. "I felt so welcome ATL Airport @PopeyesChicken Terminal B," his caption with the image sarcastically began. "Your employees think it's OK to mock customers? 'Bow, Bow, BOO, BOO, ….BO, BO!!' THX," he concluded in the tweet that appears to have since been removed, but not before a screen capture was obtained by Daily Mail.
This isn't the only time that Bo Bice has addressed his concerns over racism and the double standard in our society in a very public way on social media. In another post which featured a picture of a female protester holding a sign that read "Patriotism is Racism," Bice wrote, "Ohh, that's why I'm being called a racist!! #Patriots families who died so you have the #Freedom to carry that sign in #Protest don't agree."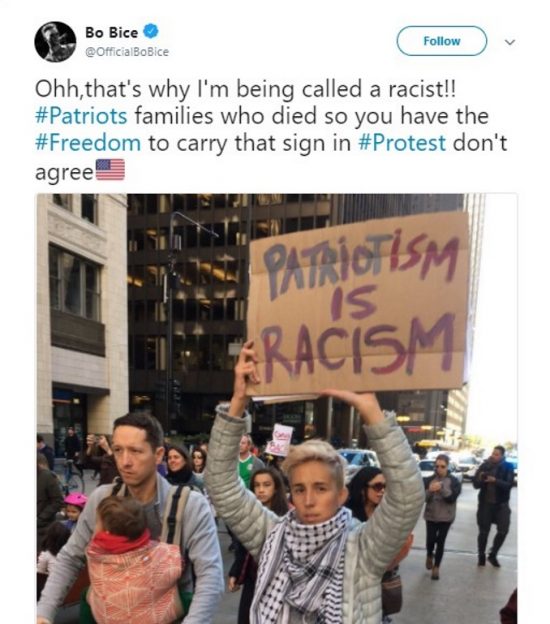 Although being called a "white boy" doesn't sound like much of a reason to get upset, Bice does have a point that the same would not be tolerated if the roles were reversed since we have seen others fired for using descriptive terms that indicate skin color to identify customers of color. It's pretty much become common sense that you better describe the color of someone's shirt rather than the color of their skin to identify them to others in the workplace.
However, it does seem that it's not the same big deal to say "white boy" as it is to say "black boy," and this is upsetting to Bice. What's even more frustrating to the star is that a simple conversation couldn't take place with an apology offered. Instead, he was forced to go to social media to bring the situation the attention that he felt it deserved.
Then, he went on television about it, too. "The fact that I have to come on TV and calm down a notch, and look like a petty little brat by tweeting and Facebooking this just to open up dialogue so we can have an adult conversation is ridiculous," he said in his interview on Fox5.
Finally, after all the fuss and a lot of unwanted publicity for the chicken chain, Bo Bice got what he wanted when Popeyes Louisiana Kitchen later apologized for the incident. In an official statement, Popeyes said, "The company does not condone the behavior of one of our associates and we took corrective action as soon as we were made aware of the incident."
Bice requested the employee not be fired but rather re-trained instead. "The reason she wasn't fired is because I asked Edith Hunter her manager not to do so. I told her that she needs some sensitivity training," he wrote on Facebook.
It seemingly all comes down to the Golden Rule. Treat others as you wish to be treated. We need to realize that we will offend each other, but it's what we do about it that matters most. What Bo Bice wanted was a conversation, an understanding, and an apology. Really, whether you agree with him or not, there's certainly nothing wrong with wanting to have a reasonable discussion.