A would-be burglar likely thought no one was home when he tried to kick down the door of a residence. Unfortunately for him, a woman inside the home was armed. After warning that she had a gun, she proved it, and it was all caught on video.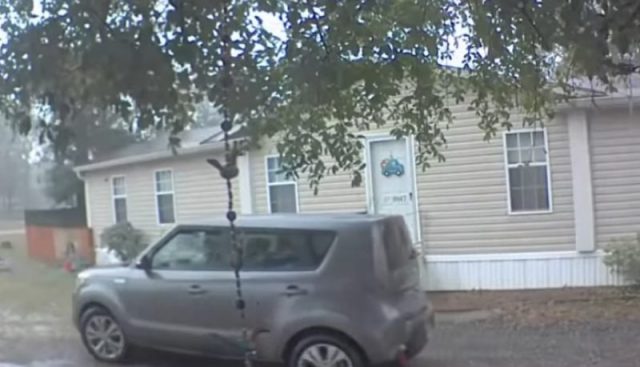 An Alabama homeowner had about enough after a thief broke into her family's truck. Not wanting to be victimized again and see the thieves get away with it, she purchased a surveillance camera system and installed the monitoring devices outside her Semmes residence. The following week, those cameras would come in handy.
While she was home alone on a Friday afternoon at approximately 12:45 pm, a vehicle pulled up and parked near the front door of the home in Semmes, Alabama. The homeowner, who wanted to remain anonymous, was napping on her couch but quickly awoke when her dogs started barking, alerting her that someone was outside.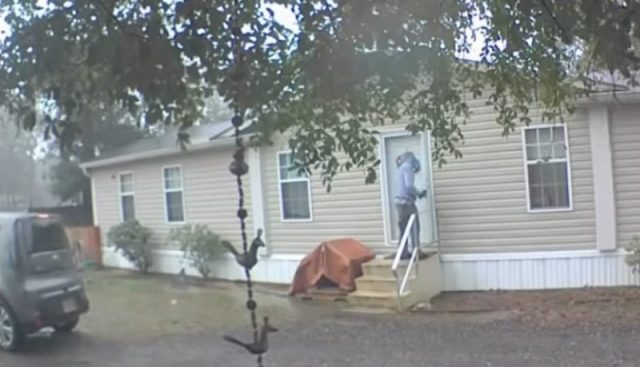 "They drove up. The dogs started going crazy," the Alabama homeowner recalled. Within no time, another noise caused her to leap into action. "I hear banging on the door, and I hopped up. It sounded like they were trying to kick the door in," she explained, according to Fox 10 News. That's when she grabbed her firearm.
"I hollered at them, told them if they come in I was going to shoot them," the unnamed woman recalled, and apparently, that was all it took for the would-be burglar and his buddy to have a change of heart. Captured on one of the surveillance cameras, the hooded suspect is seen turning tail and trying to make a run for it as fast as he can. As he tried to flee, the homeowner decided to send a message he wouldn't forget.
Heeding the woman's warning, the hooded suspect practically flies back down the steps of the house to the waiting getaway vehicle in the driveway. As he fumbles at the passenger side door, he's heard hollering for the driver to unlock it. This gives the homeowner, who's right behind him with her gun in hand, just enough time to open the door of her home, stand on the steps, and take aim.
Deciding to underscore her previous warning, she fired a shot in the direction of the suspects' vehicle as they drive off. "We've been joking he probably had to change his drawers after that," she told WALA. She added that she wasn't shooting to kill, but it was certainly a pretty big warning shot, and it likely sent a message to the would-be burglar that he won't soon forget.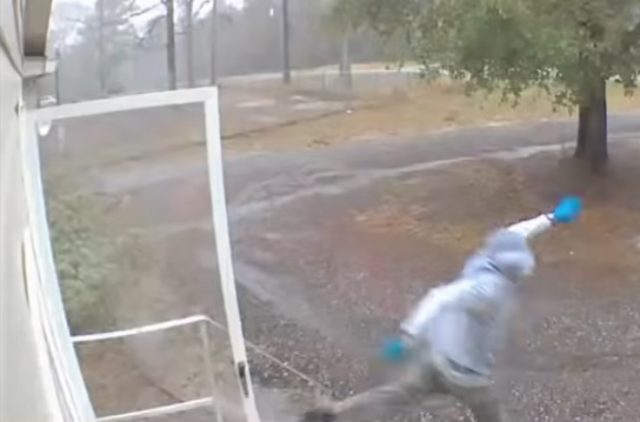 "It really was a warning shot. I wasn't trying to hit them. The adrenaline and fear took over, and I fired the gun," the Alabama homeowner explained. "They weren't expecting somebody, and that's obvious. They weren't thinking anybody was home," she said, adding that she got a firearm because she wanted to be prepared but never imagined she'd have to use her gun.
"You always say, 'Yeah, I have it just in case,' but how often does 'just in case' happen, you know? For us, I never in a million years — until last week — thought that is what I'd be doing — sitting here like it's him or me," she told the news station. "I don't know what they were thinking," she added still shaken from the whole ordeal.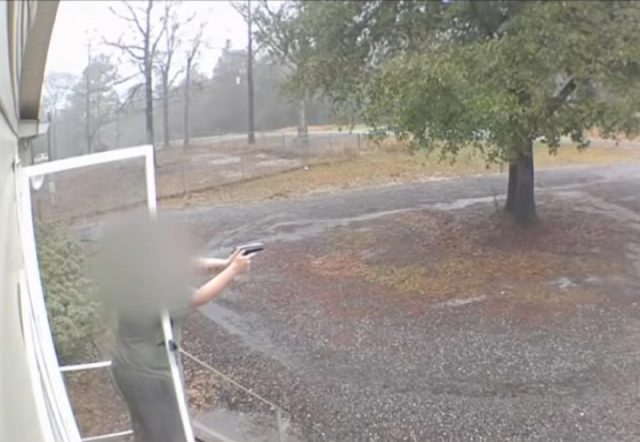 Reiterating that she only intended the single shot to be a warning, the Alabama homeowner said, "I hope they know better than to come back. I just don't want them to come back." It's very likely a safe bet they won't, but just in case, she said she's keeping the surveillance cameras rolling and her gun loaded.
Thankfully, because she was armed, this Alabama homeowner didn't have to find out the extent of the would-be burglar's intentions because, as she said, we have no idea what they were thinking. We don't know how far they were willing to take their crime or what they would have done had they gotten inside and found her. Luckily, those what if's will remain unknown because she was prepared rather than vulnerable.