Neighbors were horrified when they witnessed an alleged Syrian immigrant with a sword slaughtering a man in the middle of a street. Screaming bystanders watched helplessly as the immigrant repeatedly shouted, "why did you do that?" as he hacked away at his victim, who was still alive.
Citizens of Stuttgart, Germany, were startled out of their homes when they heard screams and shouting in the street just outside of a local residential area. Much to their shock, a bloodied man was lying on his back in the middle of the road with another man standing over him with a katana-like sword.
Residents in the Fasanenhof district watched helplessly as an Arab migrant, known only as Issa M., relentlessly plunged a "samurai sword" into his 36-year-old Kazakh-born roommate. The migrant was heard shouting, "Why did you do that?" at his victim while the dying man gasped in agony.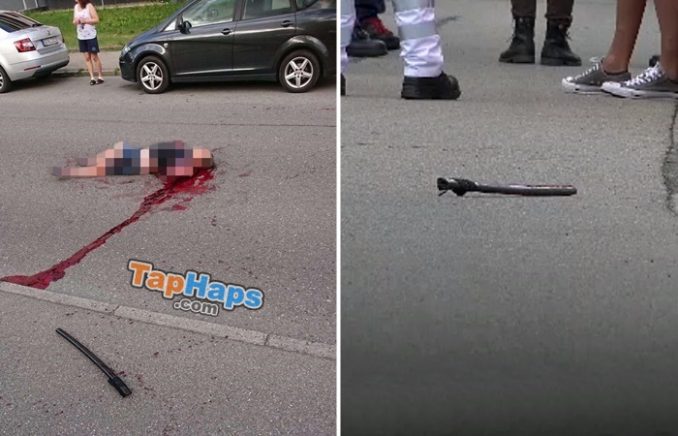 Despite clearly finding offense with his victim, police have yet to uncover a motive for the attack. Although most mainstream media outlets are describing the suspect as a 28-year-old Syrian, Stuttgarter Zeitung reports that he is actually a 30-year-old Palestinian man known to police and falsely acquired a Syrian identity to obtain asylum. He is said to have lived for 4 years in Germany under the false identity.
After hacking his victim, Issa abandoned his sword in some nearby bushes and fled on a bicycle. He was apprehended by police a few hours later and taken into custody. His victim died at the scene, despite efforts from emergency responders.
In one video taken from a more revealing angle, Issa can be seen pointing at frantic bystanders to leave as they attempted to get closer to help the victim. He then delivered a stomach-churning chop to the man's torso, raising the sword above his head and bringing it down with tremendous force, the Daily Mail reports.
Watching from the balcony of a nearby apartment, the woman filming says: "Call the police. Did you call the police?"

A man replies: "Yes, I did. He's totally stabbing him."
Residents attempted to save the victim but were driven away because of their unarmed status. Dozens of witnesses were forced to watch the grisly display until the suspect finally gave up his butchery and fled.
German authorities are now using taxpayer funds to hunt down the witnesses who filmed the attack and uploaded the footage to the web. Police confirmed that they are investigating the use and distribution of the videos, which is illegal under German law.
Stuttgart is not only the capital of the southern state of Baden-Württemberg and the sixth-largest city in the country but it is also considered one of Germany's safest cities. Still, the shocking murder proves that no part of the nation is untouched by the negative effects of mass migration.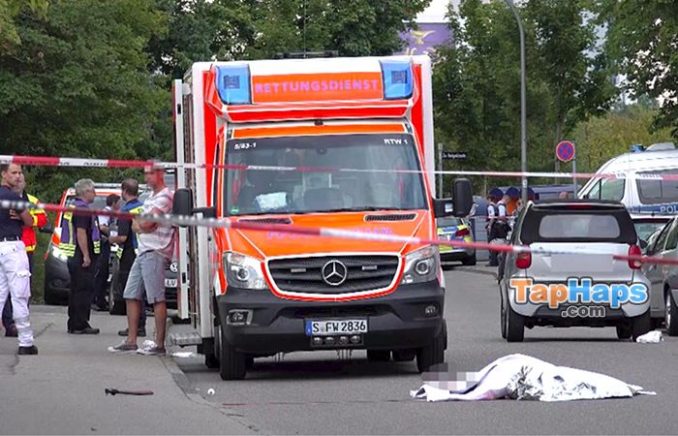 Residents are outraged and appalled by the horrific attack but are careful to voice their concerns for fear of appearing racist. Thanks to Germany's strict hate speech laws, seemingly racist, anti-immigrant, or Islamophobic comments are often treated with harsh penalties, sometimes more severe than physical crimes.
While German citizens fear government retaliation for speaking out against open borders, their neighbors are literally being slaughtered in the streets by those who abuse their hosts' laws. Disturbingly, more time and money is wasted on investigating and prosecuting the dissenters of Germany's policies than those who actively commit federal crimes.