After former Starbucks regional manager Shannon Phillips questioned an accusation of racism against a white employee, she was promptly fired without explanation. Now, she's filed a lawsuit claiming that she and her colleagues were retaliated against because of the color of their skin.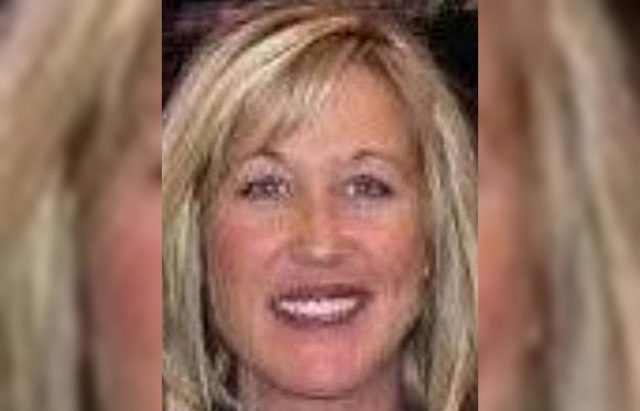 A Starbucks in Philadelphia made headlines when a pair of black men were arrested after a manager called the police on them for loitering and refusing to leave. Months after the incident sparked outrage, Starbucks settled with Rashon Nelson and Donte Robinson for $200,000.
In addition to the payout, the coffee giant announced it would implement racial sensitivity training to ensure that minority customers were never discriminated against. However, some have argued that the corporation has gone too far in the other direction by treating its white employees unfairly.
Just weeks after the men's arrest, Starbucks regional manager Shannon Phillips was told that she must suspend Ben Trinsey, a white district manager in Philadelphia, over "allegations of race discrimination," Heavy reports. Phillips questioned the decision, explaining that Trinsey was "not racist and that she had never observed any race discriminatory comments or conduct" by him. She also reminded them that he was a volunteer for YouthBuild Philadelphia, which is a program that serves local black students.
Phillips claims that her supervisors accused Trinsey of paying his non-white managers less than their white colleagues, which she argued was "factually impossible" since district managers had no role in deciding salaries. The next day, Phillips was terminated without explanation and was only told that "the situation was not recoverable," according to The Philadelphia Tribune.
"The stated reason for terminating my employment- that 'the situation is not recoverable' – is code for the efforts by [Starbucks] to discipline white, but not black, employees" as part of an effort to assure customers that Starbucks does not discriminate against black people, Phillips alleges.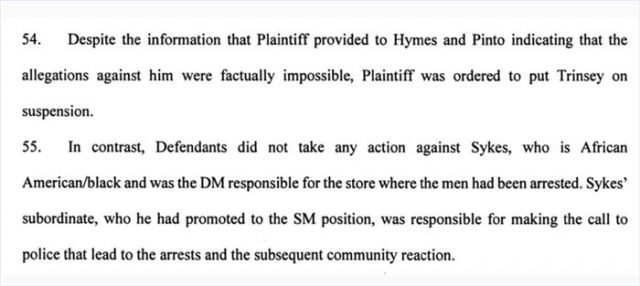 Phillips had wondered why Trinsey was being punished over his handling of the Philadelphia stores but Paul Sykes, who was the black district manager, wasn't reprimanded for promoting the manager who called the police on the black men. The store manager was subsequently fired, but Sykes wasn't punished. Phillips believes that it was no coincidence she and her white colleague were targeted while their black coworker was overlooked.
Shannon Phillips is arguing that Starbucks discriminated against her on the basis of race. She bluntly stated in the complaint, "I was terminated because I am white. If I was black, I would not have been terminated."
Court documents state that Phillips has accused Starbucks of retaliating against her and other white employees when it came to racial concerns within the company. She believes that the corporation targeted Trinsey even though the store where the arrests occurred was not part of his managerial parameter.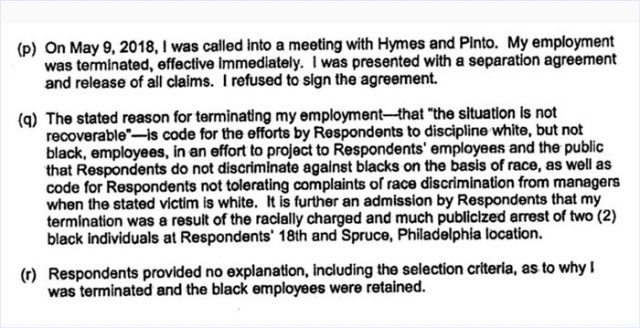 The complaint also includes a claim that Starbucks considered Phillips an inclusive regional manager who was sensitive to the needs of her minority employees, which would be damaging to the company's reason for firing her.
The complaint adds that CEO Howard Shultz admitted that Phillips "took steps to ensure that the retail locations within her area were a safe and welcoming environment for all customers, regardless of race."
Phillips' attorney confirmed that she had "received positive performance evaluations" and made sure to bestow pay raises and bonuses based on merit and not race. Still, she feels she was punished because of her willingness to stand up for a white employee as well as her own skin color.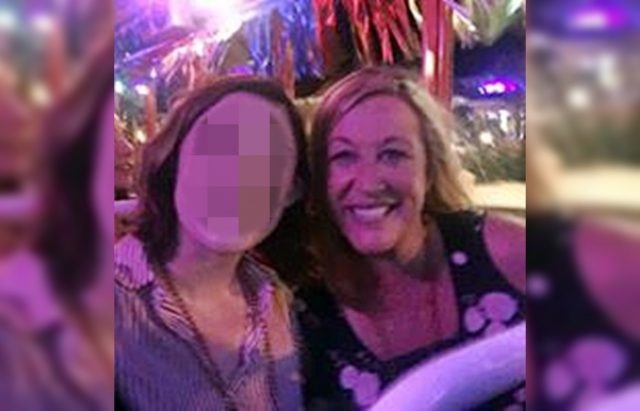 Starbucks hasn't released any information regarding the incident but vehemently denies Phillips' claims. The company has vowed to take the case to court instead of settling with the former regional manager.
Thanks to economical and legal efforts intended to protect racial minorities, non-minority demographics are now fair game for discrimination. Disturbingly, what was meant to help those thought to have been oppressed has gone too far in the opposite direction.