After a college professor and his wife were the targets of racially motivated hate on campus, they decided to fight back. The professor, who was told to leave the school because he's white, has since won a major victory.
Bret Weinstein, a biology professor, made headlines when he refused to leave his college campus after he was ordered to do so because he was white. It all began when Evergreen State College, a small liberal arts college in Washington state, held a campus-wide event dubbed "Day of Absence."
The event sought to expel all white people from campus for one day so non-white students could have a safe space to talk about oppression. Weinstein questioned the school's request that all white people leave the campus during the day-long diversity event, expressed his disagreement with the plan in a statement, and refused to comply. What followed caused the professor and his wife to sue.
Student protesters confronted the professor, who refused to leave campus over his white skin color, accused him of being racist, and demanded his resignation. Weinstein was subjected to ridicule by both students and his own colleagues. In addition, his safety was also put in danger when activists blocked campus police from entering a building where they had him cornered. On one occasion, he was even forced to hold class in a parking lot because students blocked the entrance to his classroom, The Blaze reported.
"They imagined that I'm a racist," Weinstein said. "That has caused them to imagine that I have no right to speak."
While appearing on Fox News' "Tucker Carlson Tonight" to discuss the "mob" of activists protesting perceived "white privilege," Weinstein told the host that the school was essentially being bullied by the protesters and the school's president was caving to their ardent demands, including agreeing to relieve them of their classwork. The president of the school even ordered police to stand down from any action against the activists. "This is something out of another country," Tucker Carlson said.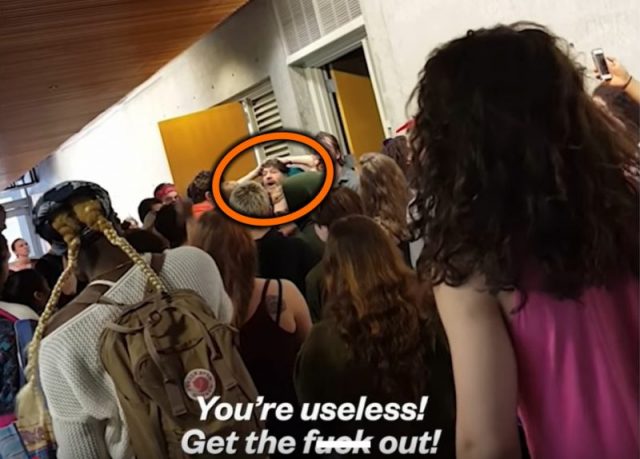 Weinstein and his wife, professor Heather Heying, sued, alleging the school "permitted, cultivated and perpetuated a racially hostile and retaliatory work environment." Weinstein claimed school officials "sent the unmistakable message that the school will tolerate (and even endorse) egregious violations (and even crimes) purportedly to advance racial social goals, diminishing the collegiate experience for all, and fostering a racially hostile work and retaliatory environment for faculty and staff."
Seeking $3.85 million in damages, Weinstein also alleged that "through a series of decisions made at the highest levels, including to officially support a day of racial segregation, the college has refused to protect its employees from repeated provocative and corrosive verbal and written hostility based on race, as well as threats of physical violence." Indeed, students literally took over the school.
The video footage seen above was captured during the height of protests. It shows students taking over the school and making demands, as well as campus administration cowering to those demands, including agreeing to let protesting students not be penalized for failing to complete assignments.
"All of us are students and have homework and projects and things due. Have you sent an email out to your faculty letting them know?" a female protester asks in the video. "What's been done about that?"

"It's the first thing I'll do. I have not done it yet, I will do it right now," Evergreen State President George Bridges replies.

"So they need to be told that these assignments won't be done on time and we don't need to be penalized for that," the unnamed protester demands again. (Source: The Blaze)
According to a statement from Evergreen State President George Bridges, which was published by the Cooper Point Journal, Evergreen State administration caved to the majority of the protesters' demands. After explaining that he uses "him/he pronouns" and "acknowledging the indigenous people of the Medicine Creek Treaty, whose land was stolen and on which the college stands," Bridges said that the college would not discipline the students for their protests.
Bridges added that the college would expand police training, "commit to establishing a new and expanded equity and multicultural center," and force school faculty to undergo additional cultural sensitivity training. The school also agreed to hire coordinators for transgender and gay students as well as a liaison for undocumented students. But, Weinstein wasn't about to cower to the school or the protesters in the same way.
Instead, the professor battled the racism he experienced — and he won. Although Bret Weinstein and his wife didn't get the $3.85 million in damages that they were seeking, they still managed to land a major victory against their employer. In a faculty email, Evergreen State College announced that they settled a tort claim brought by the professor and his wife for $500,000.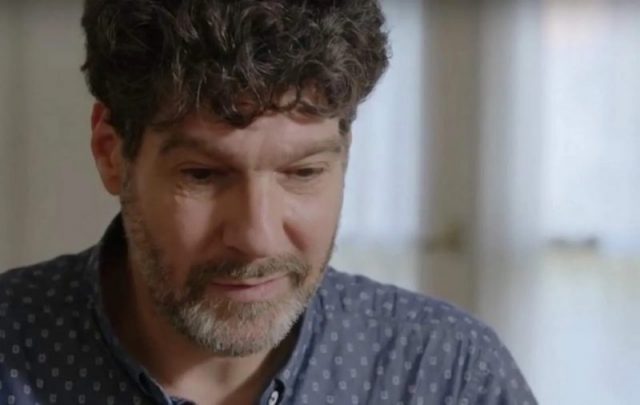 As part of the college's agreement with the pair, Bret Weinstein and Heather Heying resigned from the school, the College Fix reported. "They have resigned from their faculty positions at Evergreen, effective today," the email stated. "The college will pay them a total of $450,000 and contribute an additional $50,000 toward their attorney fees. In making this agreement, the college admits no liability, and rejects the allegations made in the tort claim."
These students are not combating racism, they're perpetuating it. Don't agree? Watch the video above again and ask yourself, is this what Martin Luther King Jr and the civil rights leaders fought for? In words that these protesters might understand: "Hey, hey, ho, ho, this behavior has got to go." College is for education, and this one needs a lesson on the definitions of words such as discrimination, segregation, racism, irony, and hypocrisy. The activists provide plenty of examples. Now, if only they could learn to display true tolerance, inclusion, and respect.