While wandering past a local fire station, a pair of young boys suddenly stopped dead in their tracks in the middle of the street. As soon as one of the firefighters realized what they were doing, he knew he only had seconds to act.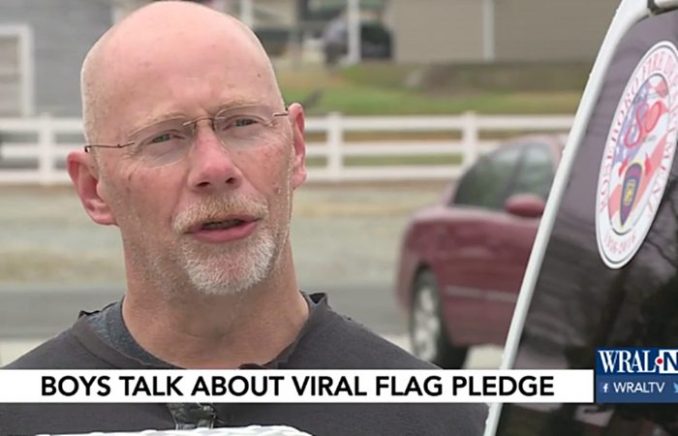 While working his Friday shift at Roseboro Fire Department in North Carolina, Chaplain Bobby Herring noticed a pair of young boys, one on a hoverboard and another on a scooter, meandering past the station. Thinking nothing of it, Herring went about his work.
Within seconds, however, Herring realized his error in assuming the situation was just nothing out of the ordinary. Reacting quickly, he grabbed his phone and snapped a photo of what was taking place just outside the station, hoping to catch the two boys in the act.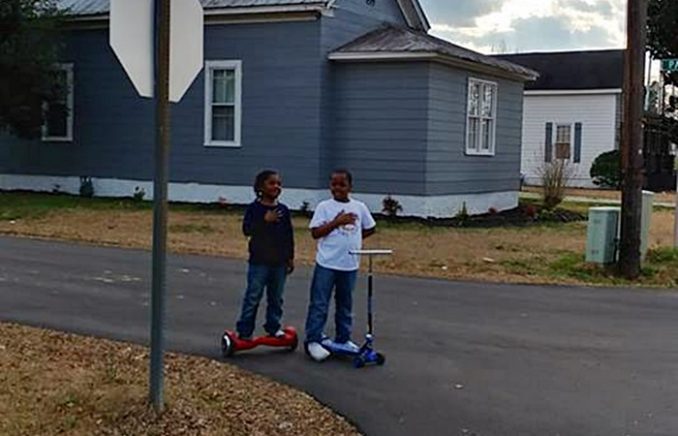 According to The Charlotte Observer, Bobby Herring managed to capture 6-year-old Derrick Tyrone Ingram Jr. and 8-year-old Thomas Edward Jones Jr. after the boys immediately stopped, placed their hands over their hearts, and recited the Pledge of Allegiance upon seeing the America flag outside of the fire station. The young cousins had no idea they were being photographed and merely wanted to show reverence to the flag, which Herring was raising at the time.
"This afternoon as Chaplain (Bobby) Herring was raising the U.S. flag to full staff, he looked over to the intersection and saw these two young people standing there with hands on their heart, saying the Pledge of Allegiance," said a post from the Roseboro Fire Department. "God bless our community," the post concluded.
As soon as the boys had finished reciting the pledge, they resumed their activities and went on their way. Of course, they never expected that their simple gesture of quiet respect would soon sweep the nation. What happened in front of the small-town fire department proves that we are stronger when we come together on basic morals.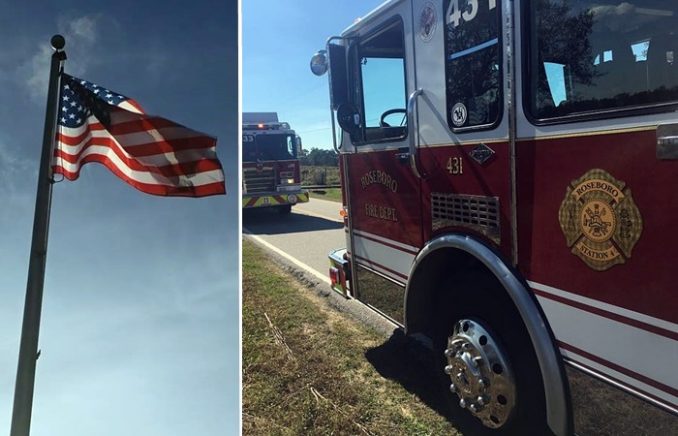 Within days of posting the picture, the fire department's Facebook page was inundated with praise and thanks for the young men. Soon, local media outlets were knocking on their doors in order to obtain comments from the boys and their proud parents.
The boys explained that they didn't salute the flag in order to gain adulation but to show respect "for the people who've been in wars trying to make our country free." As for why they had such a reaction, Ingram's mother Journey Pearson told CBS 17 that they have been taught to "always be respectful no matter what people tell them or what people try to throw in their head."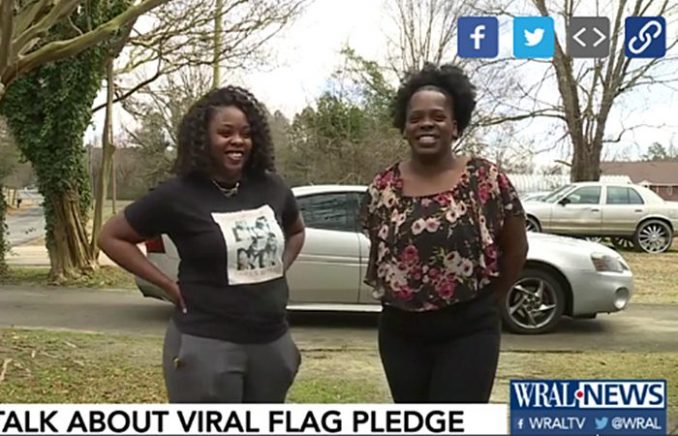 "No matter what, always respect your flag," Pearson added. "As they get older, whatever decision they decide to make on how to represent the flag, that'll be on them but, as of right now, hands on your chest, recite the pledge."
The boys were later honored for their dedication to the country and its public servants. Roseboro town officials presented Ingram and Jones with U.S. flags for their porches, candy, and enlarged copies of the photo that went viral.
The boys might not quite understand why the simple routine they perform on a daily basis is being lauded by people across the nation. However, they will one day look back on their actions and understand the unique impact they've had on thousands of strangers.
These boys have shined a light on the nation, proving that, regardless of our differences, we can come together in our dedication to our country. In an era in which all sides stand divided on nearly every issue, it's inspiring to see such young boys loving their country and their fellow man.