A progressive tech writer, who tweeted vile insults at President Donald Trump, made headlines after he was arrested on horrendous charges. He's since been found guilty of his abhorrent crimes.
Peter Bright, a 38-year-old progressive feminist and now-former prominent tech journalist who wrote for Ars Technica and appeared in videos for the company, was no fan of President Donald Trump. In fact, he often used his Twitter account to tweet vile insults at Trump, including one that accused him of having incestuous feelings for his daughter.
"It's unacceptable to call trump a motherf**ker," Bright tweeted, "as we all know, it's one of his daughters he wants to f**k, not his mother." In another social media post, he disparaged Trump supporters, saying, "f**k caitlyn jenner and every other trump-voting scumbag." But, as it turns out, Peter Bright is the real scumbag, arrested on charges of soliciting sex with a minor.
Bright — who tweeted under the account "@DrPizza" and self-identified as polyamorous, pansexual, and "pervy" in his profile — allegedly arranged to meet a mother and molest her 7-year-old daughter and 9-year-old son, Daily Dot reported. He planned to molest both children and rape the girl, but his plans were foiled. Instead of meeting up with the mother and her children, Bright greeted by an FBI agent.
The undercover agent had been posing as the "mother" when he found Bright online via KinkD, a fetish social media platform. The "mother" said she was looking for someone to teach her children about the "birds and the bees," and Bright volunteered to "teach." The two communicated Bright's horrific plans for the children, then after a month of correspondence, Bright set up an in-person meet.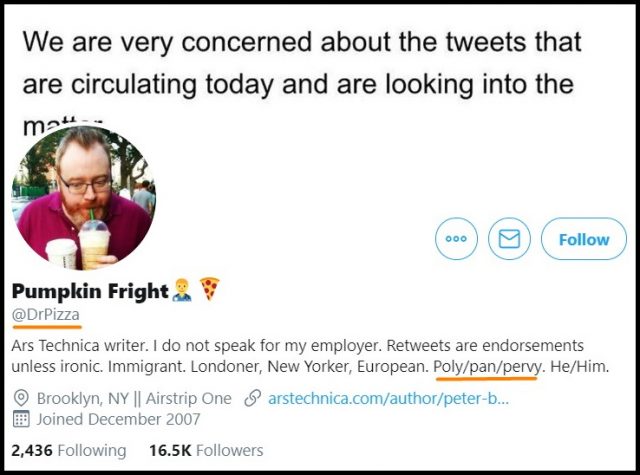 Peter Bright, who happens to be married, was arrested by the undercover agent. He was accused of sending the agent graphic photos of himself as well as an STD test to prove he would not give the children any diseases. He was carrying condoms upon arrest. The criminal complaint contained graphic descriptions of what Bright told the agent, including his claim that he had molested an 11-year-old already. Charges were filed at the U.S. District Court for the Southern District of New York, and Bright was held without bail until his first trial.
Sadly, his initial trial ended with a hung jury after they failed to reach a consensus, NY Mag reported. It's unclear why they couldn't come to an agreement on a guilty verdict, but it is known that Bright's defense included claims about his sexual interest that contradicted the charges. When he took the stand, Bright alleged that his behavior was simply "ageplay," or acting as a "daddy" and believing the "children" were also actually consenting adults. He also claimed he prefers full-bodied women with a lot of body hair and denied liking children, according to Inner City Press.
"I did not, at first, think she was talking about real kids," Bright told the court when he was called as a witness … detailing for the jury the ins and outs of "ageplay," a kink in which "mommies" and "daddies" have sex with adults pretending to be "littles," or "princes" and "princesses." Bright said that he had engaged in similar role-plays before, always with consenting adults. [Source: NY Mag]
Bright's lengthy and well-documented social media presence, featuring several lewd jokes about the age of consent, were also entered into evidence. "Admiring jailbait on the train. rowr," read one tweet. "I think age-based rape-laws (rather than consent-based) are stupid," read another. He attempted to explain away those posts, describing them as jokes and saying that consent laws have "a number of quirks."
Although these claims may have swayed the first jury and resulted in a mistrial, Peter Bright's luck ran out during his second trial. With the evidence found in the WhatsApp messages exchanged with the FBI agent — where Bright verbally committed to raping and molesting minors, sent nude photographs of himself, and confessed to the molestation of an 11-year-old girl in the Bronx — he was found guilty and convicted of attempted enticement of a minor for sex. I love a story with a happy ending.