If you like a good underdog story, we have the perfect video for you. An unlikely hero was caught on camera when a tiny Yorkie took on an aggressive coyote, saving a child from an attack. A tiny pet squaring off with a much larger wild animal and winning is so inconceivable, you have to see it to believe it.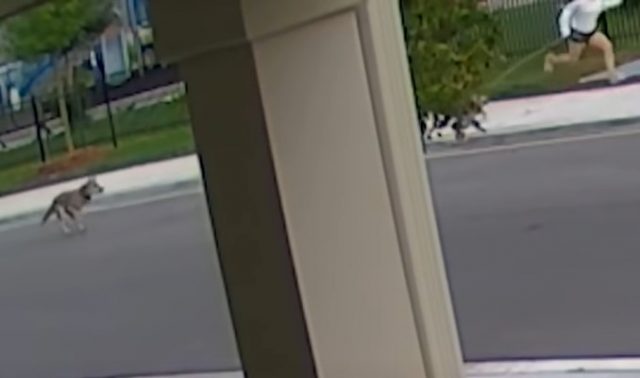 Lily Kwan, a 10-year-old Toronto girl, was walking through her residential neighborhood with her 6-year-old rescue Yorkie named Macy when she found herself in the middle of a real-life nightmare. Although Lily had recently seen warning signs posted, alerting the public that a coyote had been chasing kids in the neighborhood, she was still caught off guard when a coyote began to chase her and her beloved pet.
Footage from a nearby surveillance camera captured what ensued when the wild animal left Lily running and screaming for help while pulling Macy by the leash as the coyote chased them down the street. "I thought, 'Am I next, what is going to happen to me?'" Lily recalled, referring to the posted warnings she had seen regarding coyotes attacking children in the area. Meanwhile, the coyote was attacking Macy.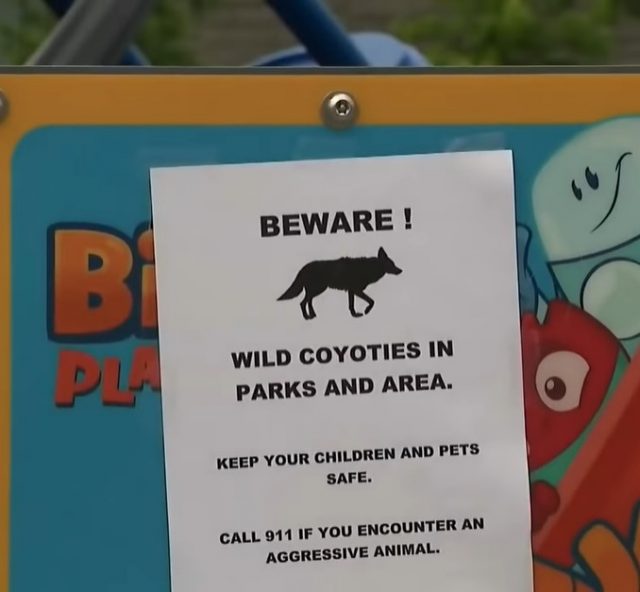 Lily tried to pull Macy along in a desperate attempt to get away from the wild coyote, but the Yorkshire terrier would not follow her, she said, forcing her to drop the leash in an attempt to save herself. Thankfully, even though Macy's breed generally only weighs 5 to 7 pounds, that didn't stop the tiny terrier from bravely deciding to take on the wild animal several times its size as her human made her escape.
"I ran to the sidewalk and started screaming for help, and no one heard me," Lily said, recalling the frightening ordeal. "I just saw this coyote trying to attack my dog, and I tried to ring people's doorbells and knock on people's doors. But this one neighbor actually let me in," she added. Although things looked grim for Macy at that moment, the security camera captured the tiny dog's bravery.
As seen in the footage, Macy turns around to confront the coyote after her 10-year-old owner took off on foot, running from the wild animal and leaving the tiny terrier to fend for itself. To the shock and amazement of viewers, the scrappy and yappy little dog's determination proved effective as the coyote is the one left retreating, running away as Macy continued to bark at it.
Thanks to Macy's bravery, the coyote was distracted from going after Lily, giving the girl time to make her getaway. Lily is, of course, thankful for the protection her little hero provided during the terrifying ordeal. "She's a super brave dog," Lily said. "I love her so much, and I just thought this tiny dog could protect this huge human being, trying to fight off this huge coyote."
Lily's mom, who has since seen the video, echoed similar sentiments. "My dog would do anything for our family, so I'm actually not surprised that she did that," Dorothy Kwan said, adding that the coyote's boldness is what really shocked her. "I would never guess that a coyote, you know, would come out during the day, and especially with someone screaming and yelling it still was not fazed," she said.
"It just kept coming after her and our dog, you know, despite all the yelling. It was quite aggressive," Dorothy continued, adding that there were other coyote sightings in the neighborhood, according to WWNY-TV News 7. As for the keen-eyed viewers who noticed that the wild coyote appeared to be wearing a collar, Dorothy explained that she was told the ministry is tracking coyotes with electronic collars.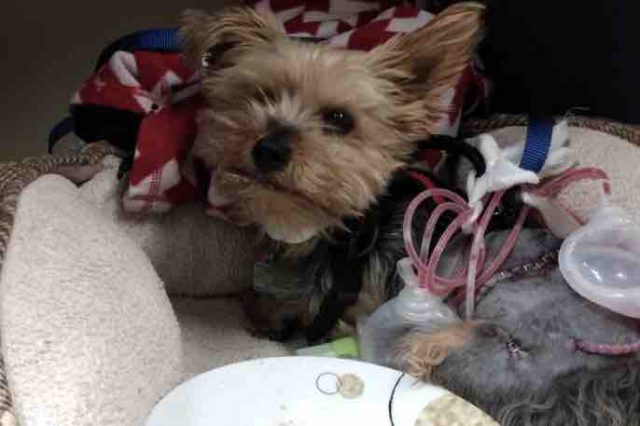 Although Dorothy expressed frustrations that no one will trap the coyotes, she does feel lucky that Macy not only protected Lily but also survived. "She's our little hero," the grateful mom said, again praising Macy for protecting Lily. The family has since been given a couple more reasons to be thankful, making this miraculous story even better.
Macy was admitted to the veterinarian ICU following the terrifying incident but expected to make a full recovery. She did, however, require costly surgery to treat multiple puncture wounds from the wild animal. But, once again, the Kwan family received a miracle. Faced with a pricey vet bill, a GoFundMe campaign came to the rescue, raising over $20,000 in a matter of days. Don't you just love a story with a very happy ending?