A family watched in horror as the propane tank of a bus exploded, setting the entire vehicle ablaze in an instant. However, bystanders couldn't believe their eyes when a man ran into the inferno without hesitation as everyone else was running away.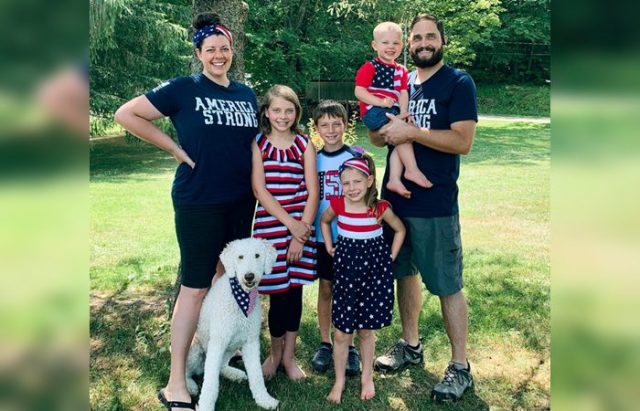 Kyle Copeland and his family were excited to embark on a new journey when they sold their house, converted an old bus into a mobile home, and set out to make up for years of "military separations, addiction recovery, and medical trauma." Little did they know that their adventure would end in tragedy.
Kyle and Whitney Copeland say that they had been attaching a trailer outside of their bus in Utah when their daughter, 6-year-old Emree, came out and told them the propane heater was making strange noises. Seconds later, the bus caught fire. The subsequent explosion was reportedly seen from miles away, according to New York Post.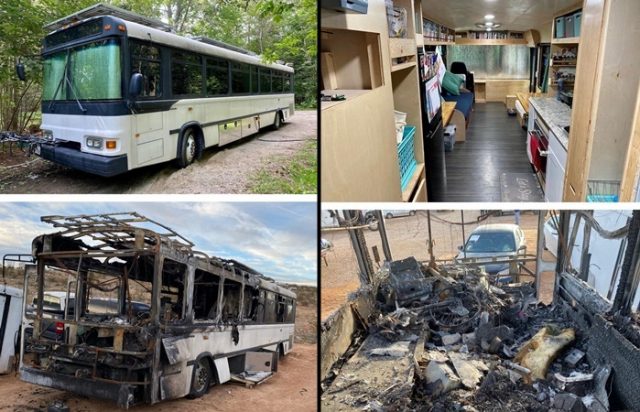 In an instant, the bus was consumed by the flames with the couple's three other children still inside. Incredibly, 10-year-old Kade managed to jump out of a window. However, 12-year-old Pepper and 4-year-old Krew were still trapped inside the bus, so Kyle Copeland did what any loving dad would do.
Without hesitation, Kyle, a former Air Force intelligence officer, rushed into the furnace. He sprinted through the flames until he reached the back of the bus, which is where the children's bedroom was located.
"Kyle said that he ran through the flames to run to the back of the bus, and he saw Pepper and Krew both standing in the back of the bus in between the bunk beds," described the distraught mom. "Kyle scooped Krew into his arms, then turned to Pepper, who was stunned. "When he grabbed onto her she was very reluctant and started pushing against him. She thought Kade was still inside."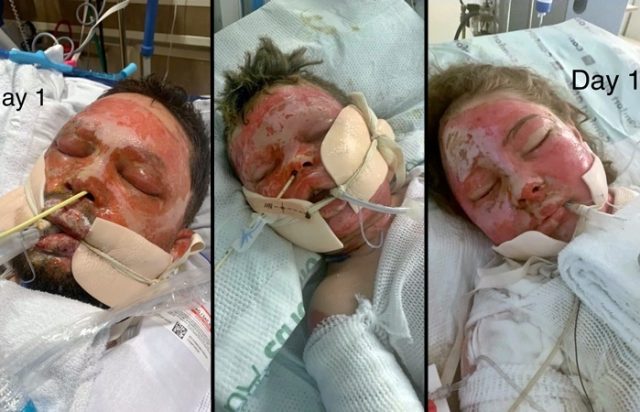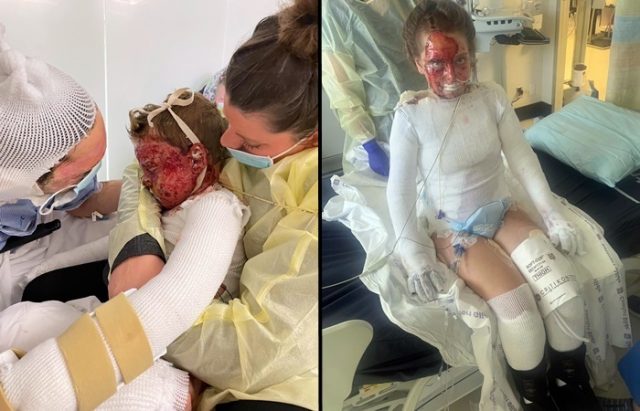 Whitney says that Kyle grabbed the children and picked them up. When he turned to face the fiery exit, she says it was as if he were "looking right into hell" itself.
Thinking quickly, Kyle put his daughter "in the tightest headlock he could" and "turned towards the flames," Whitney recalled. "In that moment, he says, 'It was as if I was looking right into hell.' Then it was as if everything stopped and time froze."
When Kyle appeared with the children, Whitney hurried to help extinguish the flames engulfing her husband and children. Sadly, Pepper suffered the brunt of the burns.
"I grabbed her arm and pulled her out of the bus and threw my body onto her, patting her down and extinguishing the flames all over her body and hair," said the courageous mom, who evacuated her family in the nick of time. "Within one minute — 60 short seconds — of Kyle exiting the bus, the first explosion happened. If Kyle would have hesitated, it wouldn't have worked. I just know the outcome would have been far worse."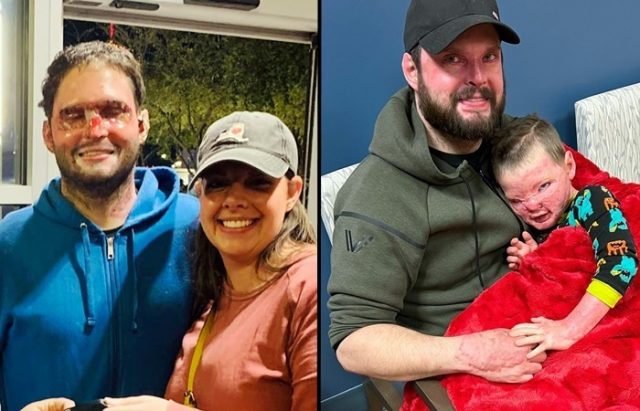 The family spent months undergoing surgeries, skin grafts, and rehabilitation. Although each family member was burned on various parts of their bodies, Pepper and Krew sustained the most injury. Pepper suffered burns on over 52 percent of her body, which required 32 surgeries. Krew also sustained burns to his hands, arms, and face. The heroic father was intubated and sedated for four days before he could speak to his wife.
"We are becoming so much stronger as a family and feel deeper degrees of compassion and love," the proud dad gushed. "Life is good and we choose to see life as a beautiful experience. We are survivors, not victims."
Incredibly, the Copeland family has made major strides in their recovery. To help cover the costs of their medical debts and other bills, a Go Fund Me account was created for donations.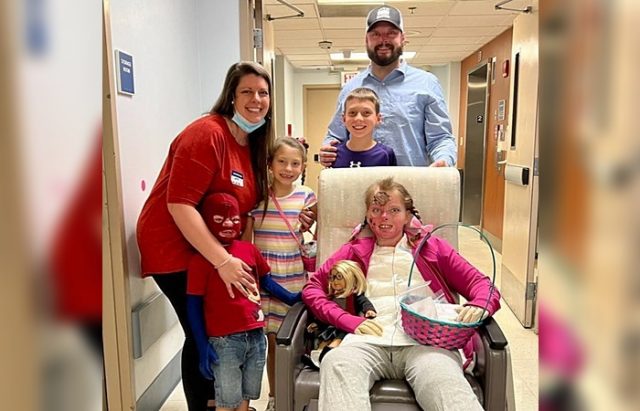 The family has remained positive and hopeful during the long road to recovery. Thankfully, the medical treatments have produced great results, and the children are resilient. Still, the family has to work through the trauma of such an event long after their physical scars have healed.
Thanks to Kyle Copeland's selfless actions, his children are alive. His courage and determination sum up the epitome of a father's love for his children, and no one understands this better than them.