A family was devastated after their infantryman son took his own life while on patrol at the southern border. One month later, a teen shocked the neighborhood when everyone saw the "design" he created on the lawn for the fallen soldier.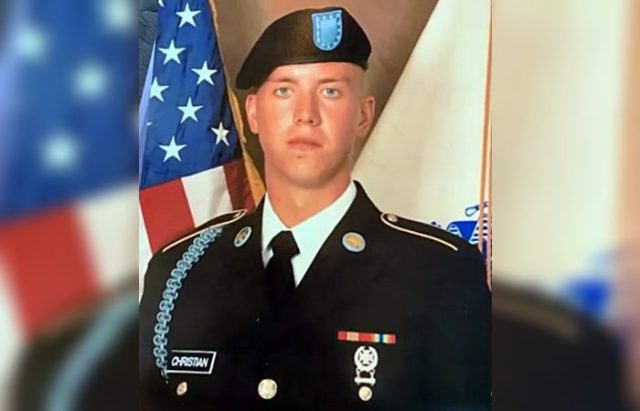 Kevin Christian was the son every parent dreams of raising. He was an accomplished member of the Boy Scouts of America, an infantryman in the Army, and a handsome young man with the world at his disposal. Unfortunately, he was also hiding a dark secret.
At just 21 years old, Christian took his own life while paroling the Arizona-Mexico border in Ajo, about 120 miles from Tucson. The medical examiner ruled that the soldier had died from a self-inflicted gunshot wound. He was one of two soldiers who had committed suicide while on assignment within weeks of each other.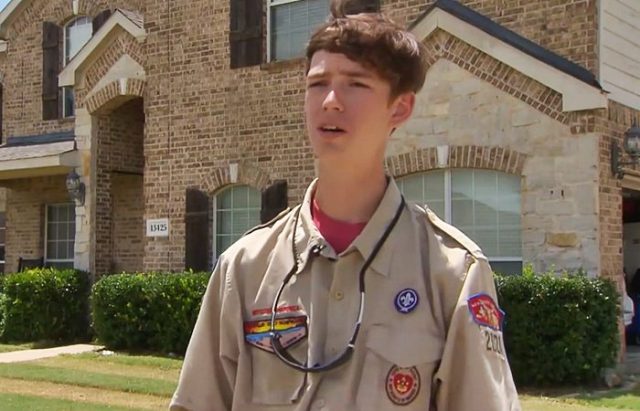 When 17-year-old Cameron James heard of Christian's passing, he was deeply grieved. The teen had become close friends with him during their years as scouts in Haslet, Texas. After a few weeks had passed and he had accepted his friend's untimely death, Cameron wanted to do something to honor the fallen soldier. However, the usual commemorative memorial just wouldn't do. So, the teen came up with something bigger.
Cameron remembered an idea his dad had for honoring soldiers a year earlier. Intent on capturing everyone's attention, the teen decided to make a memorial so large that it could even be seen in the air. In the middle of the brutal Texas summer, Cameron set out to mow a massive American flag design into his front lawn, CBS DFW reports.
"I guess Cameron remembered the request and asked if he could do the flag this year on our lawn in honor of his friend," his mother, Amy, said.
Cameron spent four hours in the scorching heat mowing alternating lines for the flag's stripes. He set his lawnmower on a different setting to highlight the contrast between the two colors of stripes. Luckily, his 11-year-old brother, Daniel, pitched in to get the job done. The pair then had to come up with a plan for the stars.
After finishing the stripes, Cameron used a weed eater to etch 50 circles into the left-corner patch of the lawn, each resembling a star on Old Glory.
"I'm very proud of my son and his thoughtfulness," said Amy James. "As the daughter of an Army man, the niece of a Navy man, and the granddaughter of an Air Force man, his memorial made me feel that he was honoring not only Kevin but all of the servicemen stationed at home and abroad."
Cameron quickly garnered the attention of several media outlets. However, he made it clear that his intention wasn't to bring recognition to himself.
"He was just a role model for me," James told CNN affiliate KTVT. "So I wanted to make sure he was missed by even the people who didn't know him."
The teen continued to maintain the design in the lawn, mowing each part separately so that the flag remained visible. Of course, this already difficult task was even more painstaking in such a blistering climate.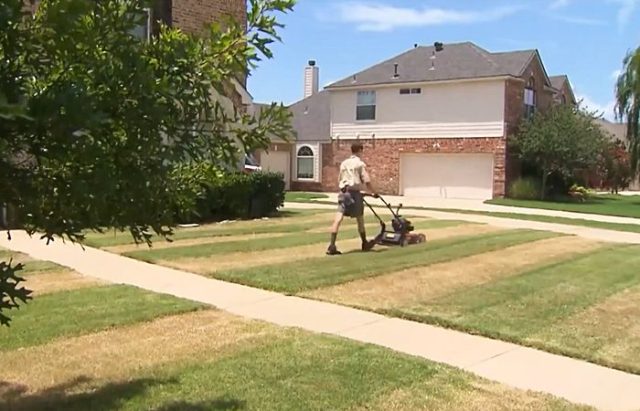 Veterans have a 50-percent higher risk of suicide than those who have never served, and over 6,000 veterans commit suicide each year. These men and women have served their country, and they not only deserve our respect but also our care.
Although Cameron's design seems like nothing more than a creative project, it does more than just honor his friend, Kevin Christian. His effort brings awareness to the devastating outcome for many U.S. veterans.