"Ragged Old Flag," the title track of Johnny Cash's 1974 album, was a homage to our country and flag written by the entertainer, who was a stark defender of American values. While the song had special meaning decades ago, it may have even more meaning today.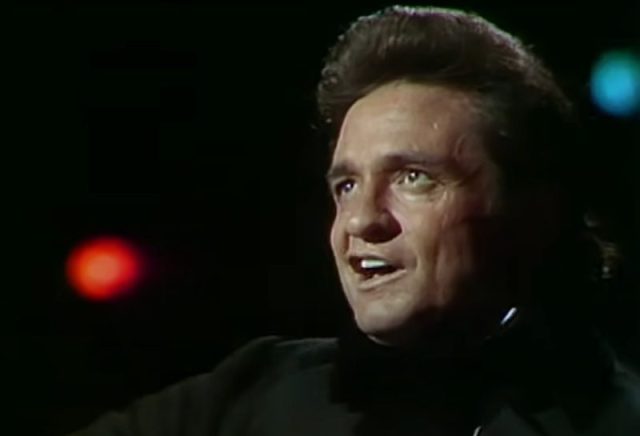 Johnny Cash was more than just a country music icon. The late entertainer was also an Air Force veteran, who served as a communications intercept operator during the Cold War and left as a Staff Sergeant and an outspoken man who loved his country. This was evident in 1974 when the socially conscious singer released another one of his "message" songs while Americans had their TV screens tuned to the many twists and turns of the Watergate scandal, which ultimately led to President Richard Nixon's resignation, Rolling Stone explained.
The song was "Ragged Old Flag," a story song about an old man in a town square, recalling what the country and a flag that had survived centuries of battle and other conflicts had endured over time. With it, Johnny Cash raised his political voice, reflecting his patriotism and reaffirming his faith in America at a time when many of his younger fans had yet to forgive him for visiting Nixon at the White House two years earlier. Despite the criticism that the tune was overtly sentimental and jingoistic, it became a favorite in Cash's live shows.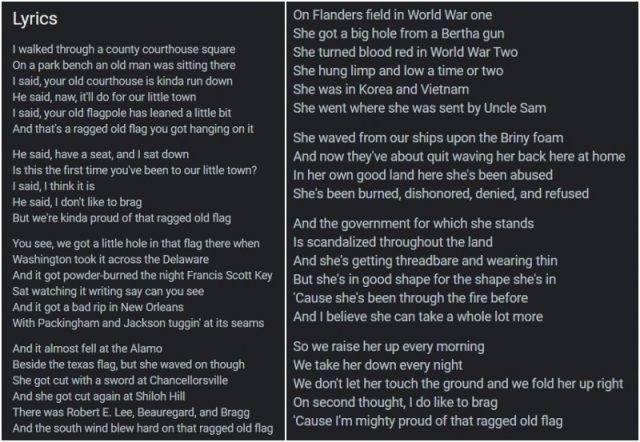 "Ragged Old Flag" didn't lift Cash out of a slump on the country charts. Instead, it stalled just outside the Top Thirty and the album barely cracked the Top 20. Still, Cash frequently dusted it off, asserting both his patriotism and Second Amendment rights with a fiery live performance of it, during which Cash prefaced his performance with his thoughts on what it means to live in a free nation.
"I thank God for all the freedoms we've got in this country. I cherish them," Cash told an enthusiastic crowd in the clip below. "Even the right to burn the flag," he added, followed by a chorus of boos that quickly broke out with those words. "Let me tell ya somethin'," he said, trying to quell the crowd's protests. "Shhh — we've also got a right to bear arms and if you burn my flag, I'll shoot ya."
"Wanting to 'reaffirm faith in the country and the goodness of the American people' in a country tune, 'Ragged Old Flag' quickly became a popular song and a staple on Cash's setlist at the time," American Songwriter explained, adding that the entertainer often opened with the same introduction, but that wasn't the only time he opined on flag burning. In an interview seen below, Johnny Cash expressed how, despite his love of his freedoms, he couldn't help but wish there were protections against burning the flag, according to Popular Military.
"When I see somebody or hear about burning the flag, I think about the time that June and I went to Vietnam," Cash recalled, speaking of his wife. "In 1969, I saw the burning flesh. Boys coming in from the helicopters on the stretchers with burning flesh, falling off from the napalm on their bodies. You never forget the smell of that," he continued, making it clear that he equated burning the flag with dishonoring those men who sacrificed their lives, regardless of whether or not one felt the Vietnam War was "right" or "wrong."
https://youtu.be/DBfLo3iF4iE
"Americans were there dying for me, and dying for that flag," Johnny Cash furthered, adding that people who want to burn the flag should go to Iran. "I still cherish those freedoms," he said. "If I get a week off next week, I can go and do anything I want to in these United States. There's not many countries you can do that in. I cherish all of the freedoms we got, including the freedom…The right to burn the flag. But I also got the right to bear arms — if you burn mine, I'll shoot you."
"Ragged Old Flag," which is often played on Veteran's Day, the 4th of July, and to honor the armed forces, became Johnny Cash's ode to America and the flag. Noting the scandalous state of the country and the old flag's threadbare condition, it is still relevant today. In it, the country icon asserted that he didn't like to brag, but changed his mind at the conclusion of his dramatic reading of the lyrics, saying, "On second thought, I guess I do like to brag. I'm mighty proud of that ragged old flag" — effectively capturing how many Americans have felt and still feel today.