During a disturbing standoff with police, a New York woman "intentionally used her toddler son as a shield" before assaulting an officer. However, despite injuring an officer, the woman walked away with a $625,000 payday.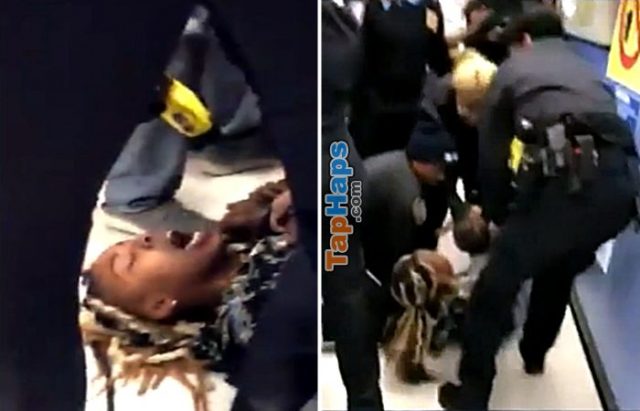 Jazmine Headley, 23, was waiting at the Human Resources Administration (HRA) office in NYC to find out why her daycare vouchers had been cut off when police arrived to arrest her for causing a disturbance. As it turns out, the young mother was already wanted on an outstanding New Jersey warrant for failing to appear in court for alleged credit card theft.
Headley's mother, Jacqueline Jenkins, claims that her daughter sat down on the office floor because there weren't any available chairs. However, HRA security officers maintain that she was blocking the hallway and refused to move, telling them, "I'm not f–king moving from here," the New York Post reports. She then became belligerent.
"At that point I went over to client Headley to see if I can persuade her to get up and have a seat. As I approached her she was saying, "Don't f–king get close to me get out of my f–king face bitch," the witness account states, adding, "Client Headley continued to her irate behavior and creating more scene."
Headley repeatedly refused to comply with security's orders to leave, prompting office administrators to call the NYPD. It was after police officers arrived that the situation escalated beyond anyone's control.
According to police, officers calmly approached Headley in an effort to de-escalate the situation and get her to leave. When she continued to refuse, officers had no choice but to remove her by force.
"After a few more minutes of pleading with the female client to put the baby down and leave the facility, necessary actions were taken by the uniformed officers to detain her," the other report states.
Although the video doesn't show what occurred before the scuffle, witnesses and police confirmed that Headley became belligerent and violent. In an effort to prevent police from arresting her, she held her 1-year-old son, Demone, in between herself and arresting officers. When authorities attempted to take the baby from her arms, she tightened her hold on him and began moving erratically, placing her child in danger of injury.
"As the NYPD officers were picking her up she began to flare up her arms. While resisting she put the baby between her legs in a tight grip. NYPD officers tried to get the baby off her but she was putting up a fight," the report states, adding that Headley then "kicked me on my right shoulder."

In one of the reports, an HRA officer states: "The officers were careful while handling her not to harm the baby. The female client was the one putting him in a tight hold, grabbing his clothes and even wrapped her legs around his body so that he couldn't be detached from her."
Another officer was left with a large bruise on his arm after Headley allegedly bit him. Finally, the police managed to safely remove the child and detain the mother before she could hurt anyone else. However, despite video evidence showing some of Headley's criminal behavior, she was about to become the victim.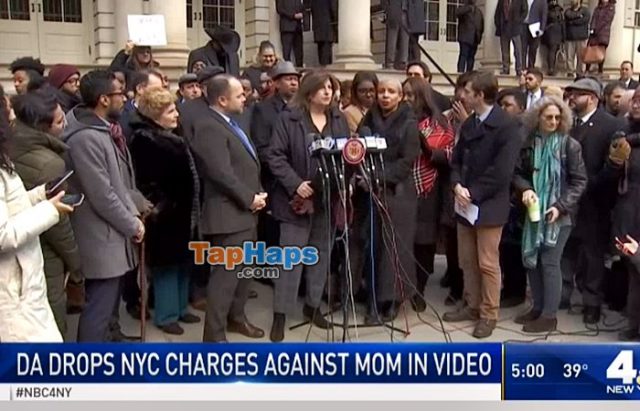 After the footage was uploaded to social media, outrage ensued, labeling Headley as a victim and accusing the NYPD of injustice. The backlash also garnered the attention of civil rights activists. In order to avoid a major lawsuit, Brooklyn DA Eric Gonzalez announced that it was "in the interest of justice" to drop charges of resisting arrest, criminal trespass, committing an act in a manner injurious to a child, and several other counts. Eventually, even the credit card fraud charge was dismissed, NBC New York reports.
After she was released from Rikers, Headley told reporters that, "All the support that I've been getting in New York, all the great people… all the love, and I'm accepting it, I'm just so grateful."
Soon after her charges were dropped, the mayor's office announced that the city had agreed to award Headley $625,000 to settle a federal lawsuit. Additionally, her public assistance benefits were fully restored.
The city has since apologized to Jazmine Headley for her treatment. Of course, being granted over half-a-million dollars for using your toddler to fend off the police was a nice addition as well.
Despite all of the charges being dropped and the massive payout being issued, the NYPD and the city are still facing a backlash. Unfortunately, the accusations of racism and violence have once again failed to be satiated with money.