A man, who was on trial for fatally shooting a teenager, was caught "smirking" at the teen's family members after court proceedings. The judge heard what the man had done and took the matter so seriously that he wiped the smile right off the defendant's face.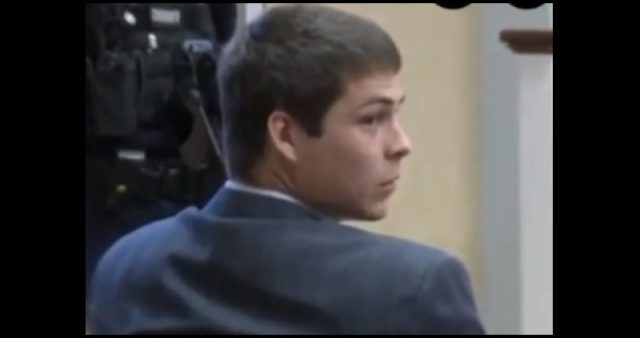 Seventeen-year-old Christopher Ross made the fatal mistake of attempting to steal a quarter-pound bag of marijuana from Jacob "Alex" Meadows, who was dealing drugs out of a nice suburban home in Virginia Beach. A witness — who lives at the Red Mill house where Ross was killed — told investigators that while Ross and Meadows were in the middle of the transaction in his bedroom, Ross grabbed the marijuana bag and started to flee.
According to the witness, Meadows was chasing Ross —  an Ocean Lakes High School junior — when Meadows pulled out a handgun and began firing. Ross was struck as he was going out the door. His body was found outside the entrance, with a large quantity of marijuana next to it.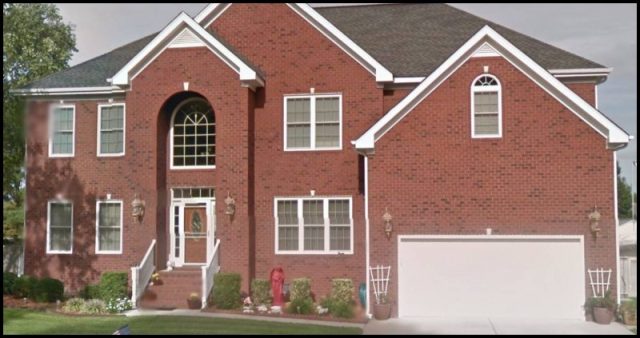 According to the Virginian Pilot, Jacob Meadows, 23, pleaded guilty to manslaughter and drug charges for the shooting death of Christopher Ross, adding that prosecutors agreed to drop murder and gun charges against Meadows and promised to seek no more than a seven-year prison term. However, that all changed when Circuit Court Judge Steven Frucci discovered what the defendant did after the plea deal.
According to Yahoo News, Christopher Ross' older brother Robert Ross testified in a subsequent hearing that he and other family members decided to stay in the courtroom for a while afterward and then gathered in the hallway outside to talk. The group was heading toward the elevators and escalators when they saw Meadows passing by them in the hallway.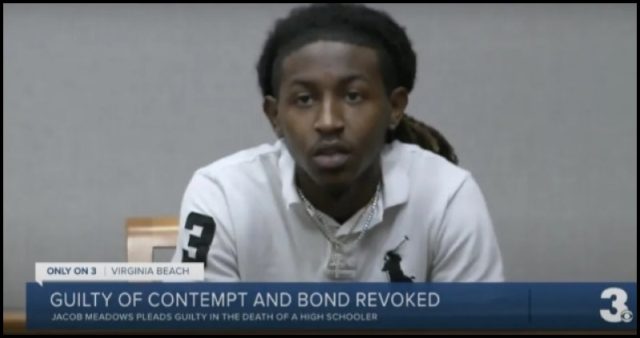 Robert Ross said Meadows smirked as he approached. Surprised to see him there and angered by his behavior, Ross accused Meadows of "walking up" on him. Ross' family members then grabbed Ross and pulled him away. According to WTKR, Meadows alleged "smirk" caused a fight to break out in the courthouse hallway. Members of the victim's family were seen holding back their fellow family members to stop the altercation. Arguments eventually subsided and both families were escorted out separately by police.
The defendant, Jacob Meadows — who'd been out on bond for the last two-and-a-half years and had been allowed to remain free until sentencing — took the stand to explain his behavior. Meadows claimed he was happy when he left the courtroom but said it was because he could go home to be with his daughter, the paper reported. Prosecutors played videos of footage captured in the hallway outside the courtroom when the so-called "smirking" encounter occurred.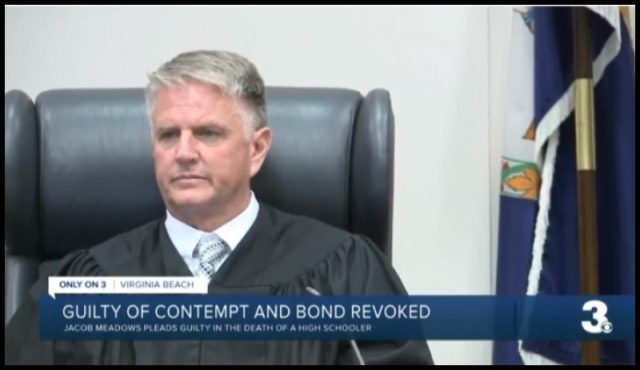 Circuit Court Judge Steven Frucci listened to Meadows's claims but wasn't convinced it was a benign incident. Frucci said courthouse hallway video showed that Meadows did smirk and move toward Ross after the previous hearing, the Virginian-Pilot said, adding that the judge also called Meadows' actions "abhorrent" and "calculated."
The judge ruled that Meadows was guilty of contempt of court, revoked his bond, and ordered Meadows to stay behind bars until the sentencing hearing, WTKR reported. Judge Frucci, who was reportedly angered by Meadows, also recused himself from the sentencing hearing, saying that he would have a hard time approving this plea agreement. It was also reported that Meadows's actions could very well jeopardize his plea deal.
Jacob Meadows found guilty of contempt, bond revoked, jailed until sentencing https://t.co/AnZCN0QZZp pic.twitter.com/fTKQmj02Ct

— WTKR News 3 (@WTKR3) July 18, 2022
The Ross family has spoken out about the loss of their loved one. "The hardest part is waking up every day and realizing my little brother's gone," Robert Ross said. He also told news reporters that Chris lived for playing football. He was a defensive back and wide receiver at Ocean Lakes High School in Virginia Beach. "He loved football; that was his everything. We've been playing football as long as he could hold a football," he said. Chris also had a passion for music, spending hours in the studio producing and making music videos.
As for Jacob Meadows, he's learning the hard way that actions have consequences and certain situations call for a high degree of respect — court proceedings being one of them. Thankfully, his bad behavior was brought to the attention of the judge, who held him accountable. We need more judges like Circuit Court Judge Steven Frucci. While the accused deserves a fair trial, it's time that the victims are treated as such rather than criminals being handled with kid gloves and treated as if they were the ones victimized.