Dolly Parton has always been reluctant to voice her opinions on politics, but she did decide to share her true feelings about the very politically vocal James Woods.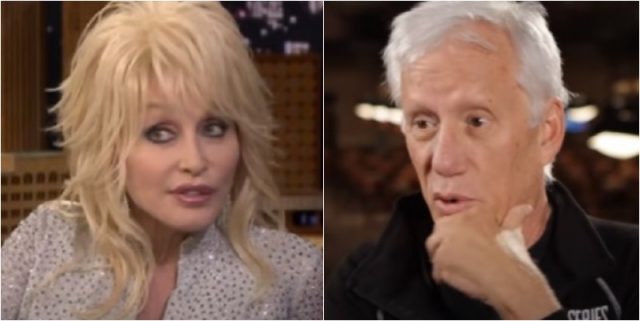 Dolly Parton isn't one to share her political opinions, even when pressured to do so. "I had said upfront, I am not being political," Parton once told ABC Nightline. "I don't do politics. I'm not getting into any of that. Because I have a lot of fans out there and I don't want to offend anybody." However, she did decide to make her feelings known about actor James Woods, who isn't shy about politics.
Parton and Woods have had a mutual admiration for one another after forging a friendship that started when they shared the silver screen in the 1992 film Straight Talk. Even though the majority of Hollywood shuns Woods over his conservative political stance, Parton has taken a different stand, making it crystal clear that's not how she rolls.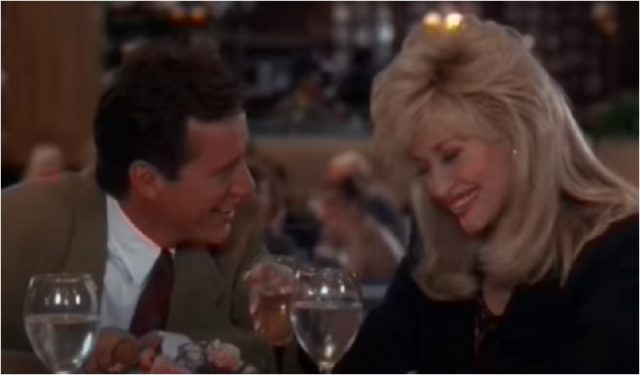 When the country music star was asked to lend her support to promote a new book titled The Films of James Woods, she was happily on board. The book chronicles Woods's "breakthrough performance as Greg Powell in The Onion Field (1979)" and shows the twice Oscar-nominated actor "has portrayed some of the most memorable anti-heroes of our times."
"I loved every day I spent on the set with him," Parton said of Woods. "I've always thought he was one of the greatest actors of all time." The Ghosts of Mississippi star was clearly touched by Parton's words. Woods shared her quote on Twitter while he also raved over other women he's been lucky enough to share the silver screen with.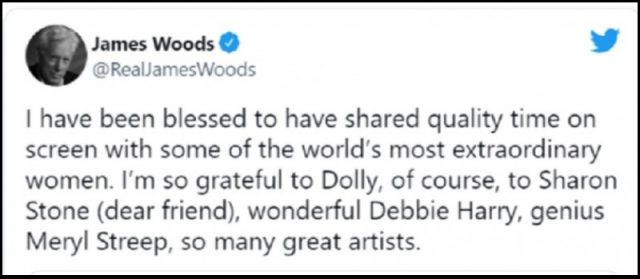 "I have been blessed to have shared quality time on screen with some of the world's most extraordinary women," Woods wrote. "I'm so grateful to Dolly, of course, to Sharon Stone (dear friend), wonderful Debbie Harry, genius Meryl Streep, so many great artists." Parton and Woods might seem like an unlikely pair, but they clearly have great memories of their time together while filming Straight Talk.
Woods also posted a tribute to Dolly for her 75th birthday that included a photo of the singer with The Matrix star Keanu Reeves. "If you could spend an evening with any two people, could any duo beat this one?" Woods tweeted. "Happy Birthday, @DollyParton."
Woods also shared some of those nostalgic times with the country superstar. "We filmed STRAIGHT TALK in Chicago. First of all any place is heaven when you get to co-star with the great @DollyParton," Woods wrote. "She's even more wonderful in person and funnier than you could ever imagine. Chicago welcomed us with open arms and a generous heart. We had so much fun."
The vocal actor also came to Parton's defense, publicly taking her side after she was "sandbagged" during the 2017 Emmy Awards when her former 9 To 5 costars Jane Fonda and Lily Tomlin launched into an attack on Donald Trump. "Back in 1980 in that movie, we refused to be controlled by a sexist, egotistical, lying, hypocritical bigot," Fonda told the crowd, with Tomlin adding, "And in 2017, we still refuse to be controlled by a sexist, egotistical, lying, hypocritical bigot."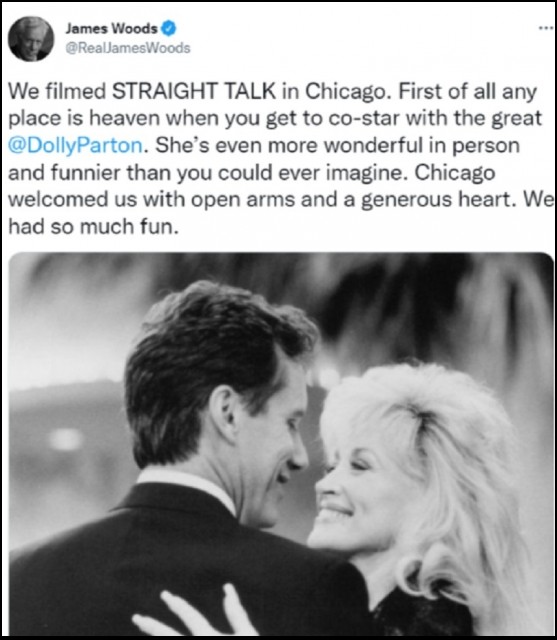 Many haven't forgotten that moment or Dolly's reaction. "Parton refrained from the political talk and looked visibly shocked by her co-stars' comments," Classic Country Music reported. "She actually tried to lighten the mood by saying a joke at her own expense. Even though she didn't utter a word about politics, people still ripped on Parton and flooded her social media with negative comments."
Woods was quick to come to her defense."Do not judge @DollyParton because she was caught between two gargoyles," Woods posted on Twitter. "I guarantee she would never have approved that copy ahead of time. She is a very sweet person by nature. I am certain she was so caught off-guard, she was literally speechless."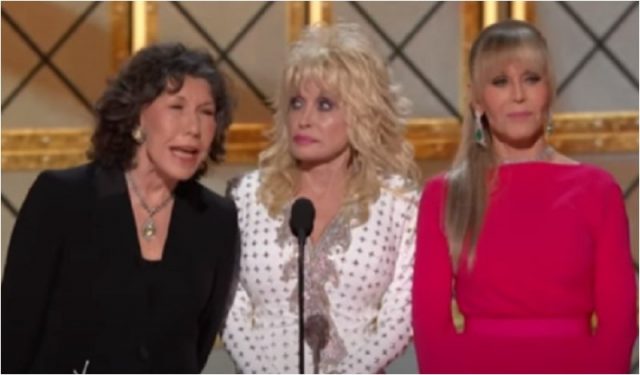 James Woods found his way to Hollywood via the Massachusett Institute of Technology (MIT), where he studied political science. He is rumored to have an IQ of 180, and he allegedly scored a perfect 800 on the verbal SAT and a 779 on the math portion.
Dolly Parton said she started out "dirt poor," coming from the Tennessee mountains. She went on to become one of the best country performers of our time and was inducted into the Rock n Roll Hall of Fame. Woods and Parton are two Hollywood icons from such different backgrounds and different approaches to politics, yet they went on to forge a beautiful friendship. We could all learn a lesson from their example.