A Mississippi teen watched in horror as a car careened off a boat launch into the river, sinking with three teen girls inside. When a police officer began to tire while trying to save the girls, the boy suddenly became their only hope.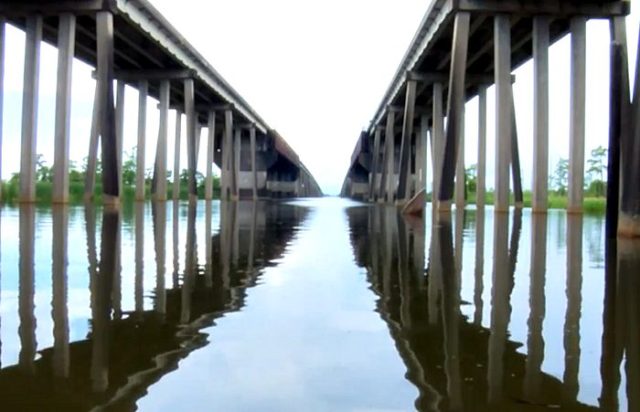 After attending a late-night party, a group of high school boys was hanging out at the Pascagoula River when they witnessed a car barreling down the Interstate 10 boat launch. The vehicle sped down the ramp, plunging into the water and gliding off until it was completely submerged. Inside were three teen girls who just left the same party.
The driver was following her GPS and didn't realize she was headed for the river. The girls managed to exit through the passenger window before the vehicle filled with water. Desperate to escape the cold, black water, two of the girls climbed onto the roof of the car while the third struggled to tread water. As she held her phone above the water, she was able to call the police.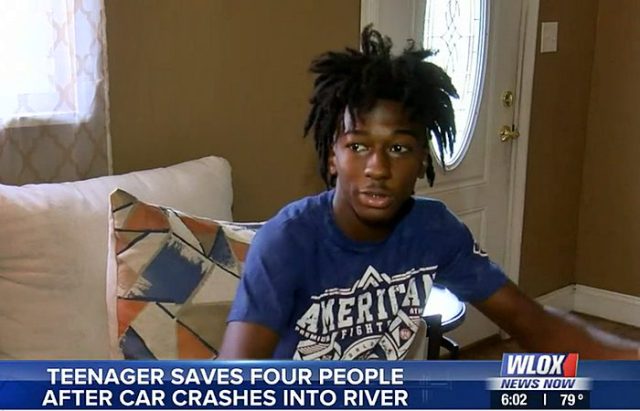 Moss Point Police Officer Gary Mercer quickly made it to the scene and dove into the water to save one of the girls who said she couldn't swim. As he attempted to swim with her on his back, the panicked teen pulled him under. That's when one of the teen boys on the shoreline heard the officer yell out that he couldn't save her. Without hesitation, 16-year-old Corion Evans dove into the river, ABC News reports.
"He was trying to come back up but kept swallowing water," Corion Evans said. "He was trying to catch his breath but he tells her, 'I can't, I can't.' That's when I swam over to them."
Evans had been swimming since he was just 3 years old in his grandmother's pool. Thanks to his high school football training, he was also at his physical peak. Leaning on his skill and determination, he swam as fast as he could and grabbed the first person he reached.
"I was just like, 'I can't let none of these folks die. They need to get out the water'. So, I just started getting them," Corion Evans recalled. "I wasn't even thinking about nothing else."
One by one, Evans swam each of the girls as well as Officer Mercer out of the river, saving each of their lives. Incredibly, he mustered enough strength to re-enter the water multiple times in order to bring everyone safely to shore.
"If Mr. Evans had not assisted, the situation could have turned out differently, instead of all occupants being rescued safely," said Moss Point Chief of Police Brandon Ashley.
The girls were all taken to the hospital and were released a short time after. They later reunited with Evans to thank him for saving their lives.
"It's no lights down here or nothing, so everything was just pitch black," Cora Watson, 19, told WLOX-TV. "The GPS thought we was on top of the interstate. That's why it was telling us to go straight because it did not say it was water here or nothing."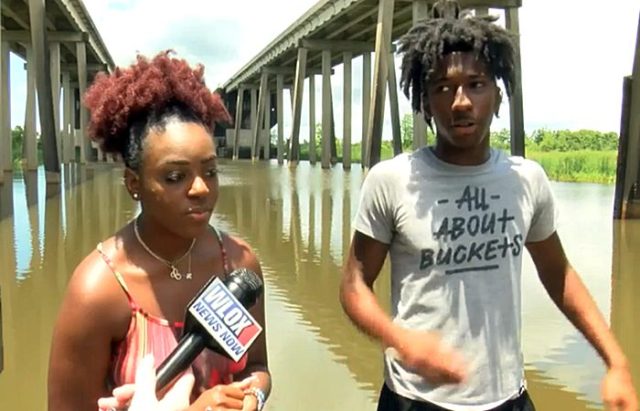 During the emotional reunion, Evans explained that he had to summon up every ounce of strength he could to keep going back into the water. He only later realized that alligators live in those waters. A Go Fund Me has since been started to send him to college.
"They was out there throwing up because a lot of water had got inside all of them," Evans said. "25 yards out, so it was a lot of swimming. My legs were so tired after. Anything could've been in that water, though. But I wasn't thinking about it."
Watson teared up as she thanked Evans for saving her life "right before my last breath." He has since attributed his being there to a miracle.
"I wasn't supposed to be there," Evans said. "When I ran into that water I was supposed to have already been gone. I feel that I'm being blessed for what I did that night."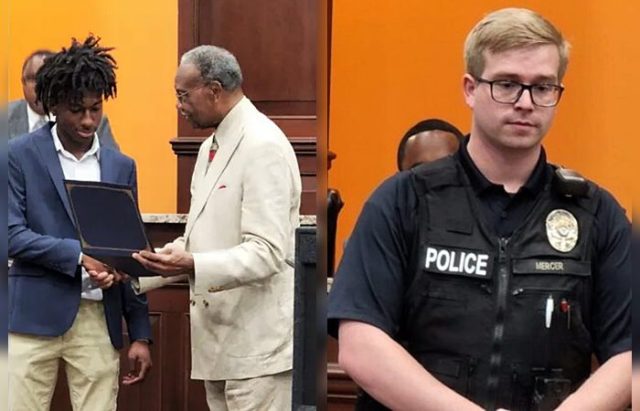 Both Corion Evans and Moss Point Police Officer Gary Mercer were honored for their efforts in saving the lives of the girls. These brave men didn't hesitate to dive into the murky waters, unsure if they would make it out unscathed.
As for Evans, he plans to keep swimming just in case he stumbles across anyone else in need of assistance. He has since received recognition for his heroism and deserves every bit of praise for risking his life to save total strangers.