A New York teacher made a suspicious social media post, seemingly encouraging people to carry out a terror attack at the funeral procession of a fallen NYPD officer. He soon found himself in the principal's office in violation of the school's zero-tolerance policy.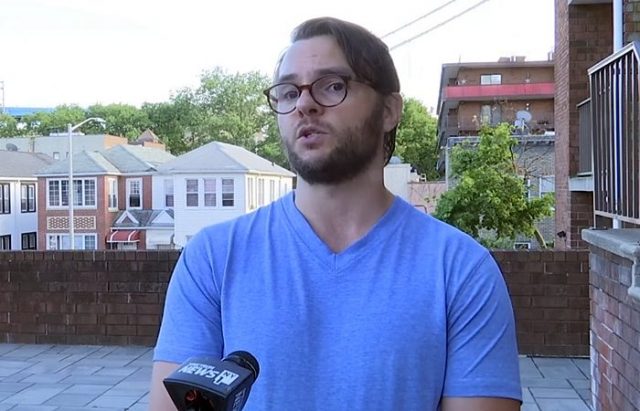 Fifth Avenue gave a solemn air as thousands of police officers lined up to pay their last respects to 22-year-old NYPD Officer Jason Rivera. The fallen officer was tragically gunned down in the line of duty by a career criminal. His partner, 27-year-old NYPD Officer Wilbert Mora, was also wounded in the attack and succumbed to his injuries four days later.
The area surrounding St. Patrick's Cathedral was closed off for the procession as thousands of law enforcement officials stood to salute the officer's remains as they arrived for the memorial. However, not everyone was grieving the loss of two young civil servants.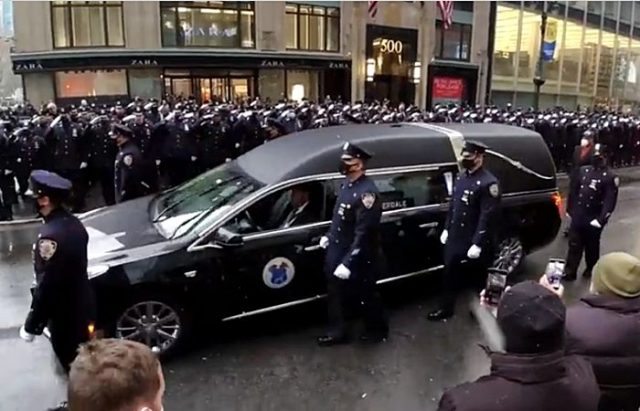 Coney Island Preparatory School teacher Christopher Flanigan posted an overhead shot of rows of uniformed police officers, captioning the post, "NYPD SUV drives into a crowd of protestors. Ideal conditions for reciprocity," the New York Post reported. The message is a reference to an incident in which an NYPD vehicle slowly pushed through a group of demonstrators who were illegally blocking the road. No injuries were reported and the officer's actions were deemed justified.
Flanigan's words seem to call for a vehicular attack on the crowd of police officers as revenge for the NYPD vehicle pushing through the protesters, especially since he has openly expressed solidarity with the Black Lives Matter movement and actively participates in anti-police demonstrations. The teacher's comments immediately drew outrage.
"For a school teacher to condone an act of terrorism is reprehensible. I wouldn't want him giving my own children instruction of any kind," a Manhattan cop told The Post.

"You have a city worker wishing physical harm or worse to fellow city workers during a solemn service," a Brooklyn cop said. "It is the ultimate act of cowardice."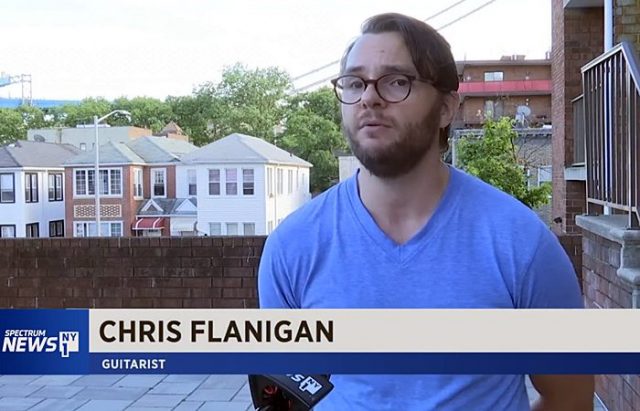 Coney Island Prep confirmed that Flanigan was immediately fired for appearing to promote an act of terrorism against law enforcement officers due to the school's zero-tolerance policy in regards to violence.
"We do not condone or promote violence of any sort. As of this afternoon, Mr. Flanigan is no longer employed at Coney Island Prep," Coney Island Prep CEO Leslie-Bernard Joseph said in a statement. "The teachers and staff of Coney Island Prep are public servants; and like all public servants we hold ourselves to a much higher standard. We work hard to serve the young people in our community, and we know our police officers do as well, taking innumerable risks, to keep our city safe."
Flanigan claims that his words were misinterpreted to encourage violence. On the contrary, he insists that he was actually expressing concern over the officers' safety and merely wanted them to understand the danger of having such a large number of officers in the same vicinity.
"I was really just trying to show the vulnerability of all of these police officers being in the same place at the same time, which seems like a dangerous situation for anyone that would be that gathered together," Flanigan claims. "I respect the NYPD. I do not condone violence. A 22-year-old police officer murdered in the line of duty is reprehensible. I'm devastated by that."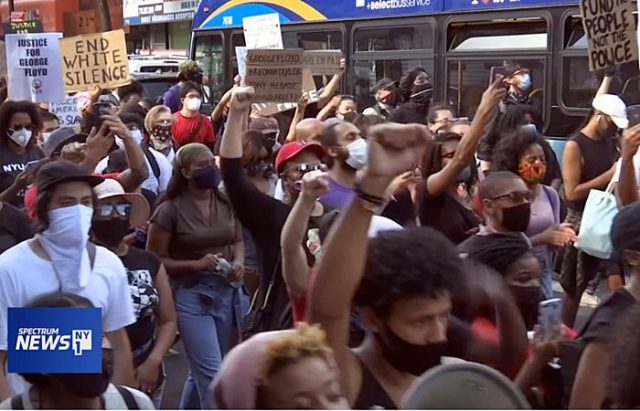 The school wasn't buying Christopher Flanigan's claim that he was just looking out for the police officers, nor should they. He has been an active participant in anti-police protests and stands with the same movement that has advocated for the abolition of law enforcement.
Flanigan is lucky that he hasn't been charged with inciting violence against police officers. Perhaps getting fired will teach him to think twice before making posts that appear to condone terror attacks against law enforcement.