A brave 6-year-old boy is recovering after being viciously attacked. He was beaten so bad that he needed emergency eye surgery. His story is absolutely heartbreaking, but his attacker won't be getting arrested.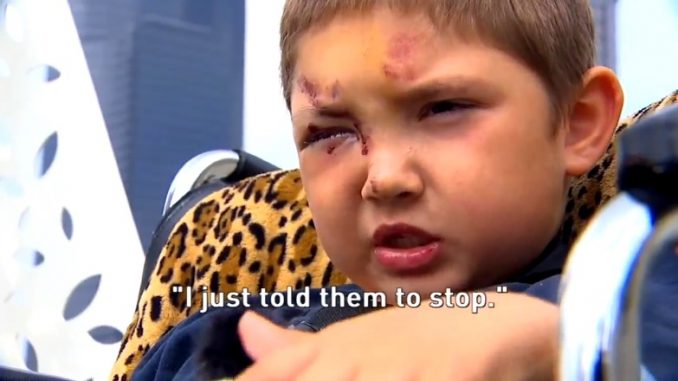 Carter English is a goodhearted little boy who knows the difference between right and wrong. That's why, when he saw a group of kids bullying his friend, he knew he had to stand up. Sadly, his courage landed him in the Harborview Medical Center in Seattle, where he received emergency surgery to repair a laceration to his eye — just a small part of the price he paid for his courage.
The 6-year-old Olympia, Washington boy was allegedly assaulted, viciously attacked, and beat up by a group of as many as 7 kids when he confronted them for bullying his friend. "It's been hell," Carter's mother Dana said as she cried. "I haven't slept. I haven't eaten. I can't do anything. I can't even leave his side."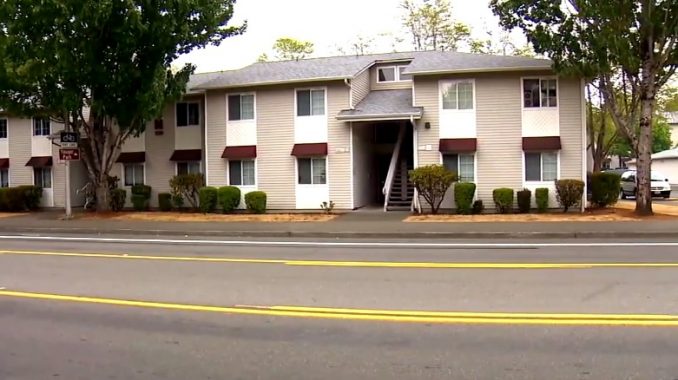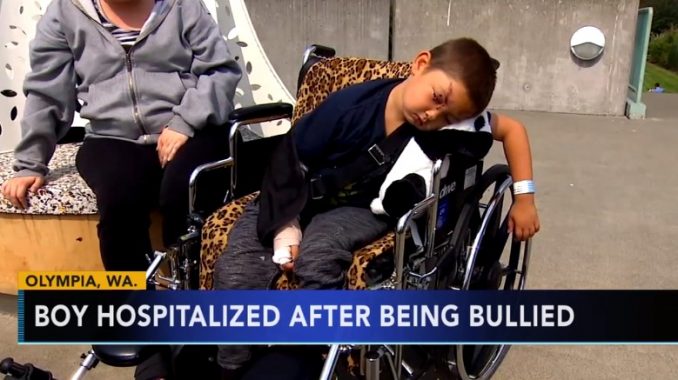 The assault occurred at the English's Olympia apartment complex on a Wednesday afternoon, leaving Carter in the hospital for two days. According to the boy, the kids who attacked him were all around his age. "They were just bullying him, like beating him up," a tearful Carter recalled, speaking of the group of bullies who were harassing his friend. "I just told them to stop… and then they did it to me." Now, he's scared it will happen again, according to ABC 7.
Carter was beaten with rocks and sticks, and he even had sawdust rubbed into his eyes. In addition to the laceration to his eye that needed surgical repair, he was also left with a broken arm and several cuts and bruises across his head and face, KOMO News reported. According to friends of the family, he also had a concussion, and his arm wasn't just broken — his elbow was also fractured in 3 places.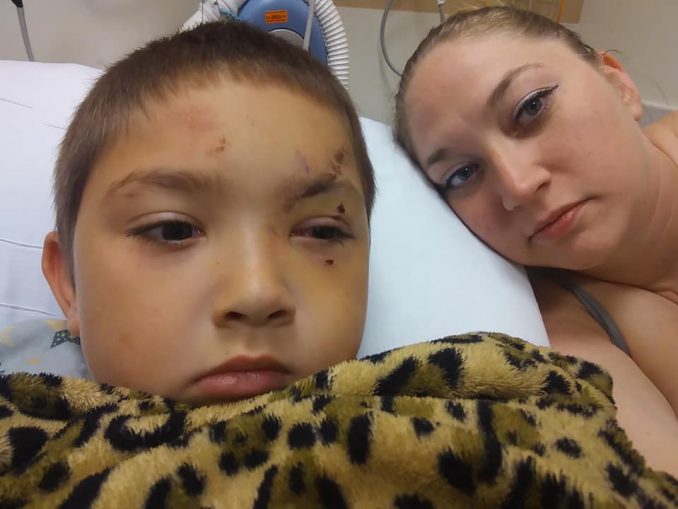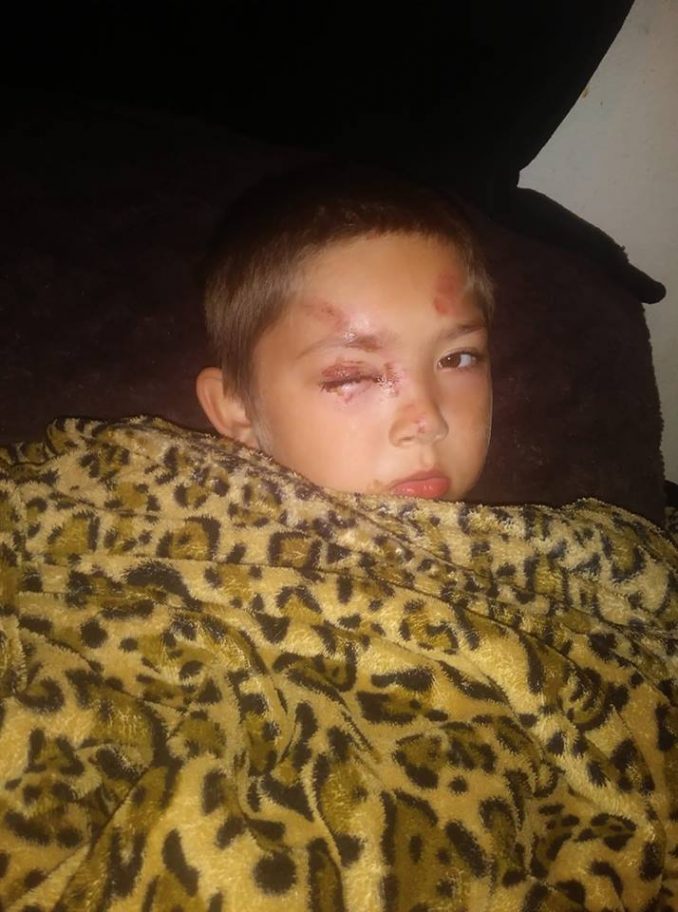 Making matters even more heartwrenching, Dana's friend explained that Carter has Autism. "He is a very smart boy and loves video games, playing with his friends and being with his family. What happened to him wasn't okay," they wrote on a GoFundMe account that was set up to help the family with medical expenses.
The campaign quickly raised over $45,000 for the boy and his family before the mother shut down donations, explaining on Facebook, "It has gotten way bigger than we intended." Dana added, "We appreciate it so much more than words could ever express," saying the money is literally life-changing for them.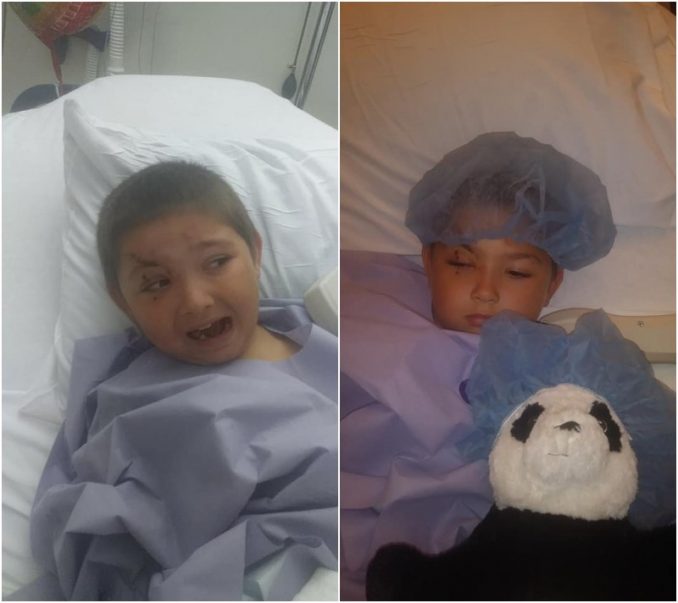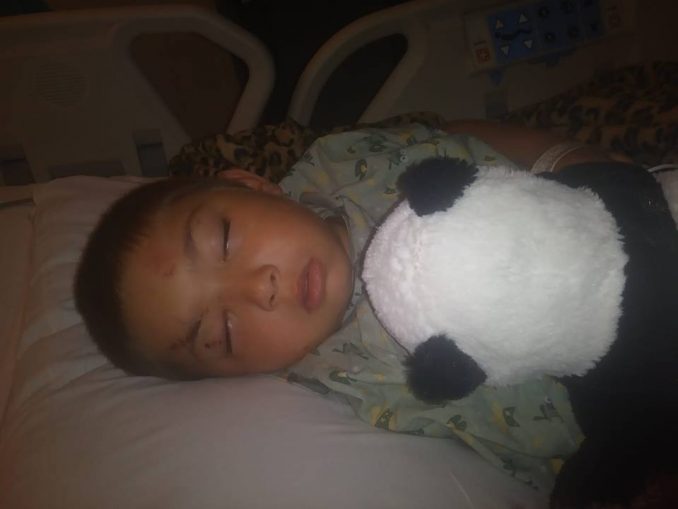 However, she said the anxiety of it all is just way too much for her and Carter. "We will use the money to pay the bills that were not covered," she continued. "To move from (the apartment complex where the attack happened) and pay a little in advance. I am going to set some up for Carter to have in a trust. And pay the taxes on it. And if by chance there is anything left I am gonna use it to support and bring more awareness to bullying."
Olympia Police immediately began investigating and identified a 5-year-old who they believe started it all, and they plan to get social services involved. The case was briefly presented to the prosecutor's office, but they say, due to the age of everyone involved, the case won't result in a criminal referral.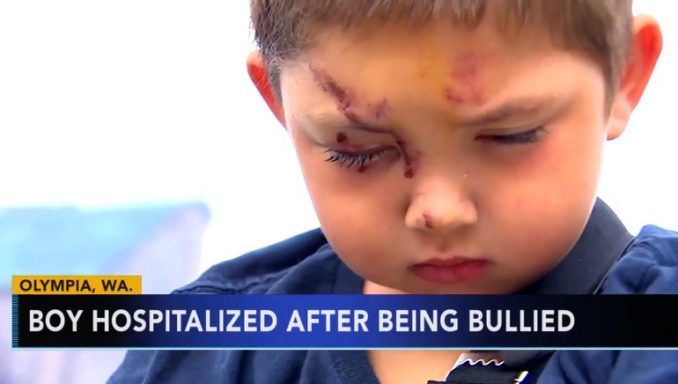 "This bullying needs to stop," Dana said. And, she's right. After already having surgery to his eye, Carter may end up needing surgery to his arm as well. "I really don't know what I'm hoping for other than for people to know that this is not acceptable," Dana furthered. "Bullying is not okay. There's no reason to bully someone ever." Indeed, this is completely unacceptable. What kind of environment is a 5-year-old living in that leads them to believe violence like this is okay?
Having social services get involved definitely seems appropriate. There is something fundamentally wrong when a kid sparks this kind of mob mentality against another child, leaving them so badly beaten. As parents, we must do all we can to ensure our children aren't bullying others. And, the kids who did this to Carter obviously aren't being taught right and wrong. But, rather than focus on the negative aspects of society that this story represents, let's end on a positive note. There is a bright side to this story, and that is Carter English. His bravery should be commended. It takes courage to stand up against bullies, and this little boy is a shining example of what's right with the world.