During a football game, cheerleaders unfurled a large banner for the football team to run through. However, once their rivals read the words, the girls faced immediate outrage over their banner's "racist" message.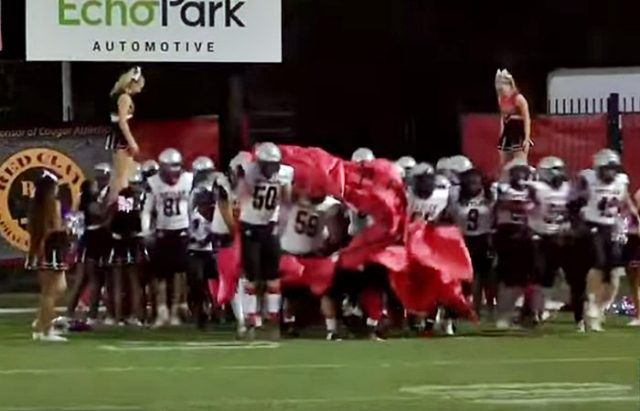 Butler High School cheerleaders in North Carolina were in hot water after a spirit banner they created drew more ire than the usual sports rivalry. The message garnered such a backlash that the district was forced to release an apology and launched an investigation in an effort to quell the outrage.
Thanks to the politicization of the education system, every aspect of public schools is infused with propaganda. The same social justice that is shaping our legislation is molding the minds of our children. Sadly, not even high school sports are safe.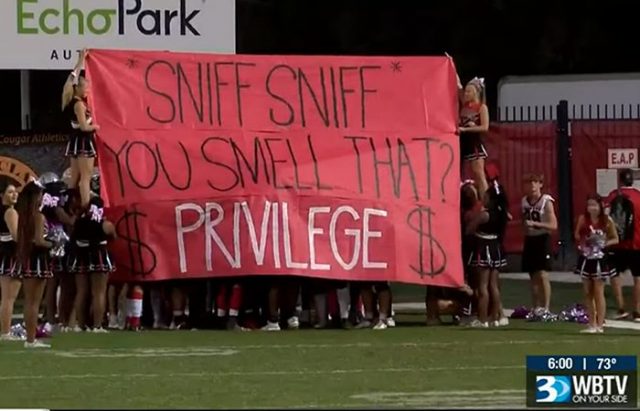 Before kicking off their game against Charlotte Catholic High School, the cheer team from Butler High School took their positions and unfurled a large paper banner in front of their football players. The words "Sniff, sniff. You smell that? $Privilege$" confronted their rivals, prompting speculation as to the message's meaning.
One woman who was attending the home football game against Butler High School says she instantly knew what they were conveying, WBTV reports. As the mother of a young biracial son, she was incensed and more than determined to call out their obvious bigotry.
"The thing that was so disturbing was it was children," Parent Melissa Swanson said. "Whether they are high school, elementary school or middle school – they're children. The administration, the coaches, the athletic director – they had to know it."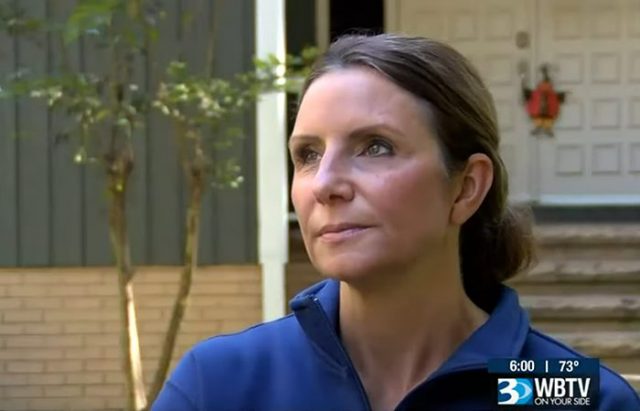 Swanson said that the sign was a calculated jab not only at the parents but the students as well. She pointed out the double meaning, which she believes includes accusing the Catholic school of having white privilege and class privilege.
Swanson says the other team was using the banner to say, "Here we are at a rich white high school and they are all lucky. We have it hard. They don't." She clarified that "that's not the case by no means. I am a single mom and I raise my son on my own and we pay for that school and work hard to be there."
Swanson said that her son, who was in the fourth grade at the time of the incident, read the sign and asked her what it meant. When she explained the racial connotation, the child asked, "Mom, don't they see that we have other black boys on our team?"
"I just said it's unfortunate that these things have to be discussed every day," the mother said. "And it's not right and that's why I am so glad I do have him in St. Gabriel and in the Catholic School system because we teach kindness."
Charlotte Mecklenburg School District issued a brief apology and promised to investigate the incident.
"Squad members and adults responsible for oversight will face consequences as a result of that banner display. School and district officials will offer no specific information about this disciplinary matter. Principal Golden and Learning Community Superintendent Tangela Williams have spoken with leaders from Charlotte Catholic to offer verbal apologies. Butler High School cheerleaders have sent an apology letter to counterparts at Charlotte Catholic. Soon there will be a meeting between the schools' cheerleading squads to facilitate goodwill and understanding," Vicki Grooms, CMS Media Relations Specialist, wrote.
With the utmost grace and understanding, Charlotte High School responded to the apology with thanks.
"We appreciate the outreach we've received from the Butler High School community and are confident our good relationship with them will continue. We understand how emotions surrounding sports events can sometimes result in actions that do not represent an organization's values. It is our hope that everyone will learn from such moments because at the end of the day we are all one community," Principal Kurt Telford of Charlotte Catholic High School wrote.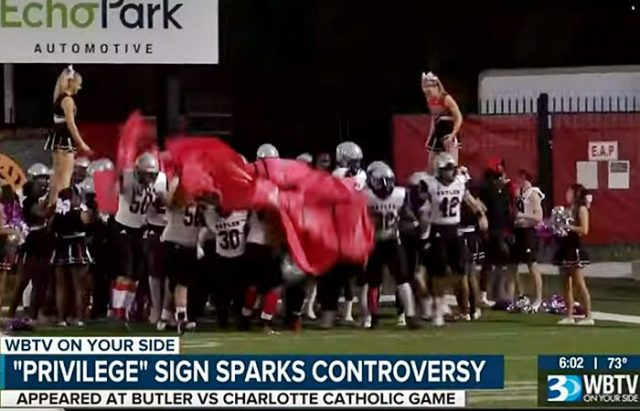 Social justice is teaching our children that envy is a virtue and that their peers should be judged by their immutable characteristics instead of the content of their character. Now, everything is black and white in a literal sense to these young people.
The regressive nature of the progressive movement has overtaken public schools. When open racism, segregation, and equity over equality are part of the curricula, don't be surprised when previously vanquished historical injustices start to resurface.