A video went viral after a man recorded himself giving a dog owner, accused of abusing a pit bull, a taste of his own medicine. Of course, not everyone is applauding his form of street justice.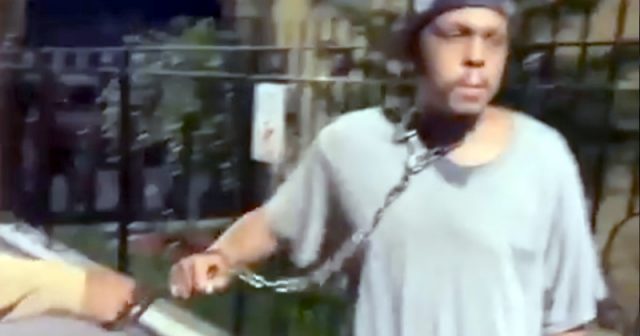 Tashawn Rodriguez — a rapper from Brooklyn, New York, who goes by the stage name Str8CashTWIST — was reportedly walking down a city sidewalk when he saw a sight that left him disturbed. According to a Twitter post by Rodriguez, he was walking past a fellow pit bull owner when he saw the man dragging the dog for three blocks "against his will" with a "choker chain" around its neck. Incensed by the alleged abuse being inflicted on the pit bull, Rodriguez flew into a rage.
With a camera rolling, Rodriguez decided to dish out an act of vigilante justice. After getting the man to put the dog's leash around his own neck, Rodriguez was captured on camera dragging and yanking the dog owner, using the very leash that he reportedly used to abuse the pit bull, Newsweek reported. He then took things one step further, posting the clip to Twitter as a warning to others who might consider doing something similar to their pet. Be forewarned, the footage contains harsh language and violence:
https://twitter.com/Str8CashTwist_/status/1409204625455173633
"When you drag a beautiful pitbull for three [blocks] against his will [and] walk past another fellow pitbull owner with no explanation …. KARMA!" Rodriguez wrote alongside a video of the violent assault as he posted it to Twitter under the username @Str8CashTwist_. In the footage, the man is standing facing the camera with the metal chain leash around his neck as Rodriguez gives it a quick and powerful jerk, sending the man flying to the pavement.
"I got a dog, bro," Rodriguez can be heard shouting at the owner. "Like f*****g dragging dogs?" he asks.
After getting the man to the ground, Rodriguez continues to yank the chain, dragging the fellow pit bull owner on his back across the ground, telling him, "That's what you did," referring to the way the man allegedly dragged his dog for three blocks. After finally dragging the man into the middle of the street, Rodriguez kicks him in the ribs before walking off. However, things were far from over.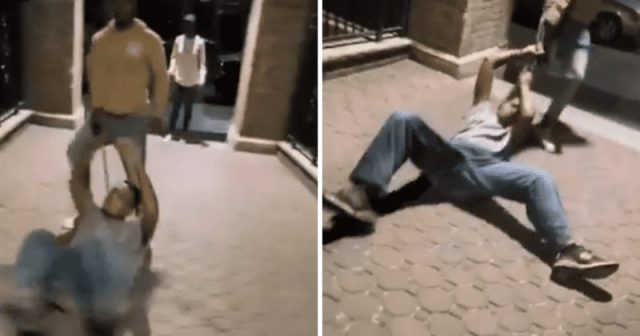 Video of the assault quickly amassed hundreds of thousand views, but not everyone was a fan of the so-called justice. Alongside a gif that said, "Congratulations, you played yourself," one critic wrote, "Instead of calling the police on him. You guys picked street justices. You guys just committed a criminal assault and posted [it] online. This is a real example of a hood [expletive]." Others pointed out that, although they understood Rodriguez's anger, the other man is "still a person" and said there "was a better way to teach" him a "lesson."
In defense of his actions, Tashawn Rodriguez uploaded another video, showing the condition of the dog when he spotted it on the street. "Anybody need reasoning for my actions … This [is] how he brought the dog to me," he wrote alongside the 15-second clip that showed the animal's bloodied face. "I know many of you may not be happy with how I handled it but nevertheless I handled it."
Anybody Need Reasoning For My Actions … This How He Brought The Dog To Me pic.twitter.com/2sqYXC9v60

— IG : @Str8CashTwist_ (@Str8CashTwist_) June 27, 2021
After seeing the additional footage of the dog, some viewers, who originally questioned Rodriguez's methods, quickly changed their minds, according to MSN. "Felt slightly bad until I saw the condition of the dog," 0ne such viewer wrote. "Dude deserved every second."
According to Meaww, the Brooklyn-based rapper set up a GoFundMe campaign to raise money for the dog, who's since been dubbed Prada. "Hey guys, I started this fundraiser for food and supplies towards a dog I recently seen treated badly and defended," the description on the fundraiser page reads with Rodriguez claiming the owner is unable to take care of the dog as he is in "bad shape" and "out of work."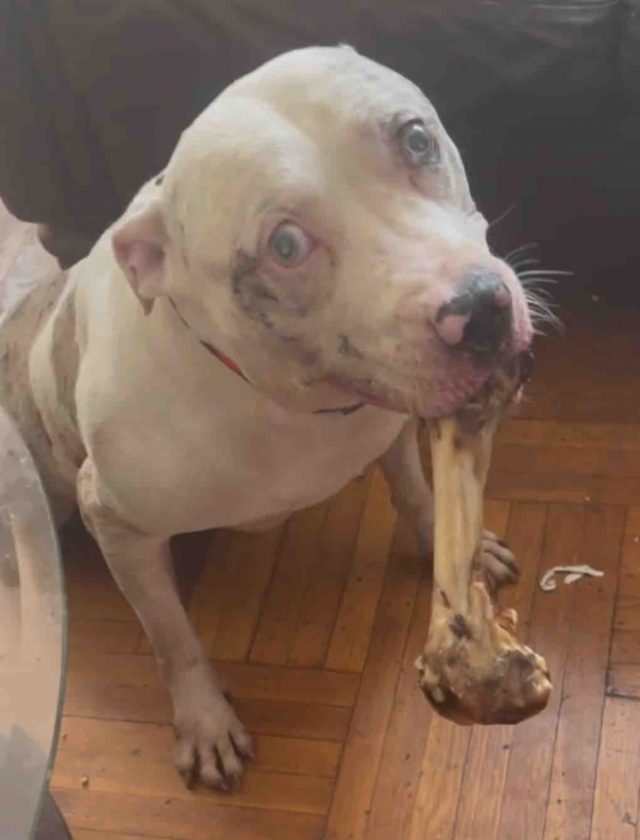 "We're around everyday doing check ups and making sure he's fed [and] walked (normally) daily," the page description continued. "Below is a picture of him the following afternoon .. happy, tail wagging and waving. A fresh cow bone and new collar I bought for him. He's now being watched over like one of my own."
We love a story with a happy ending, and this one definitely has one since Prada seemingly got the help he needed. Rather than being bloody and dragged down a city street, the pet is seen healing, happy, and excitedly wagging his tail. However, we do have to question where we should draw the line as a civilized society when it comes to "justice." Is being a vigilante okay when it comes to defending a helpless pet? I think Prada would say yes if he could, but you decide.