A conservative student voiced her disagreement after her high school rejected her photo for the yearbook. Now, she's being called a "white supremacist" and "racist" after the banned photo surfaced.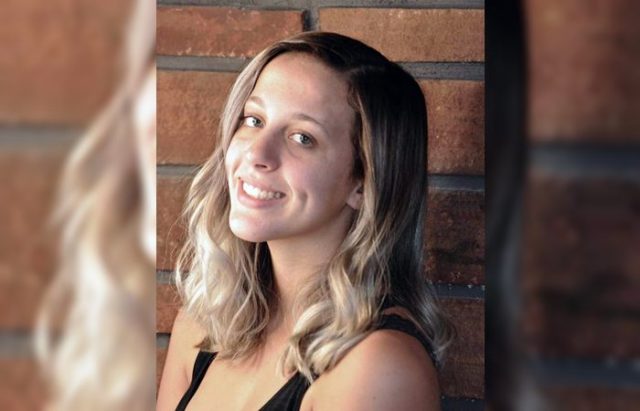 As many high school upperclassmen often do, Sierra Athos wanted to include something in her senior photos that embodies her character. So, after submitting several pictures for publishing in the Lewis and Clark High School yearbook, the Washington teen was taken aback when the staff told her that she would have to choose another image.
Expectedly, most public schools prohibit explicitly political or vulgar imagery in students' photos. However, the icon that supposedly violated school policy was far from either. In fact, it was an item easily found within the classrooms of the campus.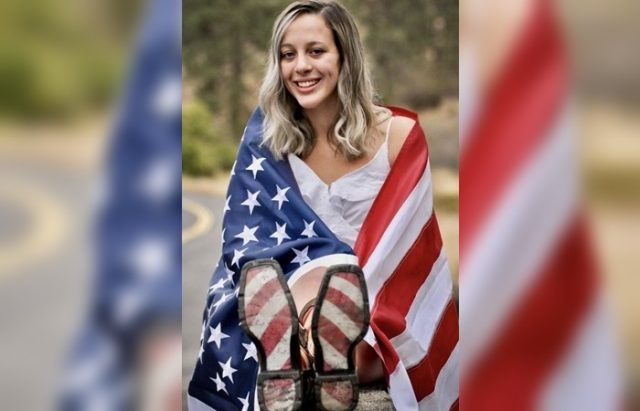 According to WBNS, the photo was rejected because it contained the American flag, which Athos had draped around her shoulders, as professional athletes and Olympic medalists often do while representing the U.S. The teen explained that she was "excited to submit her patriotic pictures" only to be disappointed when the school emailed her to tell her the photo submission had been rejected due to Old Glory.
Immediately, Athos assumed that the school had nixed her picture because of the bizarre controversy surrounding the nation's symbol. However, the school claims that simply isn't the case. Instead, they insisted it was because the flag is being used as a "prop," which the school has banned from photos, The Spokesman-Review reports. Still, Athos doesn't buy the excuse.
"If everyone keeps claiming that I am using the flag as 'clothing' then there's no way that it could be a 'prop' therefore making it acceptable in the yearbook," Athos posted Tuesday on Facebook. "I am sick of the people saying I am the opposite of patriotic for this picture and will not let them spew the lies."
The policy banning props was adopted the year Athos became a senior. However, the teen says others have been allowed to have props in their photos. Disturbingly, her insistence has resulted in strangers slandering her as a "white supremacist, racist, bootlicker" and other slurs online.
"I have been notified by other people that their yearbook picture has been accepted and they have props in the background, so this makes me think it's more than about props," added Athos.
However, the school has since provided additional reasoning to back its decision. According to the principal, Athos was disrespecting the national symbol with her use of the banner, which is why the photo was rejected.
"We do not and have not banned the American flag from inclusion in photos," Principal Marybeth Smith stated. "In the past we have celebrated students who have enlisted in the military by using senior photos highlighting their branch of service – student in uniform and US flag displayed behind them. It's been an honor to portray our seniors in this way. We have rejected a photo this year in which our American flag was displayed in a way not sanctioned by Title Four, US Code, Chapter One. We say the Pledge daily during school, we have our flag displayed in accordance with Code guidelines on our stage during all school events and we even have one of the largest US flags in this area in our gym – it is celebrated during the playing of our National Anthem prior to athletic competitions held there. We respect our flag as much as any school in the area and were concerned that in the photo submitted it was being used as a prop in the photo and was not being afforded appropriate regard."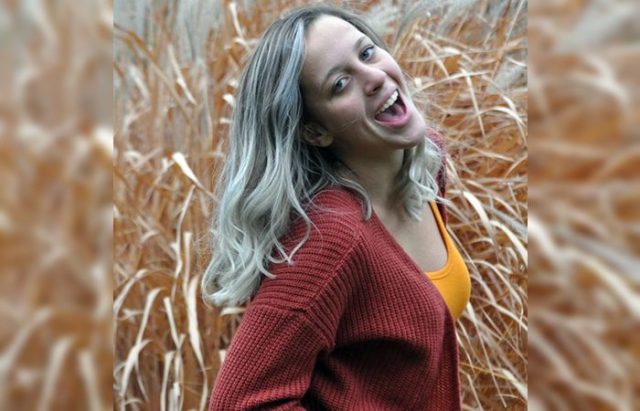 Athos doesn't believe the school's excuse. She thinks that they were initially hoping to prevent any offense from the community and were trying to do damage control since the media have caught onto her story.
"I think they are trying to bring politics into it," Athos said. "I don't know why loving your country is political but I guess that's what it is these days. Once they found out the news was involved, then they started caring."
After the story gained attention, school officials met with Athos and her parents. Although there's no word whether her photo will be included in the yearbook, she says she won't be submitting another.
"I'm not going to submit anything else, so that's the picture I want in the yearbook and either I get that or nothing," said Athos.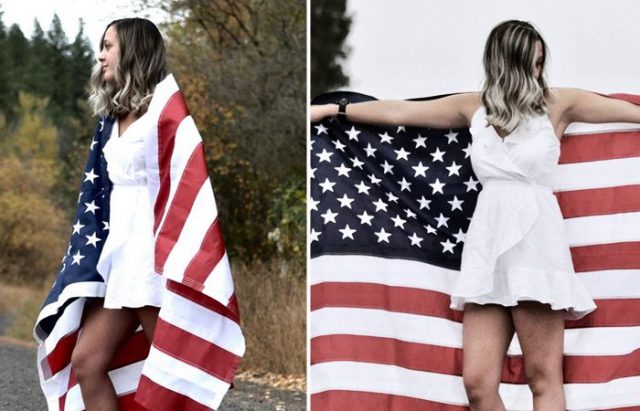 Of course, there were several flaws in the principal's reasoning. Firstly, although the US Code does outline proper conduct for the American flag, it is now widely accepted that wearing the flag as a garment or on an article of clothing is not disrespectful. In fact, it's considered quite the opposite. Second, if the school categorizes the flag as a prop that is not to be used in yearbook photos, why are they allowing an exemption for military students? Would they approve Athos' photo if the flag was positioned in the background as principal Smith has stipulated?
Looking at Athos' social media as well as her own words, we know that she wasn't being disrespectful to the American flag. On the contrary, she has a deep passion and pride for her country, which she hoped to commemorate in her yearbook photo. Hopefully, she and the school come to a compromise so she isn't excluded from the yearbook altogether.