After falling on hard times, a single mother and her four children were forced to set up camp in the California woods, scrounging for food and trying to survive. When deputies stumbled upon the dirty, hungry children, their next move brought the mother to tears.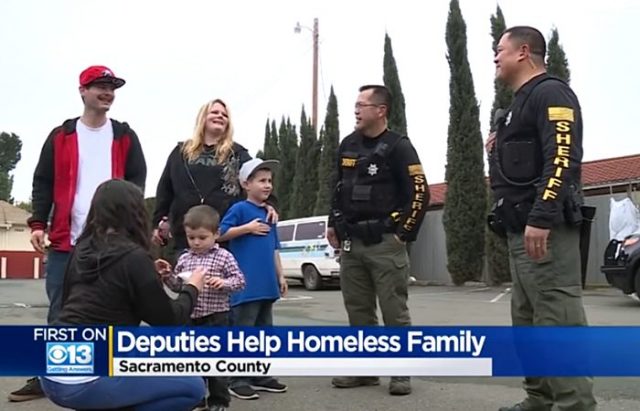 When Deputies Tim Yee and Johnny Le were called out to investigate a makeshift homeless camp that had popped up behind a Walmart in Sacramento, they likely expected the usual nefarious activity. However, nothing could prepare the men for what they witnessed. Much to their surprise, the camp wasn't the typical squatter's nest.
Hidden in the trees, the deputies found a family of five barely surviving. Single mother Shannon Loveless and her four children had been sleeping on the cold, hard ground and subsisting on whatever non-perishables they received from the food bank for the last four months. The children were filthy, hungry, and scared. When the deputies saw their dire situation, they knew what they had to do.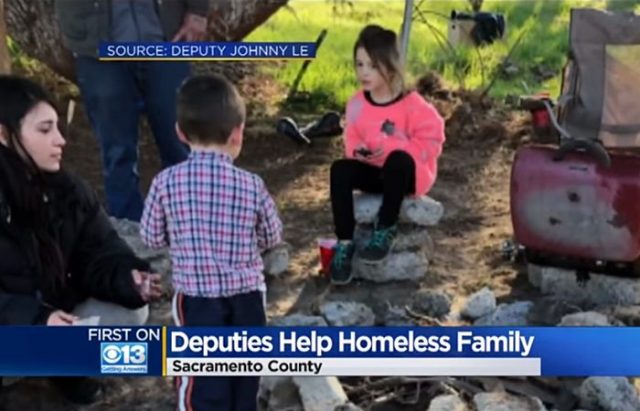 Instead of taking the children into police custody and punishing the mother, the deputies left, telling the family to stay put until they returned. When they came back, their patrol car was filled to the brim with bags of groceries, clothes, and toys for the family, CBS 13 reports.
"I'm gonna call that day a miracle‬," said Deputy Johnny Le. "Kind of choked up a little bit, to see the kids dirty and hungry, it touched me‬."
The destitute mother was shocked by the deputies' response since Shannon Loveless had been in trouble with the law before and expected that she would once again suffer the consequences.
"We only see the negative side of police officers, so to see this side of them is really awesome," said Loveless. "It was kind of a shock because I didn't know whether we were going to get in trouble or what?"
The children beamed with excitement as they filled their arms with toys. However, the surprise wasn't over. The deputies set the family up at a motel so that they could have a clean, warm place to stay until social services could find a more permanent residence for them.
"Just for [the kids] to be able to have a warm place to sleep and watch cartoons, you know things that kids do, you take it for granted," Loveless said as she began to cry.
Shannon Loveless says that the acts of kindness performed by Deputies Yee and Le restored not only her faith in humanity but her determination to get back on her feet.
"It's a total game changer; the motivation is there, the morale is there, I'm ready, let's get this year right!" Loveless said.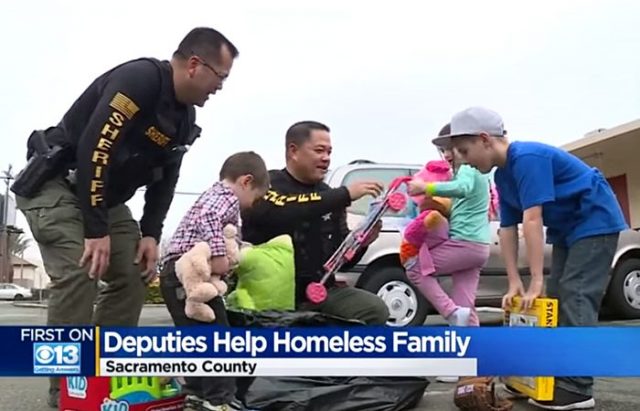 Deputy Yee explained that the negative encounters with police officers are the constant focus of the media, but they don't encompass the majority of what they do.
"There is a softer side of us, they see this they see the flashing red and blue lights, they look at us bad, we are there to help them and their situation‬," said Yee.
After making sure the family had everything they need, the deputies went on their way, leaving social services to take over from where they left off.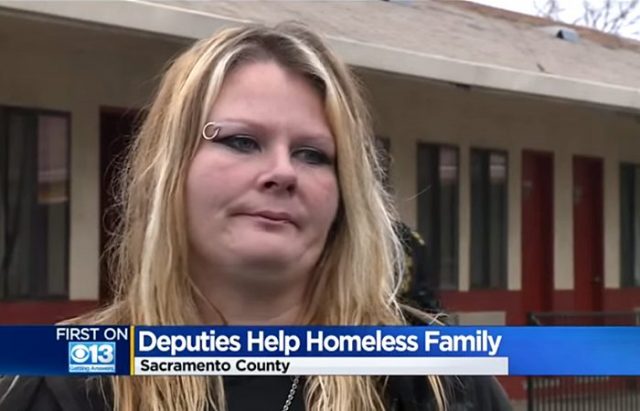 Sometimes we fall on desperate times and have to rely on the charity of others just to make it through. Hopefully, this was just the boost that Shannon Loveless needed to get her bearings.
The deputies are not only trying to change society's view of law enforcement, but they're also trying to help their fellow citizens. Their duties went far beyond just enforcing the law, and a family is forever changed because of their compassion.