When an employee got fired from a popular restaurant, she decided to go out with a bang.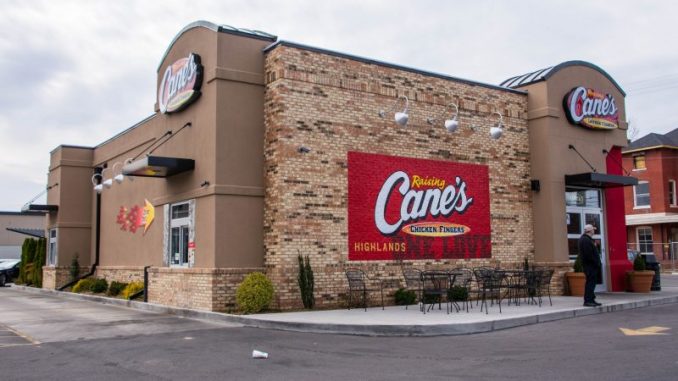 Demeatis Long was a Raising Cane's Chicken Fingers employee who didn't take the news that she lost her job lightly, HRM reports. Instead, the former employee of the popular chain restaurant appears to have sought sweet — or should I say saucy — revenge against her former employer.
Since the popular restaurant is known for their chicken and secret dipping sauce, the canned Cane's worker took to Twitter to share the recipe for the company's famous secret sauce, which is seen in a clear plastic container next to the ketchup in the image below.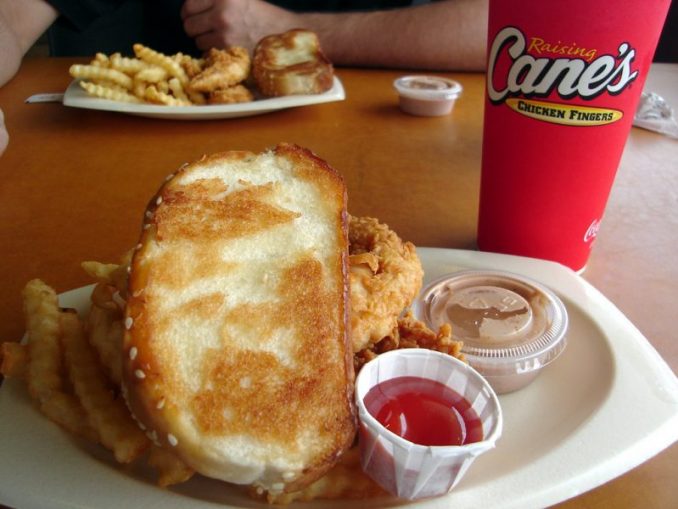 After Demeatis Long, who was initially only identified as Twitter user Get'em Jan (@JanniAreYouOkay), tweeted, "Cane's fired me," she then said its famous secret sauce is just "mayo, ketchup, Worcestershire sauce, black pepper [and] garlic powder," letting her followers know the ingredients needed to create their own version of the secret sauce. But, she wasn't done there.
As the tweet was being retweeted and favorited thousands of times, the disgruntled young woman decided to up the ante, taking things one step further. She likely hoped to keep the newfound internet fame going while also sticking it to her old boss a little bit more, and she could apparently think of only one way to do that.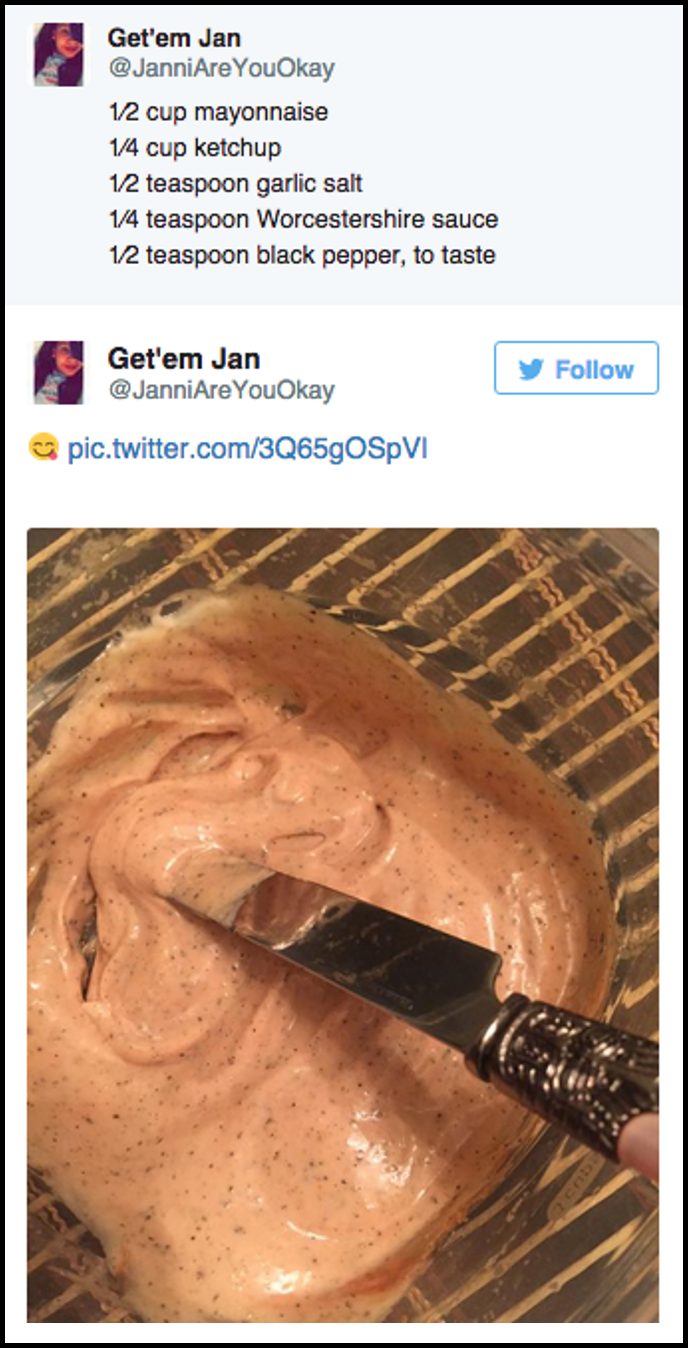 So, Get'em Jan decided to update her followers with the exact measurements of the ingredients in the recipe, Fox 7 Austin reported. She even included a picture of her own homemade version of the sauce, as seen above. That's when Raising Cane's decided to hit back.
Two days after Long's tweet, the Baton Rouge-based fast food chain responded on Twitter, tweeting, "Did you know that only our Restaurant General Managers are told the secrets of our Cane's Sauce? Now you know!" What's more, the General Manager of the Baton Rouge Cane's, where Demeatis Long was fired from according to Human Resources Management, is adamant that he didn't tell anyone, adding that the recipe for the sauce is handed from manager to manager by strict oral tradition and is never written down.

"I have not told anyone ever, nope. If I had to tell you, I'd have to kill you afterward," Jesse Yanarella told WBRZ, which also reports that Raising Cane's claims Long didn't get the recipe right. However, Dayton Daily News reports that, since the tweet with the recipe was shared, other Twitter users have commented to say they tried the recipe and it was a success.
Furthermore, a few keen social media users raised a critical question: If only the managers know the recipe, how do the cooks make the sauce? Some went as far as to point out that it's hard to imagine the managers rolling up their corporate sleeves behind closed doors to whip up the sauce.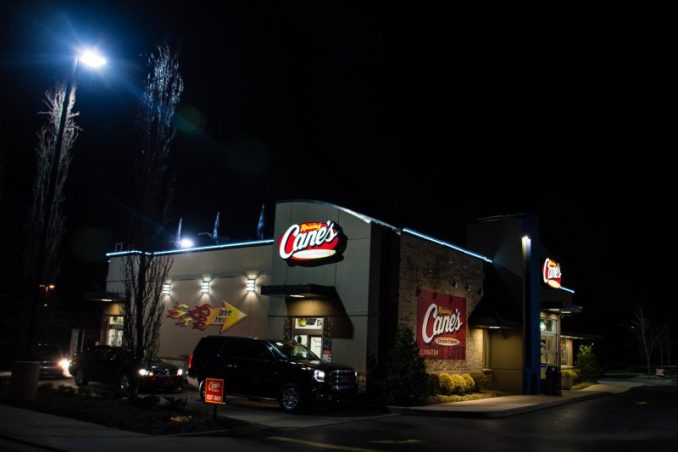 Get'em Jan was undiscouraged by the controversy. Instead, it seemed to stoke the fire as she continued her tirade of trade secrets, according to Chron.
Turning her sights on Cane's bread, she tweeted, "Canes bread: Holsum BBQ bread, butter & garlic salt. Grill it." Then, something completely unusual happened.

Get'em Jan's Twitter account completely disappeared with some outlets sharing unconfirmed reports that allege "The Twitter user in question was never a Raising Cane's employee. Her story appears to be a hoax gone viral. Upon heightened attention by other Twitter users, she said on Twitter that she never worked at the restaurant."
However, HRM, which identified the Twitter user by her real name and even identified the General Manager at the Cane's where she supposedly worked, might give us a clue as to why her allegations of employment suddenly changed.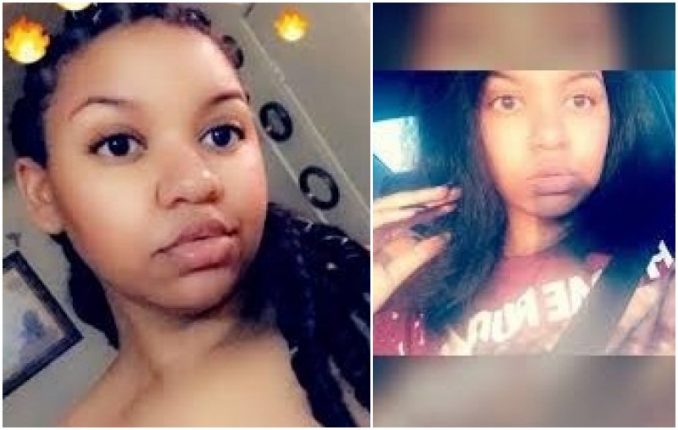 Addressing legal implications of Long's behavior, HRM wrote, "The sharing of trade secrets is a hotly contested subject in employment law, but one expert told HRM that for a case to stand up, a company would have to prove they suffered some sort of damage or negative repercussion in order to make out a successful claim."
Of course, a company even threatening a lawsuit would probably send most young adults who work in low-paying fast-food jobs running scared. So, you decide. Was this a hoax or the real deal? There's one way to find out, so I'm headed to the grocery store to get the needed ingredients after I make a Raising Cane's-loving friend's day by sharing the recipe with them.