While patrolling late one night, a Phoenix police officer spotted a teen boy walking alone down a dark, secluded road. Once she discovered what the young man was doing, she decided she had no choice but to take him to the precinct.
When Sgt. Natalie Simonick noticed a teen walking late at night, she suspected that he was violating curfew, which applied to juveniles 16 years old and under. So, she asked the teen how old he was and what he was doing at such an hour. His response surprised her.
"I pulled over and I asked him what he was doing," Simonick told ABC News. "He said, 'Walking home, I missed the bus.'"
Simonick discovered that 18-year-old Cristian Felix often walked to and from his job since he doesn't own a car. The area was completely isolated and pitch black, which caused Simonick concern.
"This is really not a safe area. There was no residential homes or businesses open, so it's kind of desolate out there. So, I asked him if he wanted a ride," Simonick said.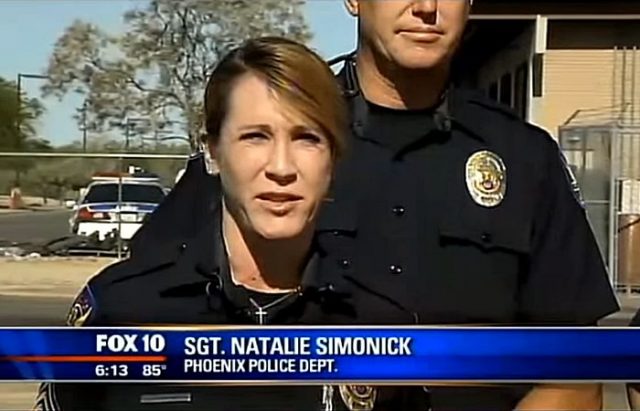 While giving him a ride home, Simonick asked why Felix couldn't just ride a bike, since it would be much safer and faster. He explained that he didn't have a bike and, even if he did, it wouldn't be of any use because he was never taught how to ride one. As such, he would have to walk the 9-mile trek home from his job at McDonald's if he missed the bus.
"He never had a father in his life, so he had no one to teach him," Simonick said. "He doesn't drink and doesn't smoke. He had never had any contact with police as far as negative contact."
Impressed by his character, Simonick gave her husband a call after she dropped off Felix. Later, she got in contact with Felix and asked him to come with her to the precinct. He had no idea what was waiting there for him.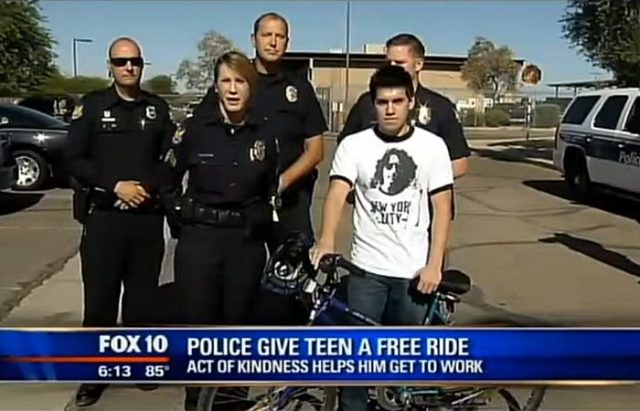 When the pair arrived at the station parking lot, multiple police officers were waiting for them with a bike in tow. Simonick had gotten her husband to bring up an extra bike they owned so that Felix could have his own transportation. Of course, she wasn't going to leave him with a bike that he didn't even know how to ride. Several officers took Felix under their wing and set off to teach him to ride a bike for the first time.
"Two of my officers stood on either side of him and pushed him," Simonick said. "He was a little wobbly and rode into one of the poles, but my guys were right there to catch him."
After 45 minutes, Felix was riding on his own. He and Simonick then rode around the lot together. Since then, the pair have kept in contact, and the sergeant says she wants to continue to help the young man flourish in other areas of life.
"Well he did say that he's never driven a car before," Simonick joked. "First things first I'll see how he does with the bicycle."
Felix and his mother, Jessica Muniz, expressed their gratitude to Simonick and the other officers for going above and beyond the call of duty.
"Someone who doesn't even know me just offers to do something extremely nice for me. I was just like, 'Wow,'" Felix said. "It's really something when someone comes up on the street and offers to do a kindness for you. These days you don't see anything like that."

"She cared about him and she didn't even know him. That just touched me so much," Muniz said of Simonick.
Simonick hopes that Felix's story will inspire more charity in the community, which is something that we could all increase doing.
"If everybody could help just one person in the world like this, I think it would definitely be a better place to live."
Simonick's act of kindness may be small, but it was life-changing for one young man. Now, a major burden is lifted off Felix, allowing him to focus on work and achieving his goals.
In spite of the negativity that fills the media, stories like this shine through. Our love for one another has far-reaching effects, and we can change someone's life for the better just by paying it forward.