After opening up her small business, a diner owner received a letter from the Muslim community. It was then that she read their demand to change her restaurant's name because it is "wrong, disgusting, shameful and offensive" to Muslims.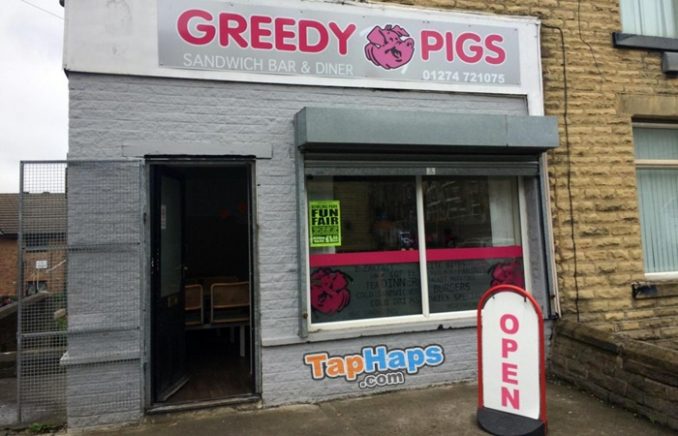 Small business owner Shelly Harper runs a diner called Greedy Pigs in Bradford, England. Although she's served many satisfied customers, the 45year-old entrepreneur received a lengthy letter demanding that she change the name of her business because it is simply too offensive to a particular group of people.
According to The Telegraph and Argus, an anonymous letter orders Harper to "immediately change the name of your shop to something else which is not offensive" because the name offends Muslim members of the community. The writer also insisted that a list of demands be met in order to make her business more Muslim-friendly.
The letter says: "I am writing to you to inform you we as a whole community are extremely concerned about the name of your shop's trade or the sign board. The name Greedy PIGS is extremely wrong, disgusting, shameful and offensive to the passer-bys and community. Please immediately change the name of your shop to something else which is not offensive. There is no need to call it Greedy Pigs. Use common sense. That's not how you should be naming a shop. Not everyone in the communities believes in the same thing as you and not everyone agrees nor appreciates silly shop names as the one you have put up outside your shop."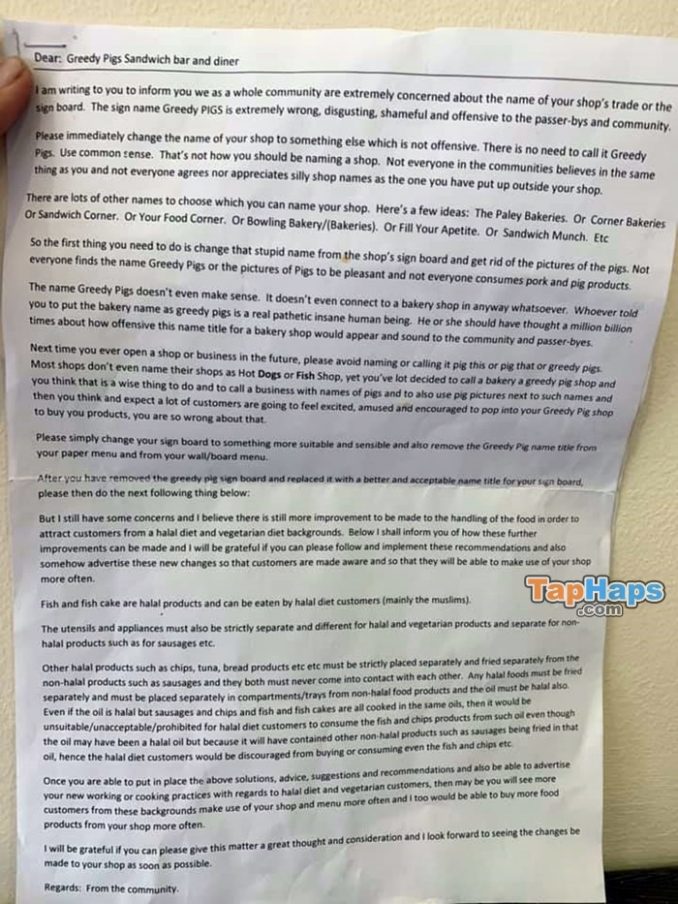 The letter goes on to list a set of demands with which Harper should comply. The writer explains that the owner must offer halal food products and go to great lengths to keep them separate from all other food. However, it concludes that Harper should "change the name of your shop's sign immediately" because "it's extremely offensive to the community."
"I feel really upset," she said. "I'm devastated. I welcome everybody. I don't care what religion, what colour anybody is – I get on with everybody, or try to."
Harper went on to confirm that the name's not going anywhere. She explained that this is the second letter in 16 months to make similar demands. She has since contacted the police and the incident is being looked into as a possible hate offense.
A West Yorkshire Police spokesman said: "A hate incident has been recorded in relation to this matter and further enquiries are being made."
Harper is upset that the letter insinuates that she is racist or Islamophobic purely based on the name of her diner. She explained that she named the shop Greedy Pigs because it's the nickname she gave to her partner. In the era of political correctness, Harper is worried that the unfounded accusation could soil her reputation.
"My customer base is so diverse. It's upsetting because it's just a name," she said. "I don't want to single any group out or community, I don't want to ostracise anybody or upset anybody. I just want to be able to run my business peacefully and I know it's only a small portion of people, it's not a whole community."
Harper concluded that everyone is welcome in her diner, unless they are offended by the name. In that case, they can choose to take their business elsewhere.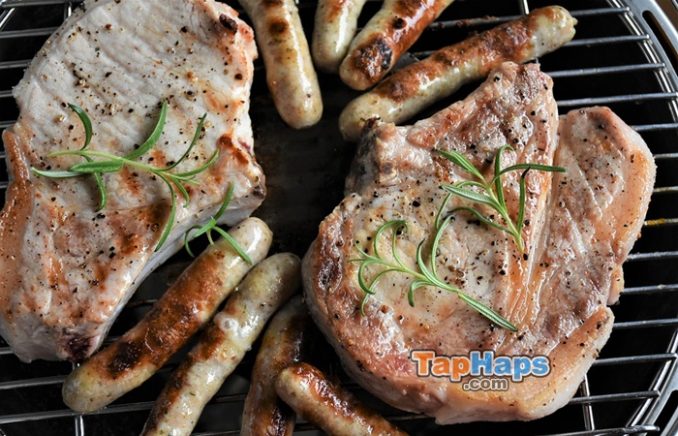 Harper has refused to change the name of her restaurant, regardless of how offensive it may be to certain individuals in the Muslim community. She has since reiterated that everyone is entitled to their opinion but cannot force their beliefs on someone else.
This letter writer believes that since they don't like the name of the shop, it shouldn't be allowed to exist. However, if we lived by this, hardly anything would exist because there is always someone to take offense.