During a graduation ceremony, a graduate shocked the crowd when she unexpectedly attacked a school official. After wrestling the microphone away, the young woman made it clear why she was going to make the graduation all about her.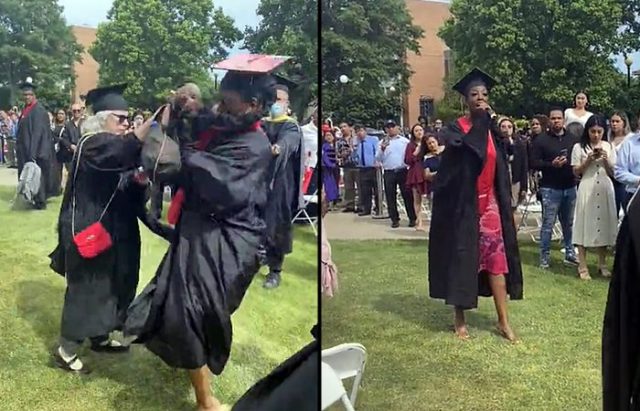 A short video has garnered over a million views after a female graduate became physically violent while commandeering the ceremony. The young woman claimed the altercation was in defense against an example of racism. However, many viewers are accusing her of using the display as a publicity stunt for her own financial gain.
The incident occurred at the graduation ceremony of Laguardia Community College on the Queens College Campus in Queens, New York. More than 2,000 graduates were celebrated by family and friends, but the joyous occasion was soon interrupted by one of the students.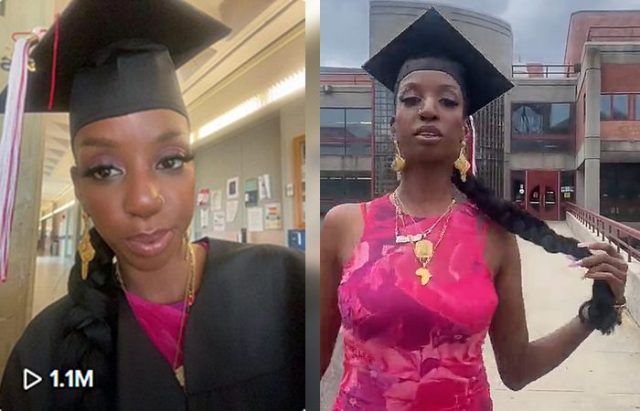 A 22-second reel shows students filing down the lawn as their names are announced over a speaker system by a female school official, The Blaze reports. Suddenly, the procession grinds to a startling halt as one graduate, identified as Kadijata Diallo, approaches the faculty member and lunges at her.
Diallo grabs the microphone in an attempt to wrestle it out of the official's hand. She shouts "let go!" and violently rips the mic away as the official stumbles backward. She then delivers a brief and entitled rant to her fellow classmates.
"You didn't let me get my moment, so I want to say my name is Kadijata Diallo and I'm graduating today. I don't like how you snatched the mic out of my hand, so today's gonna be all about me," she says before throwing the microphone to the ground.
@kadiaimantv

@tiktok you are racist stop removing mt video i am a black woman speaking from being silences … why take my video down ( full story on my page )
Diallo uploaded the footage of her tirade on her personal TikTok account. She alleges that her video was removed, forcing her to re-upload, and that she is being silenced because she is a black woman and TikTok is "racist." In a separate video, she defended her actions and accuses the school official of having a bias against black students.
"I was walking on, and we had to announce our names, to say our name before we got on the stage, so I was saying my name, and she literally — my name is long, obviously, I have like, three syllables in my name, I'm not gonna say exactly my name right now … so I didn't even finish getting to say my name, and then the people that went before me and everything, they all got to say their name, their major, and even extras. And me and the other girl noticed that she was pulling the mic down super fast for some black people. … I just couldn't let that happen, 'cuz I just feel like I worked so hard to graduate and went through so much s**t to graduate that I just felt like I had to reclaim my moment. I'm sorry, like, I'm not a problematic person, I don't wanna ruin no one's day, I don't wanna violate anybody, but that's what she did. She didn't even let me finish speaking; she [pulled] the mic down, cut me off, and that was the only time I was able to speak. So, I just feel like that wasn't right," she said.
While Diallo claims she was merely fighting racism, others have accused her of coordinating the stunt to bring attention to her social media. Just one day after the event, Diallo uploaded a promotional video for a song she recorded. Immediately, the comment section was filled with allegations that this was her plan all along.
Diallo has received a backlash for allegedly using the race card as a platform to launch a musical career. Additionally, few were impressed with Diallo's musical ability, calling her single "trash."
Diallo may still have her diploma, but she has started off her career with a black mark. Not only has she displayed her narcissistic, uncontrolled behavior for every potential employer to see, but she has made it clear that she will make false accusations against anyone to get what she wants.