As ironworkers were busy at a construction site at a local hospital, one of them found himself looking into a third-floor hospital window. His eyes were met by those of an elderly woman who was watching his every move. Soon, she came to the window with a sign that bore a message for him. He was immediately crushed as he read it.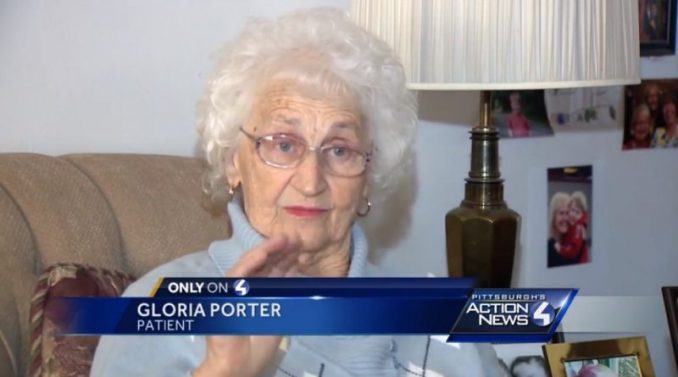 Gloria Porter was trying to pass her time at a Westmoreland County hospital when the 88-year-old Connellsville woman found herself in an unexpected exchange with an ironworker outside. Gloria had been hospitalized for a week at Excela Frick Hospital in Mount Pleasant, Pennsylvania. And, it just so happened that union ironworkers from Century Steel Erector were constructing the new front entrance to the hospital at the same time.
The job was part of a $14 million renovation project at the hospital, according to WTAE, and it gave Gloria something to do as she tried to get better. From her third-floor hospital room, she watched the workers, but it wasn't always a pleasant form of entertainment. In fact, one chilly, windy Wednesday afternoon during her hospitalization, Gloria found herself increasingly nervous as she watched the workers outside.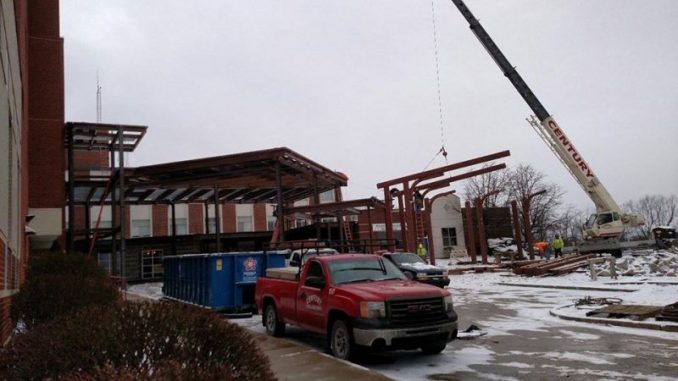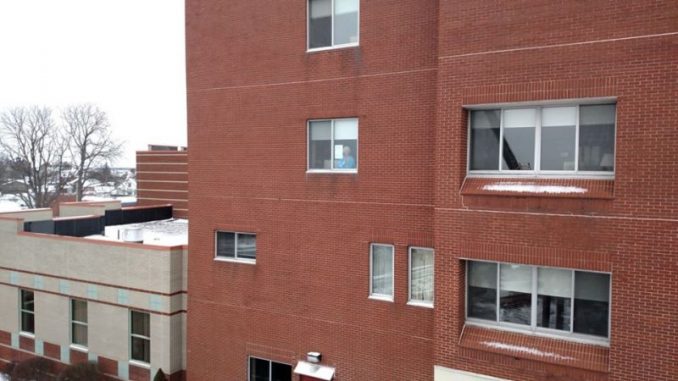 As Gloria was peering out her hospital window, she noticed one of the men was looking back at her. Ironworker Jeff Reick had just looked in the woman's hospital window, locking eyes with her as she watched the workers' every move. Knowing he was spotted, Jeff waved at the woman who had been watching him. "This one guy looked over at us and waved, so we waved back," Gloria recalled. But, their exchange was far from over.
To Gloria's shock, Jeff then used a piece of chalk to scrawl a 2-word message on one of the steel beams for the woman. "I looked down on the beam and he had written, 'Get well,'" Gloria said, revealing Jeff's message to her. The message touched her deeply, but Jeff didn't think much of the small gesture at the time.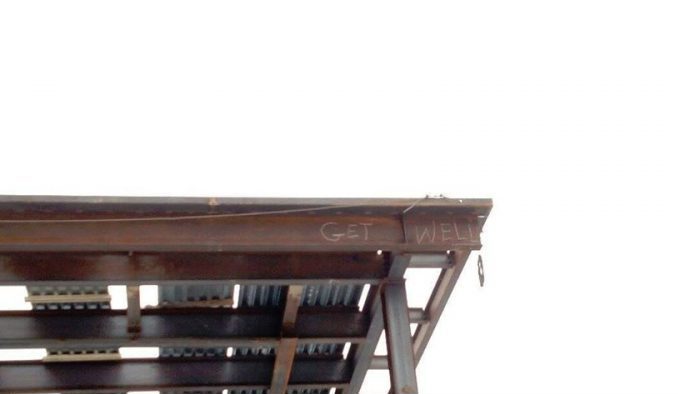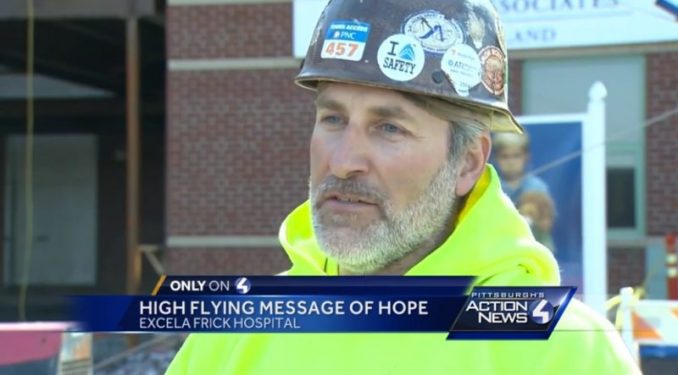 "I saw the lady at the window looking out. I thought it would be a kind gesture just to tell her to get well," the ironworker said. "I didn't think much of it. I just tried to make someone feel a little better." It worked. Gloria thought the message was precious, but she was still concerned about the safety of the men working outside. That's when she decided to send her own message.
Working with some of the Excela hospital staff, the elderly woman got a piece of paper, a marker, and tape, then she returned to the window with her homemade sign. Workers from Excela and Century Steel were so touched by what she had written, they took photos of the signs and put them on Facebook. The exchange quickly went viral as the posts were shared by hundreds of people.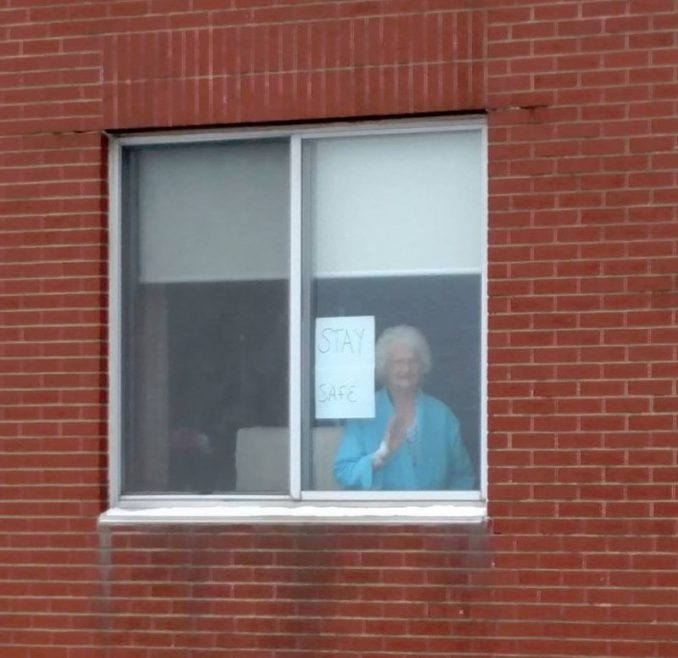 Gloria's sign simply read, "Stay Safe," but those two words held a lot of meaning for Jeff and his crew. "That sign kind of crushed me. I don't know how she knew 'Stay safe,'" he said. "It's kind of like ironworker lingo to stay safe. When I saw 'Stay safe,' in the window, I kind of snapped my head around and said (to my coworkers), 'Did you see that?'"
But, the story gets even better as one random act of kindness led to another. The simple, friendly exchange between Gloria, who was later discharged from the hospital, and Jeff inspired others as it went viral. An unnamed woman saw one of the posts and went to the worksite to drop off an envelope for the ironworkers. It contained money so the men could buy lunch.
"I just try to lead by example and be a good person. I just hope everybody would do things like that because the world is not a very nice place," Jeff Reick said of his good deed. But, with people like Jeff and Gloria among us, the world is a better place.
They remind us that it's the smallest acts that can make the biggest impact in ways we never imagined. Jeff only aimed to bring a smile to one woman's face that day, but the two of them touched hearts everywhere — and all it took was a couple of nice words and a friendly exchange to change our outlook on the world for a brief moment.