While trying to enjoy a meal out, an elderly grandma choked on her food at Denny's. Despite the scare, she got through it and kept eating. When the receipt came, she and her daughter were stunned by what was written at the bottom.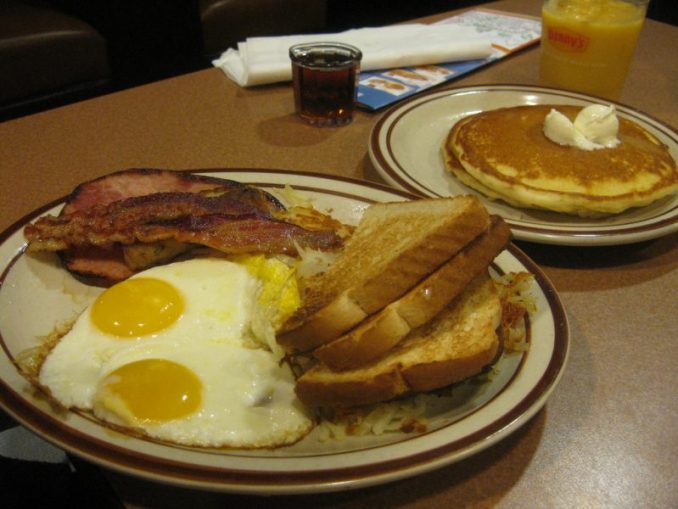 Sarah Saba and her mother Gail went out for a bite to eat to bring some normalcy back into Gail's life after she underwent several surgeries on her esophagus, making it difficult for her to swallow. Unfortunately, while patronizing the Denny's located in Brooklyn Center, Minnesota, things didn't exactly go as the pair had planned.
Most people go to Denny's for a plate of eggs, not to get insulted on the receipt, but that is exactly what happened to Sarah and her mother Gail. According to a Facebook post by Sarah, who took to social media after the fact to express her disgust, the staff at Denny's decided to have a bit of fun at Gail's expense.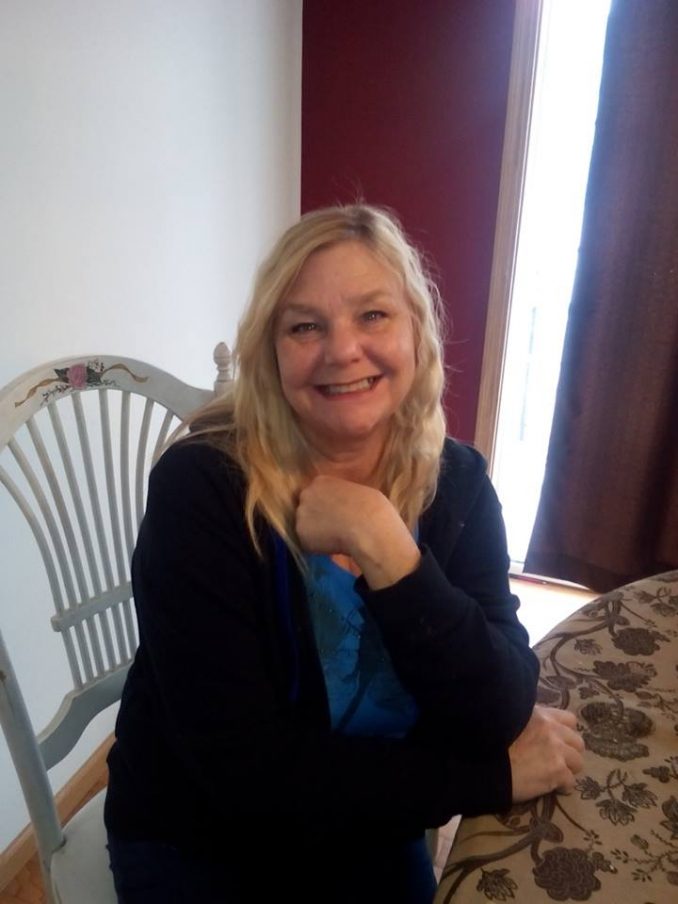 "As you all know my mom has had a few surgeries recently on her esophagus. She has trouble eating, swallowing, and even keeping things down," Sarah Saba wrote on Facebook, as she began to recall the experience. "She chokes when she eats and eating any meal is a process for her," she continued.
"To have a little normalcy in her day, she went to Denny's in Brooklyn Park, to try to eat on Monday afternoon," Sarah added. Then, she dropped the bomb, showing social media what was on the receipt by sharing an image of it. But, that's not all.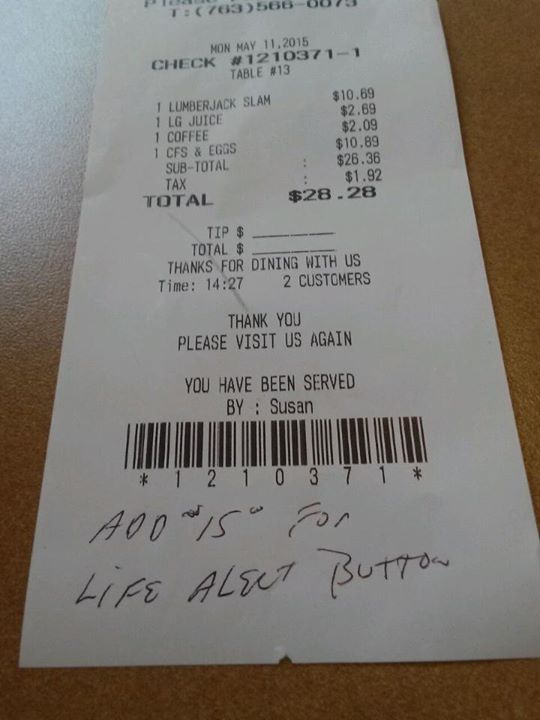 "Add $15.00 for Life Alert Button," the receipt said, and Sarah Saba was devastated. However, she'd quickly learn that worse than the words on the receipt was who actually wrote them, and she let everyone else know about that too.
"This is what the Manager, yes the Manager wrote on her bill!" she exclaimed in her post. Rather than the waitress, it was, of all people, the location's longtime manager, Bob Quigley, who wrote the offending message on the receipt.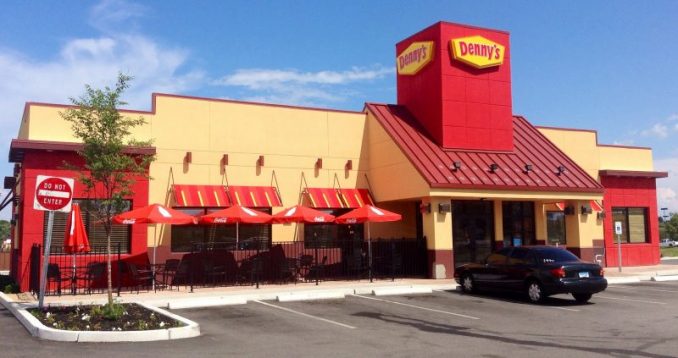 "I cannot begin to describe the disgust and the rage I am feeling. I'm so very sorry mom!!" Sarah Saba said, writing about her experience at Denny's.
"My mom is sick and hasn't eaten in five weeks. My sister has to blend her food. When she finally got the clear from her doctors to eat, she chose Denny's, and that's how she was treated?" Sarah added, speaking with The Daily Meal to expound on the situation.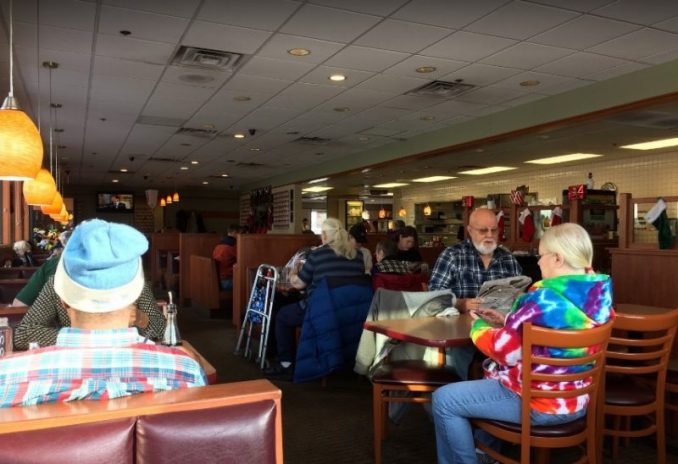 Manager Quigley did express regret and offer the family an apology, according to Sarah, but he also defended his actions, and his excuse didn't sit well with the family. According to Caroline Speikers, the woman's sister, Quigley said he was "just" joking around with the waitress when he wrote the insensitive note.
"[Sarah] claims Quigley did call her and apologize, but her sister, Caroline Speikers, reportedly received a phone call from the restaurant's owner maintaining that Quigley had been joking. The owner claimed that Quigley was actually referring to the 60-year-old waitress who served their mom, whom he said 'could get hurt by running around so much,'" Food Please further explained.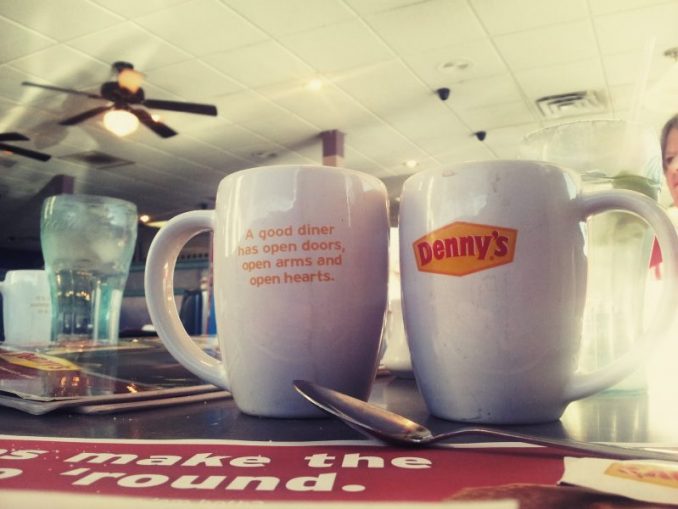 The Daily Meal added, "The owner told Speikers that Quigley had intended to suggest that the waitress should be careful not break a hip." Speiker was quick to let the owner know that she felt "age discrimination is not necessarily a good quality for a manager to have."
"Either he's mocking someone who is ill and disabled, or he's totally comfortable discriminating against someone's age," Caroline said in response to the explanation. "He has a sick and twisted sense of humor and should not be allowed around customers."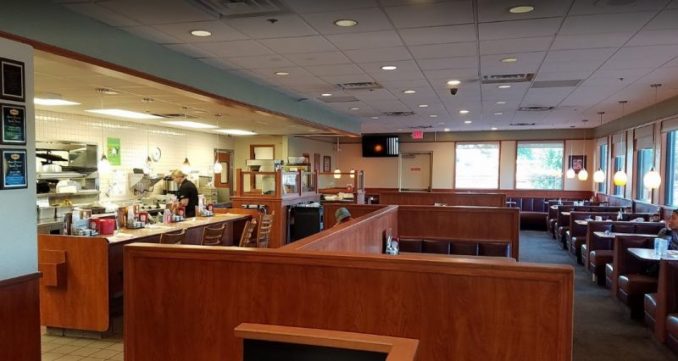 When Quigley was contacted by The Daily Meal, he declined to comment, saying: "I can't talk to the media, it's already been dealt with. I wish I could, but I can't."
Quigley was not fired, but he did receive a "write-up." Instead of terminating the longtime employee, he was sent to sensitivity training, and the restaurant offered the family a free meal and a refund.