A teen girl told school officials she had been sexually assaulted multiple times, prompting them to call the police. Although the police charged the male classmate, the school decided to suspend the girl instead.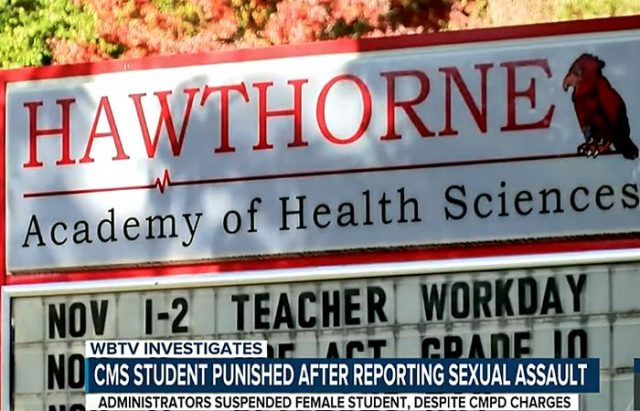 School officials at Hawthorne Academy of Health Sciences in North Carolina are under fire for their decision to punish a female student who reported multiple sexual assaults by a classmate. Incredibly, the move comes after school board members announced that they want students to feel safe coming forward with accusations of sexual impropriety.
After several incidents with a male student, a 15-year-old sophomore girl told school officials that she had been repeatedly sexually harassed and assaulted by the suspect. She told WBTV that she had finally had enough and decided to tell when the encounters turned violent.
"He would, like, come into the bathroom and he would push me into the stall," the girl said. "He put his hands in my pants and then he was like touching my breasts."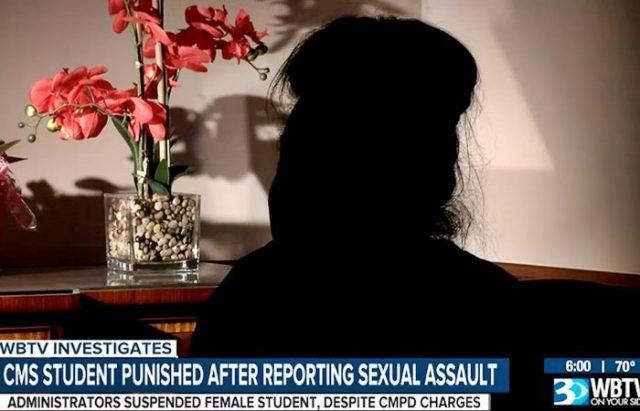 Per school protocol, educators reported the allegations to the Charlotte-Mecklenburg Police Department, which immediately launched an investigation. Ultimately, the police found enough evidence to charge the young man with sexual battery. However, the school took another route.
After completing their own investigation, the school told the girl's mother that there wasn't enough evidence to prove that her daughter had been abused. As such, the school decided to punish the girl for making a false report.
"The school did their investigation, gave me a phone call, and said, 'Hey, look, unfortunately, it looks like there's no evidence that shows that what your daughter saying took place,'" the mother said.

"We're going to have to give her a day of suspension, and you know, so then I asked the principal, I said, 'well if the police are telling me that he did do these things, he admitted to them, and that I have the right to press charges, you're telling me this didn't happen? And she said, 'well, unfortunately, what the law does has nothing to do to do with CMS, so, unfortunately, we have nothing else that we can do about this.'"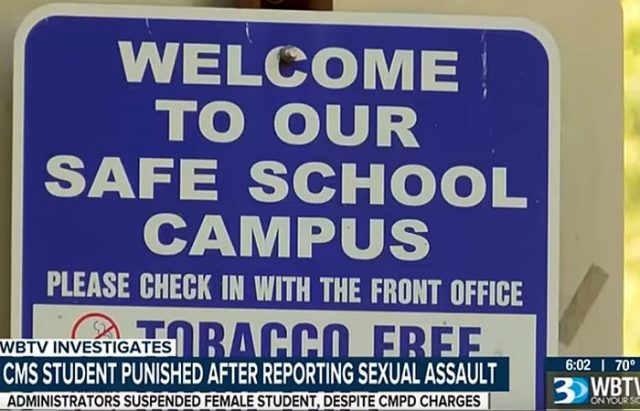 The school not only gave the girl a one-day suspension but, to add insult to injury, they also ordered her to complete a class called "Sexual Harassment is Preventable." When asked if she believes CMS when they say they take sexual assaults seriously and want students to feel comfortable reporting them, the girl's mother strongly disagreed.
"I would say that it's a lie. They don't. They don't have your children's back," the mother said. "They are making her feel like she is being punished for coming forward. That scares me because she told me how hard it was for her to come out and tell this story to me, to the school, to the police."
School officials avoided questions at all costs. During a meeting of the Charlotte-Mecklenburg School Board, WBTV confronted board members Margaret Marshall and Jennifer De La Jara, who have portrayed themselves as strong supporters of victims of sexual violence. Neither woman found the matter of any significance.
"I don't have any information about it," Marshall said, despite having received an email the night before with a link to the story.

"I'm going to have my lunch," De La Jara said, as a reporter asked questions.
The girl's mother says she believes the school's response will discourage other children from coming forward with sexual abuse allegations out of fear of punishment and embarrassment. She believes many will see how her daughter was punished and will instead choose to remain silent, allowing their abusers to continue harassing them and possibly others.
The school's response is unacceptable. Officials didn't even wait to find out if the charges against the male student would result in a conviction, suggesting that they don't care about what really happened. In their attempt to sweep this under the rug in order to avoid a local scandal, they have instead created for themselves a national backlash.